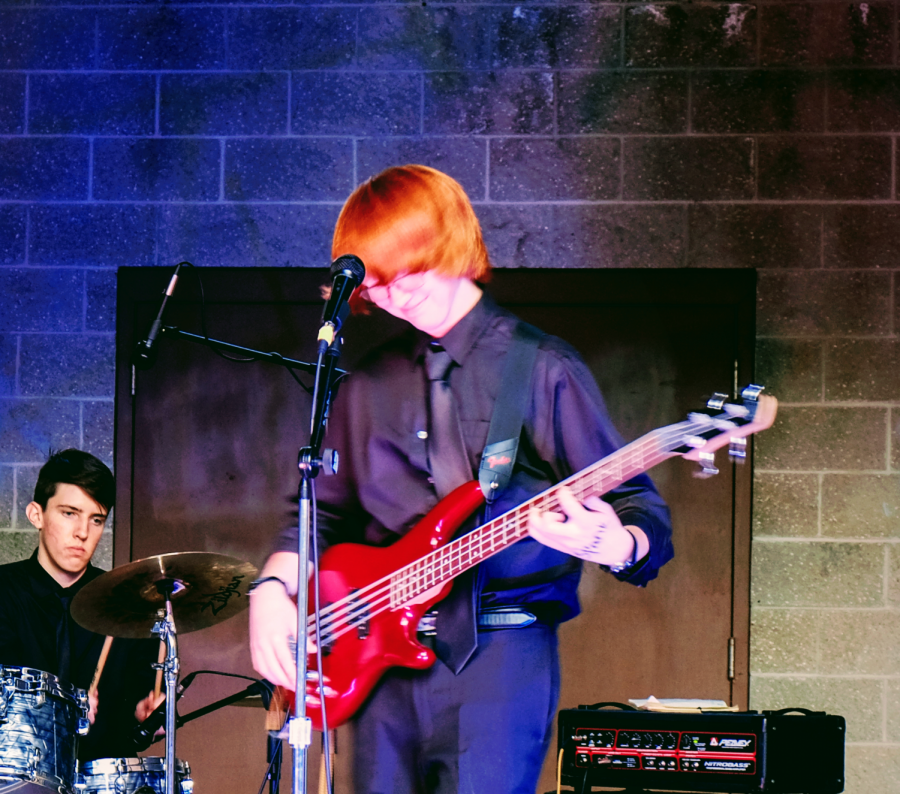 Hey, I'm Chris! I'm a junior at Helena High. I'm in Symphonic Winds, Jazz band, and Wind Symphony; I also participate in most pep band events. If you're enrolled in the band program, chances are you know who I am, or at least recognize me as that one ginger hippie kid in the sax section. I wish I could say I have a life outside of music, but sadly that is not the truth. I play bass guitar in a local Helena band called Spank, and I also jam with multiple other bands around the area on occasion (usually when their bassist is out of town). Over the summer I played various gigs around Helena and Clancy and made a decent amount of dough off that. My pride and joy is my Yamaha tenor saxophone named Sassy, which I am in the process of paying off.
I love hanging out with friends and goofing off every chance I get. I'm also a huge cinephile and am always down to watch a good movie. My favorite of all time is the original
Ghostbusters
film.
I joined newspaper because I enjoy writing and thought this was probably the most effective way of getting my name out there as an author. In the future, I hope to pursue a music career and am thinking of attending the University of Montana. If a music career doesn't work out, my backup plan is to ride the rails like a hobo and play my saxophone for nickels.
Chris Shields, Editor
May 29, 2020

The Kings of Room Trash

(Story)

May 01, 2020
May 01, 2020
May 01, 2020

The Steely Dan Aesthetic

(Story/Media)

Apr 24, 2020

Senior Serendipity?

(Story)

Apr 10, 2020

Life is Great. Without it, You'd be Dead

(Story)

Apr 08, 2020

CORONA TIME – 4/8 Update

(Story)

Mar 27, 2020

COVID-19 VS HHS Resilience

(Story)

Mar 20, 2020

"Stairway" Lies on the Whispering Wind

(Story)

Mar 13, 2020

Eckspeerihmentall Mewsicc: Mayke the Efforte

(Story)

Mar 11, 2020

Caffeine in our Community

(Story)

Feb 28, 2020

Every Guitar Gently Weeps

(Story)

Feb 24, 2020

The Success of Night to Shine!

(Story)

Feb 14, 2020

Beautifully Disturbing, Wonderfully Unsettling

(Story)

Feb 06, 2020

Junior Letters to the Editor

(Story)

Jan 29, 2020

"Rock and Roll" Hall of Fame lacking Rock and Roll

(Story)

Jan 17, 2020

Night to Shine 2020!

(Story)

Jan 13, 2020

Still Hasn't Rained

(Story)

Dec 20, 2019

Cut the Crap! This Stinks!

(Story)

Dec 06, 2019

BASS: VERY EPIC

(Story/Media)

Nov 22, 2019

Winter Formal 2019

(Story)

Nov 14, 2019
Oct 31, 2019

Student Profile: Ryan Young

(Story)

Oct 28, 2019

Classic Rock Revival

(Story)

Oct 23, 2019

Pepperoni Bandage

(Story)

Oct 11, 2019

See "Yesterday" Today

(Story)

Oct 01, 2019

Student Profile: Lexi Meier

(Story)

Sep 17, 2019

4,872 Days Since 10,000 Days

(Story)

Sep 10, 2019

Quadratum Music Festival

(Story)

Dec 13, 2018

Before the Curtain Falls

(Story)