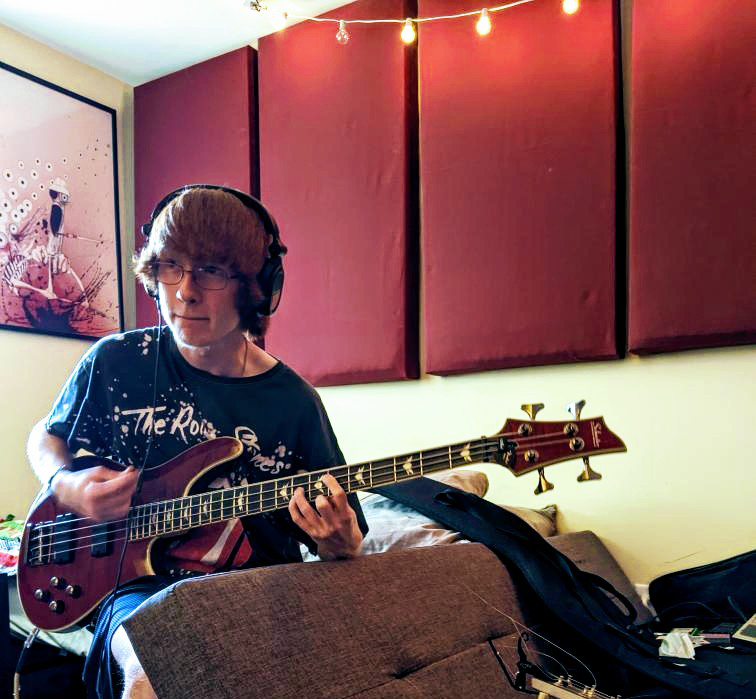 Hey there, I'm Chris! I'm finally a senior here at HHS and I'm 
pretty 
stoked
 to be Head Editor of the Nugget Newspaper this year! 
I'm a musician, as you may already know, and do a ton of stuff in the local music scene. I'm a vocalist and a bassist and play in a couple of local bands:
Plants 
For
Sale
 and Al
l Bets Are Off. I also play tenor sax in the HHS Jazz Band and Wind Symphony. 
I love playing gigs and jamming with friends, so I'm a 
happy
 dude.
 I enjoy a 
broad
 spectrum of music from classic rock to funk and soul, all the way to downright bizarre, rip your hair out experimental. I also love cinema (
Ghos
tbuster
s
 '84 is the greatest film of all time, don't try me) 
and generally just having fun in life!
After taking journalism sophomore 
year and
 ruling as the newspaper king all year
 last year, I've worked my way up to editor status! I love writing
 articles
 and reading what the 
other newspaper 
homies have written because journalism is a super fun way to express ourselves. 
This year you can follow the developments of my personal breakfast cereal review/discussion column titled Chris's Cereal Column (CCC) as well as my school-related work.
I'm not sure what the future holds or exactly what my plans are for after school just yet, but I'd love to pursue either music, journalism, or both. And like I always say, 
if 
worst comes to worst, there's always the hobo life.
Chris Shields, Head Editor
Jan 20, 2021

CCC: Hostess Twinkies Cereal – Review

(Story/Media)

Jan 20, 2021

CCC: French Toast Crunch – Review

(Story/Media)

Jan 15, 2021

CCC: Honey Roasted Honey Bunches of Oats – Review

(Story/Media)

Jan 14, 2021

Final Exam Exemption

(Story)

Jan 08, 2021

CCC: Cocoa Pebbles – Review

(Story/Media)

Jan 07, 2021

Chris's Christmas Corona Conundrum

(Story)

Jan 07, 2021

CCC: Reese's Puffs Big Puffs – Review

(Story/Media)

Jan 07, 2021

CCC: Peanut Butter Chex – Review

(Story)

Jan 01, 2021

CCC: Chocolate Toast Crunch – Review

(Story/Media)

Jan 01, 2021

CCC: Rice Krispies with Holiday Colors – Review

(Story/Media)

Dec 18, 2020

CCC: Cap'n Crunch's Christmas Crunch – Review

(Story/Media)

Dec 14, 2020

Home for the Holidays: A Corona Christmas

(Story)

Dec 04, 2020

CCC: Elf Cereal – Review

(Story/Media)

Dec 04, 2020

CCC: Fruity Pebbles – Review

(Story)

Dec 04, 2020

CCC: Raisin Bran Crunch – Review

(Story/Media)

Dec 04, 2020

CCC: Frosted Mini Wheats – Review

(Story/Media)

Dec 01, 2020

CCC: Sugar Cookie Toast Crunch – Review

(Story)

Dec 01, 2020

A Different Experience

(Story)

Nov 30, 2020

CCC: Milk to Cereal Ratio

(Story)

Nov 30, 2020

CCC: Serving Size

(Story)

Nov 30, 2020

CCC: Cheerios – Review

(Story/Media)

Nov 30, 2020

CCC: Apple Jacks – Review

(Story/Media)

Nov 30, 2020

CCC: Frosted Flakes – Review

(Story)

Nov 30, 2020

CCC: Life – Review

(Story)

Nov 23, 2020

CCC: Froot Loops – Review

(Story/Media)

Nov 23, 2020

CCC: Reese's Puffs – Review

(Story)

Nov 23, 2020

CCC: Honey Nut Cheerios – Review

(Story/Media)

Nov 23, 2020
Nov 12, 2020

Transportation: Trials, Troubles, and Tribulations

(Story)

Nov 12, 2020

A Study of Film Study

(Story)

Nov 06, 2020

CCC: Oreo O's – Review

(Story)

Nov 05, 2020

CCC: Hershey's Kisses Cereal – Review

(Story/Media)

Oct 30, 2020

CCC: Monster Cereals – Review

(Story/Media)

Oct 30, 2020

CCC: Cookie Crisp – Review

(Story/Media)

Oct 30, 2020

CCC: Cinnamon Toast Crunch – Review

(Story/Media)

Oct 23, 2020

School Tips from Uncle Chris

(Story)

Oct 22, 2020
Oct 12, 2020

CCC: Pumpkin Spice Cheerios – Review

(Story/Media)

Oct 08, 2020
Oct 08, 2020

Digital Learning Laxity

(Story)

Oct 02, 2020

CCC: Nutter Butter Cereal – Review

(Story/Media)

Sep 18, 2020

CCC: Eggo Waffle Cereal – Review

(Story/Media)

Sep 18, 2020

The Great Fan Fiasco

(Story)

Sep 17, 2020

Chris's Cereal Column (CCC): Why Cereal?

(Story)

May 29, 2020

The Kings of Room Trash

(Story)

May 01, 2020

The Steely Dan Aesthetic

(Story/Media)

May 01, 2020
May 01, 2020
Apr 24, 2020

Senior Serendipity?

(Story)

Apr 10, 2020

Life is Great. Without it, You'd be Dead

(Story)

Apr 08, 2020

CORONA TIME – 4/8 Update

(Story)

Mar 27, 2020

COVID-19 VS HHS Resilience

(Story)

Mar 20, 2020

"Stairway" Lies on the Whispering Wind

(Story)

Mar 13, 2020

Eckspeerihmentall Mewsicc: Mayke the Efforte

(Story)

Mar 11, 2020

Caffeine in our Community

(Story)

Feb 28, 2020

Every Guitar Gently Weeps

(Story)

Feb 24, 2020

The Success of Night to Shine!

(Story)

Feb 14, 2020

Beautifully Disturbing, Wonderfully Unsettling

(Story)

Feb 06, 2020

Junior Letters to the Editor

(Story)

Jan 29, 2020

"Rock and Roll" Hall of Fame lacking Rock and Roll

(Story)

Jan 17, 2020

Night to Shine 2020!

(Story)

Jan 13, 2020

Still Hasn't Rained

(Story)

Dec 20, 2019

Cut the Crap! This Stinks!

(Story)

Dec 06, 2019

BASS: VERY EPIC

(Story/Media)

Nov 22, 2019

Winter Formal 2019

(Story)

Nov 14, 2019
Oct 31, 2019

Student Profile: Ryan Young

(Story)

Oct 28, 2019

Classic Rock Revival

(Story)

Oct 23, 2019

Pepperoni Bandage

(Story)

Oct 11, 2019

See "Yesterday" Today

(Story)

Oct 01, 2019

Student Profile: Lexi Meier

(Story)

Sep 17, 2019

4,872 Days Since 10,000 Days

(Story)

Sep 10, 2019

Quadratum Music Festival

(Story)

Dec 13, 2018

Before the Curtain Falls

(Story)