Remote Teaching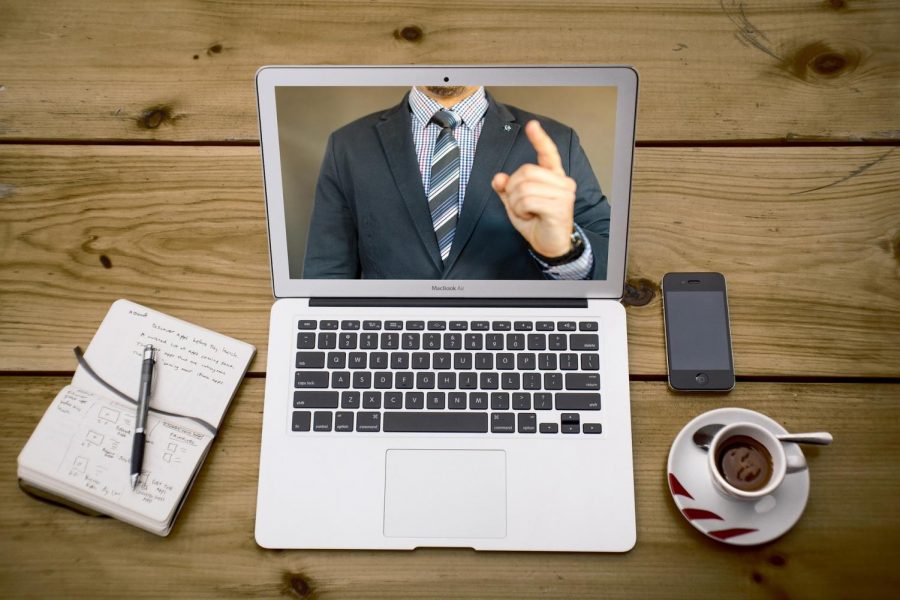 This year, students face numerous changes to their daily lives and how school is conducted. One of those changes is the option to participate in distance, or digital, learning. Students and families selected this option for many different reasons including health concerns, preferred learning methods, and general safety concerns. Some teachers with health concerns were also given this opportunity to stay home and safe while still participating in school, and one of the educators who chose this route was Jill Van Alstyne. 
Due to a personal underlying health concern, Van Alstyne teaches Holocaust and Crime Literature, AP Seminar, and English II all from home. "I developed an auto-immune condition three years ago that made my body react to all sorts of benign things, including foods and chemicals such as hand sanitizers. I'm doing much better, but I don't know what effect the coronavirus will have on my immune system, so I decided not to take the risk. I appreciate the district giving me this opportunity to keep me healthy," Van Alstyne said. 
Aside from teaching her three courses remotely, she is also the advisor of Green Group and serves as the Helena Education Association Union Representative for HHS. Becoming acquainted with and incorporating new technologies, platforms, and learning formats into teaching is something all teachers are faced with right now, but for a someone conducting 100% of her work from a distance, it has posed an even bigger challenge in some ways. 
"In some ways, English as a subject works well online because one of the main parts of my job is giving written feedback on student papers. However, I also like to hold literary discussions in circles, act out dramas, have students do role playing such as "murder mystery dinners," debates, etc., and I especially love to invite guest speakers to meet the students and to speak in person. Some of this seems very difficult to do remotely and some is not possible. But I am hoping to use the remote setting to invite guest speakers from other states and other countries to "meet" my students. So far, I have lined up the granddaughter of a Holocaust survivor (the speaker was born in Israel and now lives in Boston) and an indigenous writer and activist from Canada as guest speakers. I think that the A/B day set-up does keep everyone safer but is challenging as far as teaching–not only for me, as a remote teacher, but for in-class teachers," Van Alstyne said.  
Van Alstyne said her greatest challenge teaching remotely is technology. "In particular, not being able to hear my students due to feedback in the classroom. For years, many of my lessons have been free-flowing discussions about literature. For the moment, I have converted to using the "chat" feature in Teams."  
Connecting with her students is very important for her as a teacher and as a person, so not being able to do so on a personal level has been difficult for her, but she's actively finding ways to make this easier. "I am hoping that I can create personal relationships with students and support them through one-on-one, 20-minute individual video-conferences on Wednesdays. I have done this with most of my students and will continue this throughout the year. These conferences give the students and me a chance to get to know each other and to talk about their writing. I like to personalize instruction whenever possible," she said.   
While digital teaching has its fair share of hardships, Van Alstyne is keeping her head high and doing everything she can to make this year successful for herself and her students. "I have to say that I am glad I don't have to worry about getting Covid, and that allows me to focus on my job more… Teaching remotely is also forcing me to think in new and creative ways. Also, I can eat more throughout my day! But I have to say, that I miss teaching in person. I actually think that the whole school district might go online this winter due to increasing infection rates, and if that happens, my classes will not be affected much, which should be a smoother transition for my students."  
It will be interesting to see how the rest of this year will play out, but no matter what happens, we still have fantastic teachers like Van Alstyne who will encourage us to keep going and fight alongside us.