The Success of Night to Shine!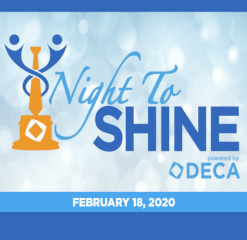 On Tuesday, February 18th the annual DECA Night to Shine talent show featured highschoolers from both Capital and Helena High at the Civic Center. The hype for this year's installment of the student showcase was immense, and every act delivered. Dances, vocal and instrumental performances, jazz ensembles, rock bands, and more kept the audience entertained from start to finish. 
Rock band Spank kicked off the night performing the song "Hotel California" by the Eagles, a song five months in the making. Blinded MT, a recurring act, performed an original song called "12." Caleb Lay, another recurring Helena High act perfomed a solo performance of "Oh No." An act consisting of Peta Compton, Seely Garrett, Kyli Mattfeldt, and Emma Piskolich performed "Vienna." Elsa Grebenc and Hannah Fleischmann performed an act titled EFGH. The Helena High jazz ensemble No Hands performed "Moanin." Sara Betz solo performed "Bent Words and Elsie Harrington performed "Aus Holbergs Zeit, Op 40, Prelude" on piano. Azaria Evans sang and played "Someone Like You," and Sapphire Ferguson-Jetty performed a violin solo of "Sarabande."
Recurring performer Caleb Lay played his own original song "Oh No" at Night to Shine. Lay is a senior at HHS so this was his last Night to Shine performance, but he sure went out with a bang. "Last year I played 'I See Fire' by Ed Sheeran, and this year I played an original song called 'Oh No.' What I do is I've got a loop pedal, which is this little box that sits at my feet that I can set up a backing track on the spot, so that basically I can play an entire song by myself up on stage, like a one man band," Lay said. He sees this year's performance as bittersweet because he has played all four years at Night to Shine and this was his finale. He feels really good about his performance, but he'll miss playing at this show. 
Next year's Night to Shine event has a lot to live up to after this year, but knowing the DECA gang and what they're capable of, they can pull it off. As long as kids continue to follow their passions and share them with the world, Night to Shine will continue to be an awesome event for all attendees.