Student Profile: Kaden Huot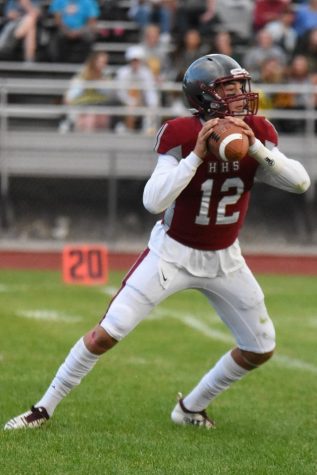 The 2019/2020 school year has begun, and with it a new crop of varsity football players suit up on Friday nights. One such player, Kaden Huot, a sophomore quarterback, stepped up to the occasion. He threw for just over 170 yards and a passing touchdown. His poise, along with his incredible natural talent, makes him the first HHS Student of the Week. 
The sophomore started his first game last Friday against CMR in a closely contested game. With Huot's lead, the Bengals were able to win 26-15. However, Huot is not the only incredible quarterback on the Bengals roster. Senior Hayden Ferguson also plays the position, but he also plays running back, receiver, tight-end, linebacker, safety, and would probably coach, run the scoreboard, and call the game if he wasn't so busy being Helena's premiere iron-man football player. Coming into the season most believed Ferguson would be the team's starting quarterback, but on Monday, August 26th, Coach Evans announced that Huot not Ferguson would be the starting quarterback.
Coach Evans said, "The decision is basically performance-based and team-based. We've been doing it since last spring, we've been charting plays, so there's actually an evaluation process we go through. We started it back in March, so it went all the way through two-a-days… Honestly, the reality is Hayden knows how valuable it is for the team, for us two get both of those great football players on the field at the same time, which is an asset for us." Evans also praised his young quarterback saying, "Kaden had a great game. He played a great football game, did a good job, had good poise."
Receiver Kyler Tesch also had nothing but praise for the sophomore. "I was really impressed. He read the defense really well, made good decisions…," Tesch said. Tesch and Huot seem to have established an early connection. Tesch agreed, saying, "We practice every day, and just build the connection each week, and go out and execute on Friday nights." Ferguson added, "I would say that having two QBs at practice(referring to himself and Huot) just having another presence there, sometimes after a play I talk to him like hey man you're doing fine, but he played really well Friday very poised."
Huot stayed humble, thanking his teammates and Ferguson "He's been a huge help to me, and the rest of the team… Hayden is a big help on offence and defense. He helps us win games." After one game it is clear that once again, the Bengals have been blessed with an incredibly talented football team.