Helena High State Tennis Recap
Helena High thrived at divionals sending 7 boys and 8 girls to state. Coach Lance Bouchee said "In my 20 years, we haven't seen that, Our team just had enthusiasm, hard work and lots of good sportsmanship." Helena High capitalized on tennis powerhouse Bozeman's absence in the southern division. This left the southern division with just Butte high, capital high and Helena high.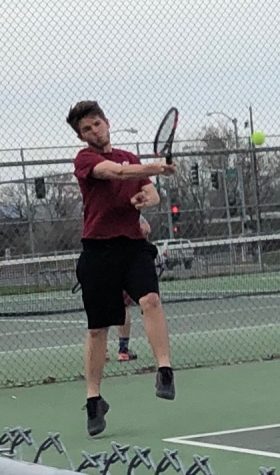 Helena's Connor Casne-Jones and Clayton Ryerson took the one seed for boys doubles, Gavin Anderson was the one seed for boys singles. Other boys that made state included senior duo Matt Abbott and Ed Battershell-Corson, as well as Wyatt Johnson and Elijah Shienz. The Helena High girls also added a one seed in the doubles team of Melina Hammer and Emma Hasquet. They narrowly defeated their team mates Abby Trevor and Riley Coonin. Also going to state for the bengals are Keaton Normandy and Dani Steinmetz. The bengals also added a pair of singles players in Pilar Santos and Trisha Gouveia.
Unfortunately, the success at Divisionals did not carry over to State. Only Melina Hammer and Emma Hasquet made it to the second day of state. They capitalized on their opportunity, taking 4th in girls doubles.
Coach Bouchee said that this was the best he had ever had a girls doubles team do at state. Melina Hammer ended her high school career on a high note, saying, "my goal was to place at state, so it feels really good to end my career this way. Emma played awesome and I'm definitely going to miss playing with her."
On the boys side there was even less success. Senior Gavin Anderson had a difficult day; he was able to defeat his first opponent before running into the eventual 3rd place winner Ethan Violet. Despite a bad showing losing 6-1 6-1 Anderson had to mentally prepare for his match with Hellgate's Hamilton Smith. Smith is a brick wall on the court (meaning he gets everything back). Anderson said, "He was absolutely atrocious. He did not play actual tennis. I would describe his style of play as lob ball. Every good shot I hit he returned with an equally shitty, but effective shot." Anderson lost in an extremely close match 5-7 7-6(8-6) 6-3, eliminating him for the last time in his high school tennis career.
While Anderson was battling it out for singles, simultaneously just across town Juniors Connor Casne-Jones and Clayton Ryerson battled the Bozeman duo of Johnny Camp and Levi Collins. Casne and Ryerson went into this match 0-2 against Camp and Collins. This time was however was a much closer affair; both Casne and Ryerson came out firing, going up 5-4 before dropping the first set 7-5. In the second the Helena duo left it all on the court, taking the set 6-4. In the 3rd set all 4 players were exhausted, but the Seniors from Bozeman prevailed, winning the 3rd set 6-0. Ryerson said, "We played really well, and both of us were firing on all cylinders. The loss was heartbreaking, but it was a good way to end the season."