Monologue Show From Hell Review
Hang on for a minute...we're trying to find some more stories you might like.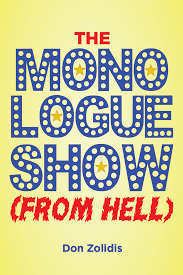 The Monologue Show from Hell written by Don Zolidis, details a high school monologue show gone awry, and the Helena High School theatre students absolutely knocked it out of the water with their dramatics and superb acting skills.
The whole cast really came together and pulled off a very hilarious show containing high school drama in its grittiest and outrageous form.
Christiansen Biller's portrayal of a stressed out drama teacher Mr. Banks had me convinced he should become a theater teacher for his career.
The way Aubrey Irwin, junior, acted as her snobby character of London reminds me of the stereotypical high school girl.
Juniors. Declan Garrison and Stephen Cochran's monologue portraying an iconic Star Wars love scene had me laughing until I cried.
This hilarious comedy was equally matched by fantastic acting by high schoolers who worked for three and a half months to put this show together.
The overall concept of a monologue show within a play is great and the students really pulled off the concept very well. The work of Zolidis had been very well matched to the Helena High's Theater 1, 2 and 3 students capabilities.