Kazutaka Kodaka. He's a guy. Flesh and blood, as far as I'm aware.
He's also a writer, most famous for his multimedia series Danganronpa.
If you're at all a regular Internet user, I'm sure you've stumbled upon something related to it, even if you didn't realize that it was Danganronpa in the moment. You at least know who Nagito Komaeda is.
The general gist of a Danganronpa is that fifteen to sixteen exceptionally talented people, dubbed Ultimate/Super High School Level [insert said talent], are trapped in a location by the monochrome bear Monokuma. Monokuma has a simple goal in mind in doing this: to get his prisoners to kill one other in what he calls a game, offering them freedom in exchange if they can get away with murder.
If they can get away with it, that is, as Monokuma also forces everyone still alive to work together to solve the murder when one happens in what he calls the "Class Trial." At the end of the trial, everyone must vote on whom they think is the killer. 
If they're correct, the culprit will be executed, and the game will continue on.
However, if the culprit can deceive everyone effectively and get them to vote for the wrong person, Monokuma will instead execute the cast en masse and let the culprit alone go free.
In addition to the main events of the killing game, Ultimate Talents are prized status symbols. Having an Ultimate Talent immediately puts you ahead of a great majority of society, no matter what field you decide to go into. For example, Taberu Hikari, the Ultimate Lightbulb Eater, even with their nonsense Talent, is poised to be far more successful in life than Joe, who has 4.0 GPA.
Danganronpa, as a concept, is fertile ground for intriguing drama. How Monokuma goes about exploiting these generally level-headed people's flaws and insecurities to get them to kill someone can be really compelling. On top of that, the potential for social commentary about Talent vs. Skill and idolization of the elite is really quite fascinating.
How much Kodaka actually ends up capitalizing upon that soil is . . . well, it's a variable. Sometimes he authors up some of the best dramas I've read, but, just as often, he pumps out trash that assassinates his characters beyond compare.
Not to mention how his work oftentimes handles sensitive subject matter really poorly. Like nauseatingly poorly. Like, if you're at all interested in Danganronpa, but haven't taken the plunge, I IMPLORE you to look up a comprehensive list of trigger warnings. Yeah, you'll get spoiled, but it's better that, than to get sucker punched by something that is genuinely traumatic for you.
Take care of yourself. Danganronpa can be fun, but taking care of yourself is far more important.
Despite these kinds of flaws, many people, me included, latched onto Danganronpa. There's something about it that's just . . . enchanting. I don't know how else to describe it.
The concept is intriguing, with endless potential. 
The sprite art by Rui Komatsuzaki is striking, and the almost diorama-esque presentation of the games only makes the characters and their hot pink blood pop more. 
The gameplay, mixing first-person shooting with debating, is still really unique, even today. 
Masafumi Takada's scores are consistently strong, making the heartbreak sting even more and accentuating powerful moments to even greater heights. 
 . . . And, for as awful as Kodaka's writing can be sometimes, he also has a knack for getting you to care about the characters, even though YOU KNOW what's going to happen to them, only to rip out your heart and stomp on it with cleats when the inevitable comes knocking.
The fandom would only grow in the years following the original game's English release in February 2014, and the second game's that December. As with any fandom, fan-works were soon to follow. Fan art and fanfiction of the characters—especially ones who died early—, animations like Rats Died AMVs and KirigiriKirigiri JingJing, fan songs like 'Cause I'm a Liar, and most importantly, original Danganronpa stories with original characters.
Or Fanganronpas, as I'll be referring to them.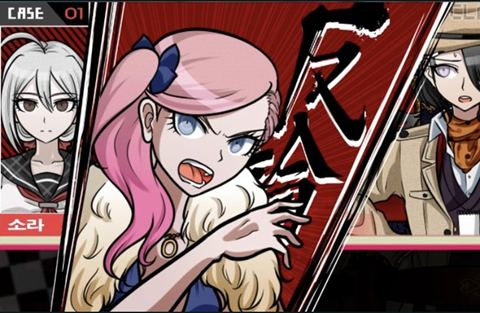 A couple ones that jump immediately to mind are Danganronpa Another, Another 2 (that's the one pictured above), Blowback, Brave, Re:Birth/Re:Birth Voices, Kill/Cure, F: Shattered Hope, Reprisal, and Heaven of Despair.
There are doubtless plenty more that I'm just not thinking of right now.
Something to note about Fanganronpas is that they take many forms: Another, Another 2, and Blowback are all playable games, while Brave, Re:Birth/Re:Birth Voices, Kill/Cure, F: Shattered Hope, and Heaven of Despair are all some form of web series, and Reprisal is just chilling on Archive of Our Own.
"Why are there so many, though?" You might ask, and it's a fair question. Fan content is inevitable when something attracts a fanbase like Danganronpa did, but there's a specific element that I think plays a big role: formulaicness.
Mainline Danganronpa games always follow a number of tried-and-true formulas: there are always fifteen to sixteen characters with a designated Talent, among them an Ultimate/SHSL "???". There's always six chapters, divided cleanly into a Pre-Murder|Investigation|Trial pacing format. The operator of the game is always Monokuma, who is himself controlled by a shady Mastermind figure that the cast will confront during the sixth trial. 
So, when it comes to making a Fanganronpa, much of the groundwork is already laid out for you. 
Not all fangames follow all of these aspects of the template to the letter of course, oftentimes Monokuma is swapped out for a derivative like Monocrow or Kokorosaru, but even then, an entire character type is built-in from the very start.
It's a similar case for the art style. Rui Komatsuzaki's skills are very much one of the reasons why Danganronpa stands out among its contemporaries at a cursory glance. It's absolutely an anime art style, but it's not a generic, bland one that you'd find in a cheap power fantasy anime.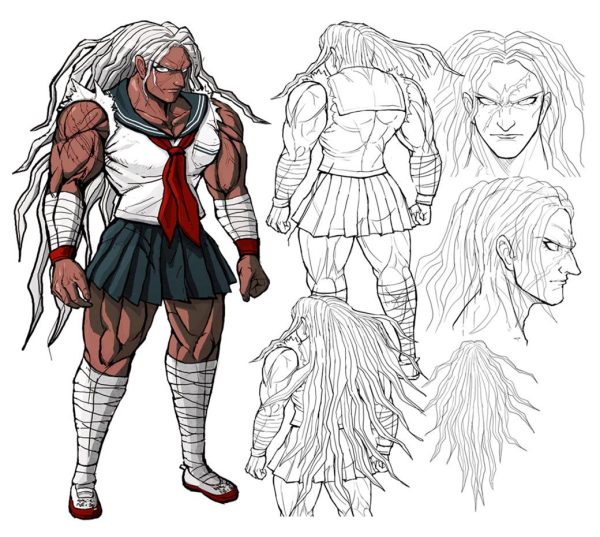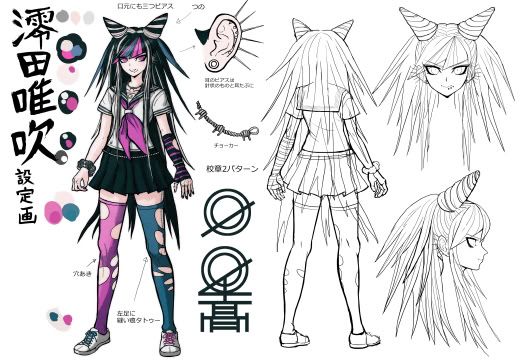 While later Danganronpa games have slightly neater linework, there are still vivid consistencies from game to game. The way Komatsuzaki draws pull lines, hair with the brightness swipe, frills, and particularly eyes, the direction he does shading and the cooler colors he uses to do it, the general shape language; they're all very distinct, emphasizing these characters' larger-than-life personalities, yet are consistent throughout the series.
If I were to compare it to anything, I'd say it's sort of like My Little Pony: Friendship is Magic. All of the ponies in that show follow a design template: big, round eyes, soft snout, legs that get a smidgen wider as they go down, and a cutie mark that is somehow related to their character. Because of this, it's easy to create your own pony OC.
Obviously, it's not exactly the same, but the spirit is there. It's by no means a monumental task to design your own Danganronpa character in the series' iconic style, even if you can't perfectly emulate all the small intricacies Komatsuzaki includes. I've done that myself!
Between these two aspects, it's plain to see why it's so appealing to want to make your own Danganronpa, with gay people and taxation for the wealthy. Provided you yourself are not Kazutaka Kodaka, you're free to do anything. 
It's by no means an easy feat, of course. In fact, many high-profile Fanganronpas, like Kill/Cure and Re:Birth, have gone cold before getting even halfway. But the despair-ful foundations are there and easy to build upon, even if the house never gets all the way built.
Even I, your esteemed author, have had my own Fanganronpa Ideas. My main one was Danganronpa Despair Sponge, a Spongebob-themed game I posted to the subreddit r/Danganronpa. 
The story sprouted from a post I made where Spongebob was edited to have hot pink Danganronpa blood spilling out of his sponge-holes. It was just a single meme at that point, but it would escalate. I eventually went back to add more details, retconning it that Spongebob's death was the second murder, actually. The first was of Patrick Star, the Ultimate NEET.
I rewrote it that, while initially Spongebob himself was the protagonist, he forfeited that role midway through the Class Trial for Patrick's murder. It had become apparent to him that his friend Squidward, the Ultimate Flute Player, was the culprit, and he shut down at the realization. With his unwillingness to continue on, Sandy, the Ultimate Scientist, was forced to take the reins. This was the image that accompanied that part: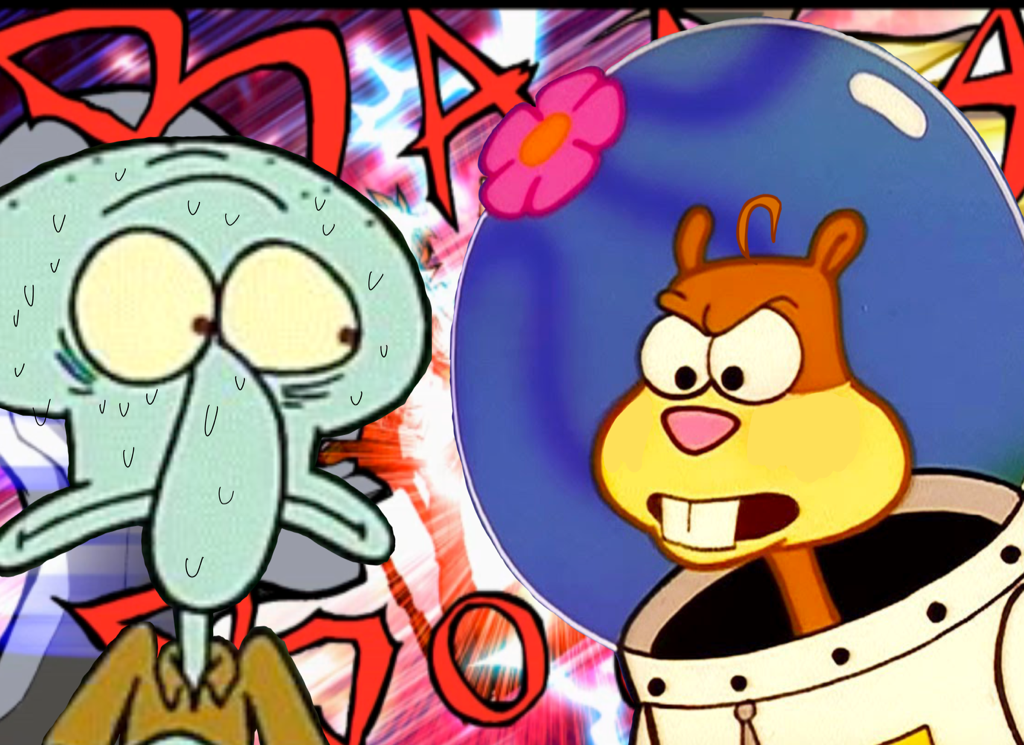 Truly indistinguishable from Rui Komatsuzaki's work, I know–
After Squidward was executed, Spongebob drowned in despair. This caught the eye of one Perch Perkins, the Ultimate News Anchor, who exploited the Ultimate Fry Cook's vulnerability to strike. I think he shoved some sort of sharp object, like an ice pick, into Spongebob through his sponge-holes to cause some kind of internal bleeding before dumping him into Goo Lagoon, but don't quote me on that. This was like three years ago. I was an entirely different person three years ago!
Sandy, with the Ultimate Lifeguard, Frank, as her assistant, would go on to solve the murder of her dear friend and the many that followed. Larry the Lobster was killed by the superhero duo Mermaid Man and Barnacle Boy; the reviled Bubble Bass was killed by Master Udon; Frank was killed by the Monokuma stand-in Monokrabs, I believe, who pinned the blame on Gary. 
And Monokrabs apparently framed Gary so effectively that he got the cast to vote for the snail at the end of the Class Trial. But, as Gary didn't kill Frank, the survivors—Sandy, Plankton, Karen, Gary, Ms. Puff, Squilliam Fancyson III, and the Jellyspotters Leader guy—were put face-to-face with their executions. They all survived through a deus ex machina and confronted Monokrabs, who counter-confronted them with the state of the outside world. 
In truth, the empty Bikini Bottom they'd been living in throughout the killing game was just a replica, and the real Bikini Bottom was in ruins. Why? Idk. Also, Monokrabs was actually controlled by/is Karen 2. 
After defeating Karen 2 with their FACTS and LOGIC, the seven survivors emerged into the decimated Bikini Bottom, ready to face the world and try to rebuild.
Yeah, Despair Sponge was not good lmao–
Beyond Perch's seizing of an opportunity, the killers had no real motives, Monokrabs/Karen 2s existence, why they murdered Frank, and the ruined Bikini Bottom had no explanation, and EVERY MEMBER of the cast surviving their executions after mistakenly voting for Gary was a complete cop-out on my part.
I do still hold a lot of fondness for it, though, certainly way more than Grubhubronpa or the AI Dungeon Fanganronpas I made around the same time. But, for as much as I'd like to reminisce endlessly about that, there's . . . really not much else to talk about. I mean, Ms. Puff had her own Ultra Despair Girls-style sequel-series briefly where she went to go find Kelpy G., but eh . . . ?
Do you know what is an actually good Fanganronpa, though? Project: Eden's Garden.
Originally directed by Sean Lusk, who passed it on to F. Lim and Dick Heyne, programmed by Benjamin Jillson, written by Sozzay, composed by Robby Good and Hayden Graves, and with art by NifastGreentail, Project: Eden's Garden is a free-to-play Fanganronpa game made in the engine Unity. Masterminded as a Danganronpa game unrelated to the canon storyline of the original games, its prologue released in December 2022, and it follows Damon Maitsu, the Ultimate Debater.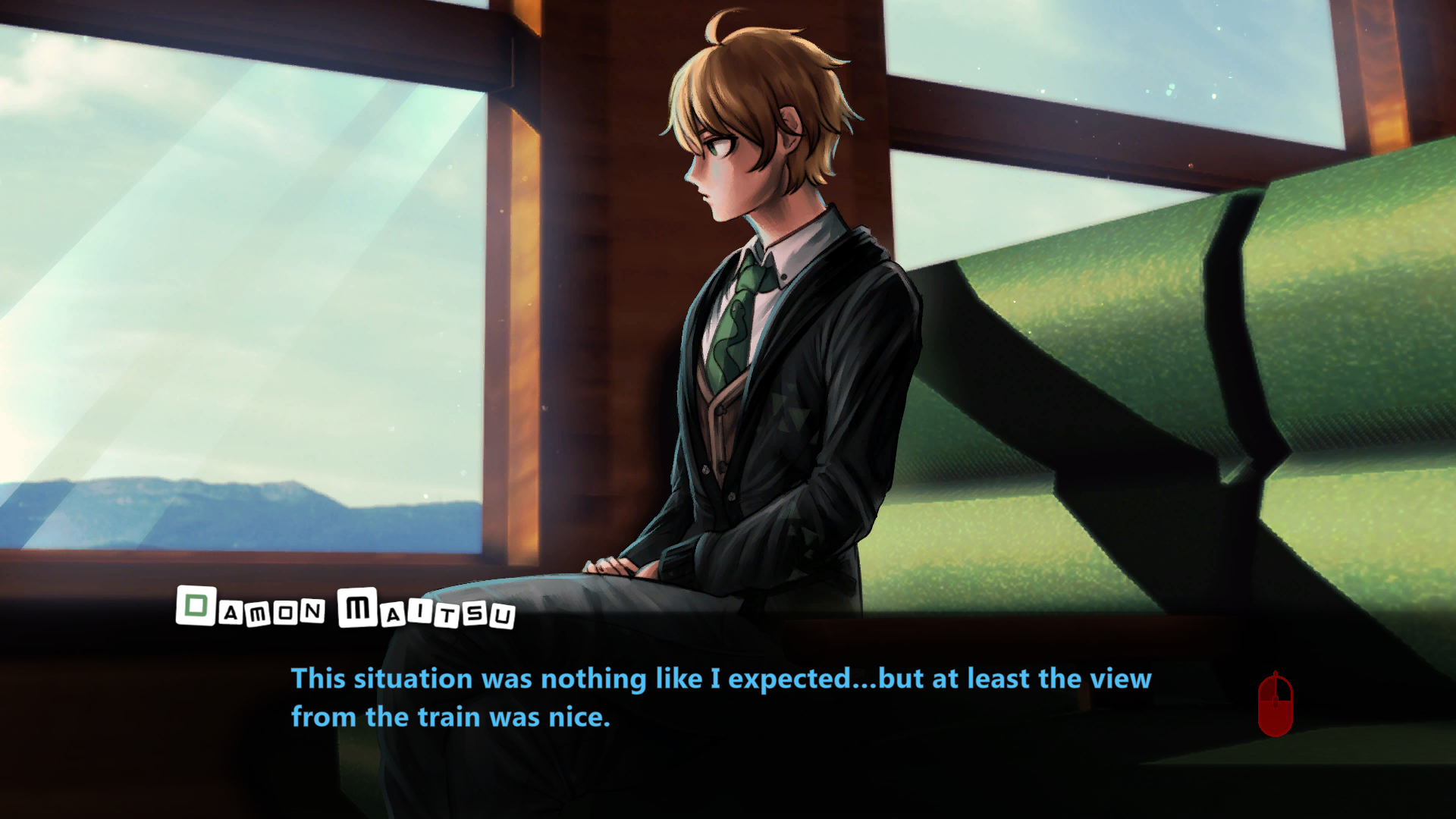 College-aged, he's . . . asocial, to say the least. He speaks very little and is in his head most of the time, but if you were to probe his brain, you'd most often find him judging and putting down those around him. ESPECIALLY if they happen to have an Ultimate Talent he doesn't find valuable and potentially world-changing, a phenomenon that has become increasingly common in his eyes. 
As an example, an Ultimate Steam Train Conductor would likely be a victim of his ire—obviously undeserving of their "Ultimate" status–while an Ultimate Astrophysicist, he'd find respectable and a shining example of what all Ultimates should be. 
Damon has a rigid, value-based standard of quality when it comes to Talent. He isn't a violent zealot to his elitism like a certain someone was; in fact, he doesn't even vocalize it most of the time, but it does very much inform much of how he treats those around him. 
Much to his appreciation, he's landed a scholarship to one Eden's Garden Academy, an academic institute that claims to seek out only the greatest college and high school students. Damon takes this as a once-in-a-lifetime opportunity to immerse himself in a community of those who are truly exceptional—people who will go on to make grand impacts on the world!—not just a league of undeservedly-recognized hobbyists.
Once the designated day arrives, Damon heads to his local train station (jokes on him now he HAS to rely on the Ultimate Steam Train Conductor–how the tables have turned) and is quickly greeted by the express that's to take him to the college of his snooty academic dreams. 
Stepping aboard, Damon finds that he's the sixteenth passenger to be picked up, giving us a brief snapshot of our cast for this game.

Before long, though, something . . . strange happens: a chemical smell begins wafting from the back of the train. One of the passengers–the guy wearing the racing suit with the ears near the door if you can make him out–finds that the stench is coming from a dark bag slumped in one of the seats.
Despite it obviously being a bad idea, he begins trying to open the bag, before swiftly falling to the floor unconscious. 
The bag is filled with a potent airborne sedative, and with the immediate collapse of a second man, the rest of the passengers begin to panic. A couple of them try to open the back door, which the woman with the bunny visor says was unlocked earlier, only to find it sealed shut. 
With no way to air the car, the sedative gas begins claiming more and more of the passengers. Damon tries desperately to stay awake, but, as the stinging in his eyes intensifies and his vision blurs, he can't manage it, and he passes out.
When he awakens, Damon finds himself not on the train anymore. Instead, he's on a concrete platform in a somewhat-flooded boiler room, alongside a woman with black hair that fades to white. Her name is Eva Tsunaka, and though she doesn't divulge her Ultimate Talent, she proves herself to be incredibly smart, if cold and nonchalant.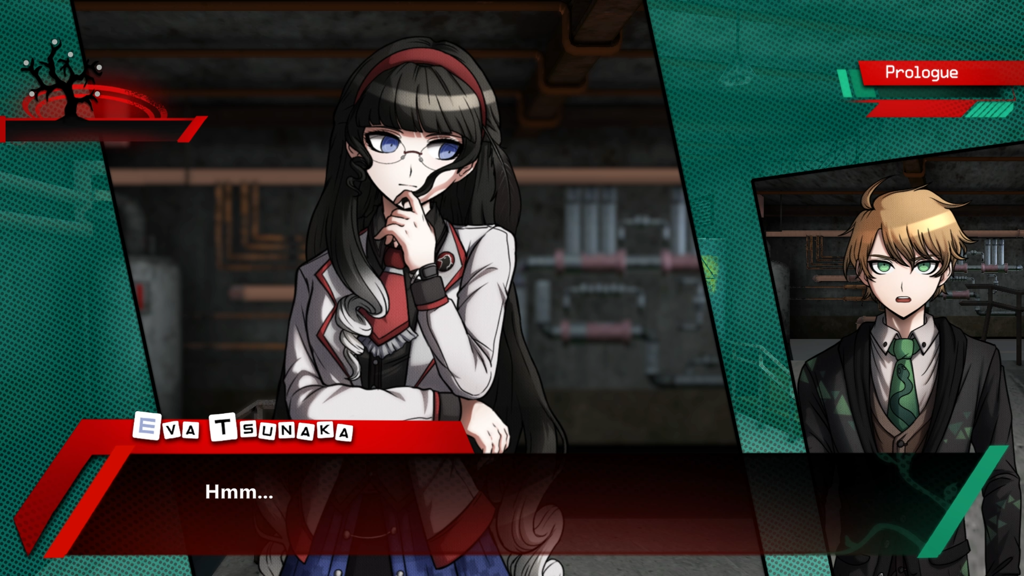 Eva and Damon recognize each other from the train, but there's one notable change. At some point between when they passed out on the train and woke up in this boiler room, someone slipped bracelets equipped with screens onto their wrists. 
Damon tries to forcibly remove his, only to be bitten by a sharp electric shock. 
These bracelets aren't coming off. 
They can at least touch the bracelet's screen safely, which acts as the game's menu. There, you can check/adjust game settings, save/load, and review your Truth Bullets, once you have them, among other things.
After messing around with their bracelets, the duo decides to examine the room around them in more detail, entering the first instance of gameplay in Project: Eden's Garden. 
In enclosed rooms like this, you're locked to a fixed, neutral perspective at the room's entrance. Controlled by your mouse, you use a red reticle to look around the scene and inspect inspectable objects or talk to characters there. In this case, there's a suspiciously sleek camera, some boxes, a noisy generator, a vent with an unfixed grate above the generator, and Eva standing on the platform.
If you've ever played an  Ace Attorney or, God forbid, a Danganronpa game, you know what you're getting into.
The camera, boxes, and generator don't give Damon or Eva much information about where they are, so, to cover all their bases, Damon tries to check the vent. He lifts the grate to see more clearly, and while it's definitely too small for either of them to squeeze through, Damon can make something out in the connected room:
LEGS! Feet, even!
Damon assumes that these appendages must belong to someone who was dumped in that room, similarly to him and Eva, yet is still unconscious. Reporting his findings to Eva, the two exit into a corridor with various unlocked storage closets.
Unlike the fixed position you had in the boiler room, you can actually walk around freely here. The perspective is first person once again, and you move and turn by using the arrow keys and the shift key to run.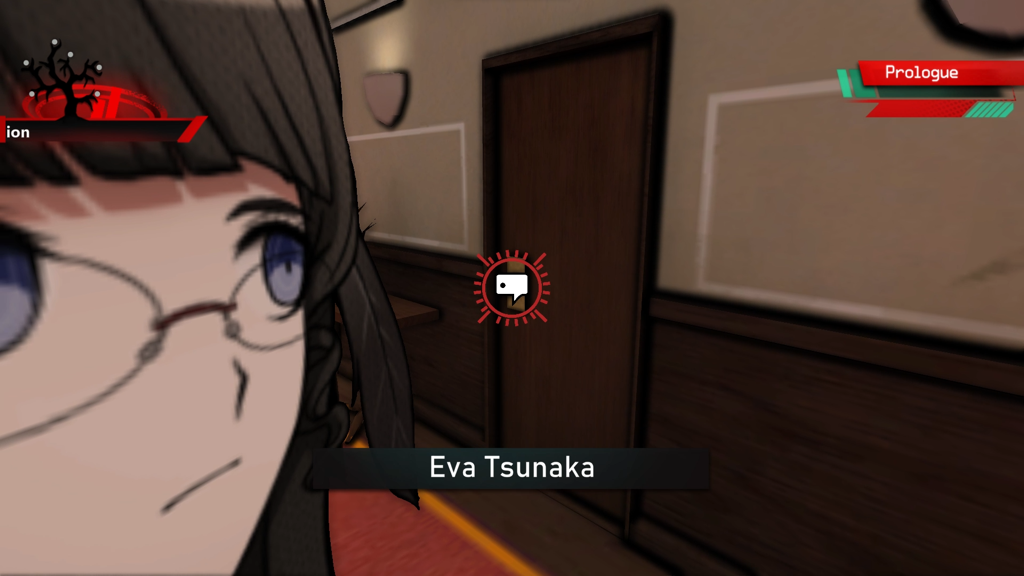 . . .I'm embarrassed to admit that this game is the reason why I found out that there's a shift key on the right side of the keyboard.
Eva mentions before you get going that she already looked through those storage closets, so you can disregard them and focus on the search.
But, if you want, you can actually ignore Eva's advice and enter these storage closets, which, yeah, are pretty barren. There is stuff in there, like bedding, rolls of toilet paper, and fire extinguishers, all stocked on iron shelves, but you can't examine any of it deeper. 
The thing that jumped out to me most, though–and I wasted time straining my eyes staring at–were the canned preservatives labeled "Sable." I know it's probably supposed to be sable as in dough, but sable also happens to be the name of a species of Marten.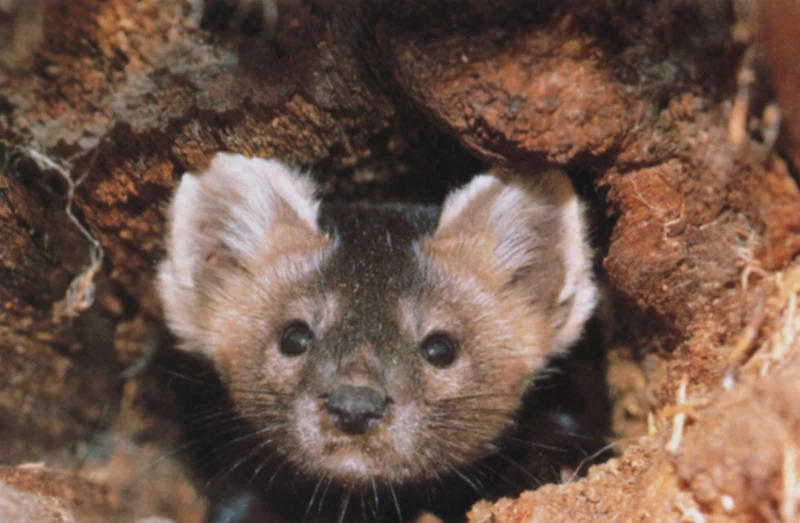 Wow, cans of mammals??? Man, Eden's Garden Academy really has everything! I mean, it's a little unethical to keep live animals in cans, but, like, when has a supposedly good, upstanding academic institute in the Danganronpa universe ever been truly as noble as they advertise themselves to be?
. . .that actually brings up a good point, strangely. We don't know if this location is Eden's Garden Academy or not. Maybe the school's not behind this?
Damon and Eva ignore the cans of mammals and proceed up a flight of stairs, to what seems to be a dormitory of some kind, whose walls are dotted with paintings of people in strange animal masks. They don't spend too long on them, though: they've got to find the guy with the legs!
Sweeping the dorm, Eva and Damon locate the room that should have the leg man in it, the kitchen, and upon entering, find more than they asked for. Not only is he—Wolfgang Akire, the Ultimate Lawyer—there, but the woman with the bunny visor—Grace Madison, the Ultimate Golfer—is there as well.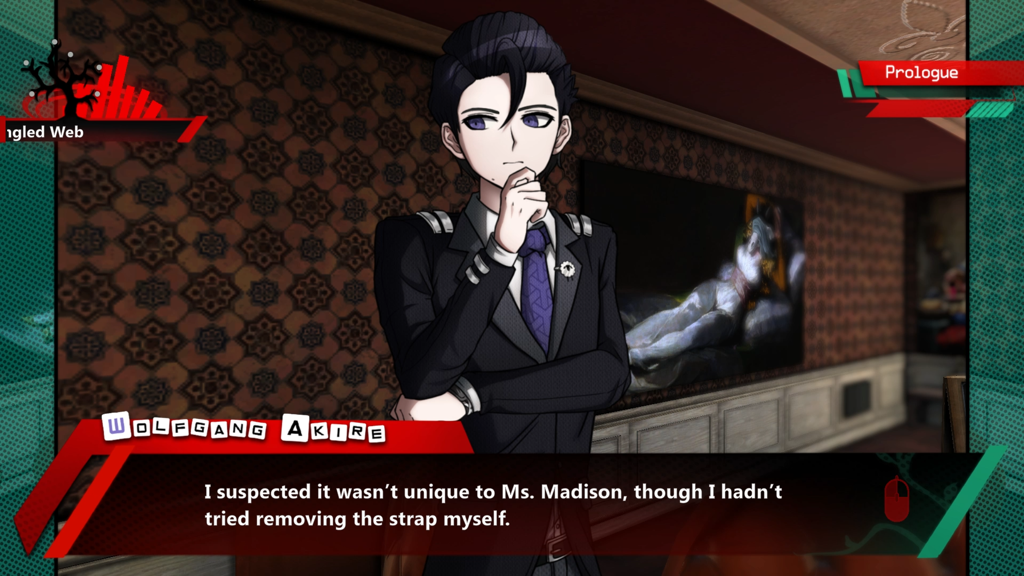 Wolfgang, having hundreds of cases under his belt despite only being twenty-two years old, values truth greatly and refuses to cut corners when it comes to putting it together. While he can get fired up about it at times, his demeanor is most often very kind and soft, a stark contrast to Damon's solemn superiority. 
In any other Fanganronpa, I feel like Wolfgang would be the protagonist, not Damon.
While we're here, please note that he happens to have a sheep pin on his lapel. Remember this, it'll be important 8,000 or so words from now.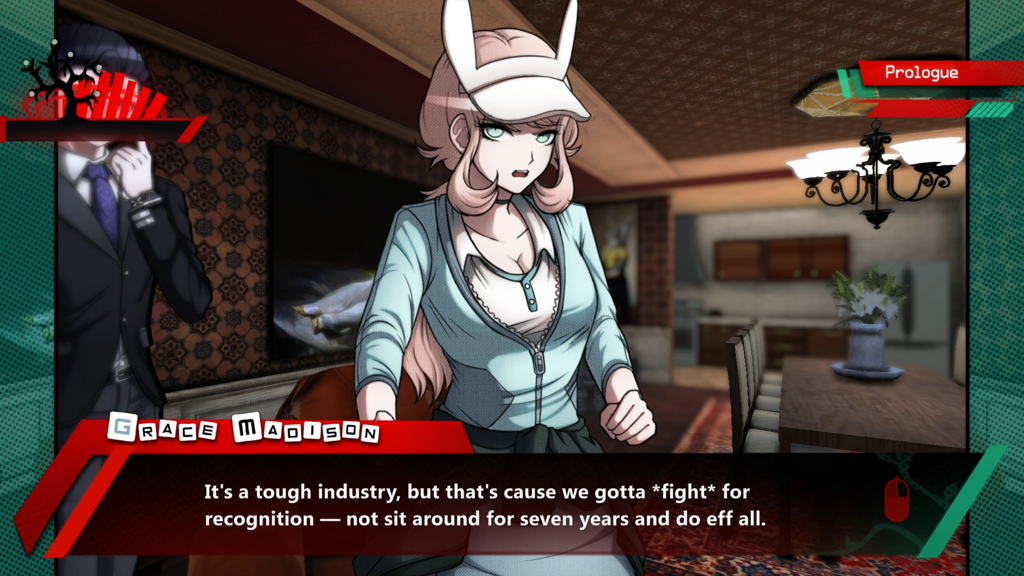 Grace is basically Wolfgang's complete opposite; she's loud, brash, and blazingly fervent in furthering her golfing career, no matter how many people she has to step over to do it. She's eager to throw insults and profanity every which way when referring to anyone or anything, and doesn't really care how the subject feels about it. 
The now-quartet of Ultimates starts discussing the situation they find themselves in. They know they were all on the train to Eden's Garden Academy, they all woke up in pairs, and Eva spots that Grace and Wolfgang also have the same shock bracelets that she and Damon do. 
Speaking of Damon, he starts silently lamenting what's happened to him. He whines and whines about HOW could THIS happen to HIM???? And with THESE PEOPLE?????
Yeah, Damon isn't a super likable protagonist, if that initial description of him back at the start didn't impart that to you. He's quite the departure from the likes of Naegi, Hajime, Komaru, and Kaede from the main series, and even a lot of Fangan protagonists.
Before Damon can get too lost in his own mind palace, someone new appears at the door to the room: a small girl wearing a kimono decorated with hearts and flamingos. Her name is Toshiko Kayura. She's the Ultimate Matchmaker, and despite being visibly a child—she's actually one of only four members of the cast to not be at least college-aged; she's fourteen—Toshiko is greatly invested in orchestrating social situations.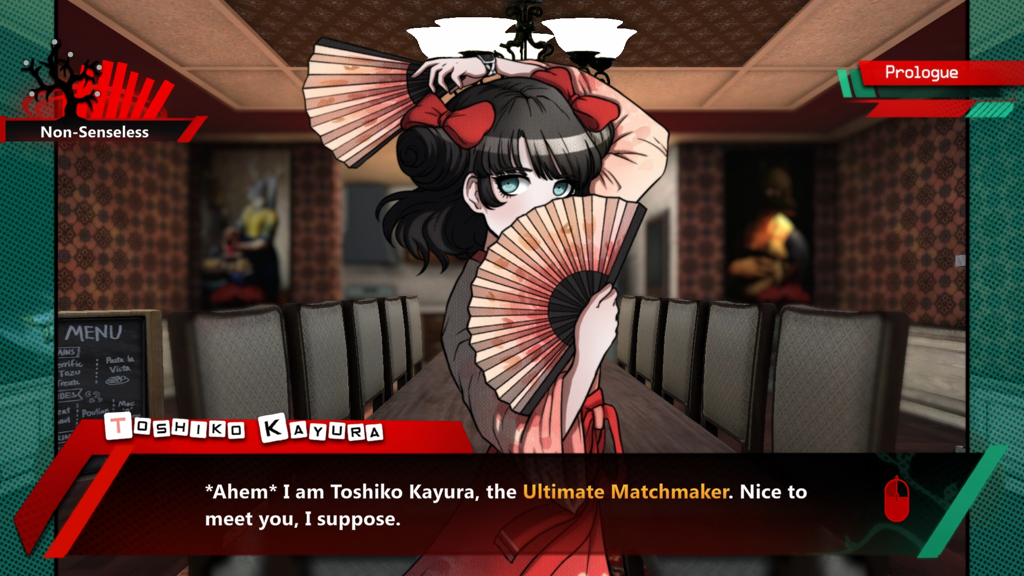 Damon quickly shares what I started thinking: how and why is the child a matchmaker, let alone an Ultimate one, but Grace quickly jumps to accuse Toshiko of lying. I don't think it's an unwarranted accusation, really. 
Wolfgang chides Grace for her continual swearing and yelling in the presence of a child—and though Toshiko does crumble a little at the golfer's insistence that she's not who she says she is—Toshiko informs the four that there are eleven other people who've awoken thus far.
Toshiko also mentions that everyone awoke in pairs, herself included, roasting the, apparently, boring boy she was set with. 
The five, led by Toshiko, make their way out of the kitchen, through the dorm, and into the courtyard.
For a second, it seems like they're really outside. The sky is a solid blue with fluffy clouds, the sun beams warmly from above, and the ivory terrace and countless, neatly trimmed hedges give an atmosphere antithetical to the dorms. It's quite picturesque.
. . . But, squinting at the sky, Damon finds that, of course, it's not as it seems. It appears to actually be a dome of some kind, with its "clouds" and blue hue being cast from unseen projectors, and the "sun" being a bright lamp that he can't quite make out without burning his eyes.
The hedges are real, though, I'm pretty sure—I mean they could be made of plastic, but I doubt it—because out of one emerges Eloise Taulner, the Ultimate Fencer.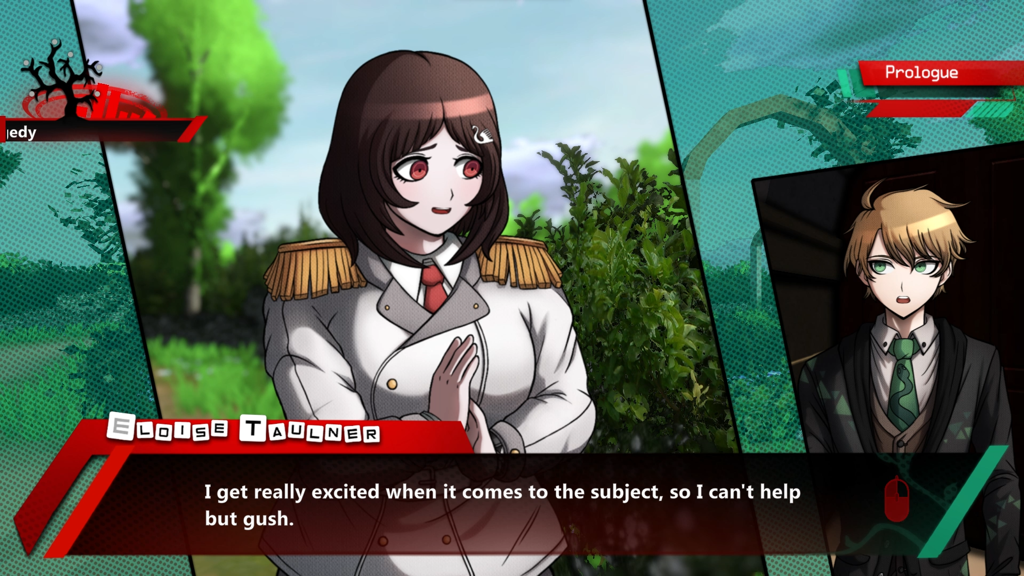 A bit of a wallflower, Eloise struggles with talking to people. You might not think that, given that she's a fencer, but it's true. If she's not talking about her passion, she becomes quiet and stumbles over any words she tries to get out.
Apparently, Eloise woke up in a room filled with people; too many people. Like her, they were all panicking, so she immediately booked it and escaped into the courtyard, and from there, into the bushes to calm down.
She's just like me fr fr-
Wolfgang, taking a leaderly role, asks Eloise if she'd like to join him and his companions in meeting everyone. Since she sped away so quickly, Eloise didn't really greet any of the people she woke up alongside, so she's in a similar situation as they are.
As she's still not completely calmed down, Eloise declines Wolfgang's offer. He understands, and doesn't push her, but he makes it a point to inform her that he plans to have everyone gather out here to discuss what to do next. She's fine with that.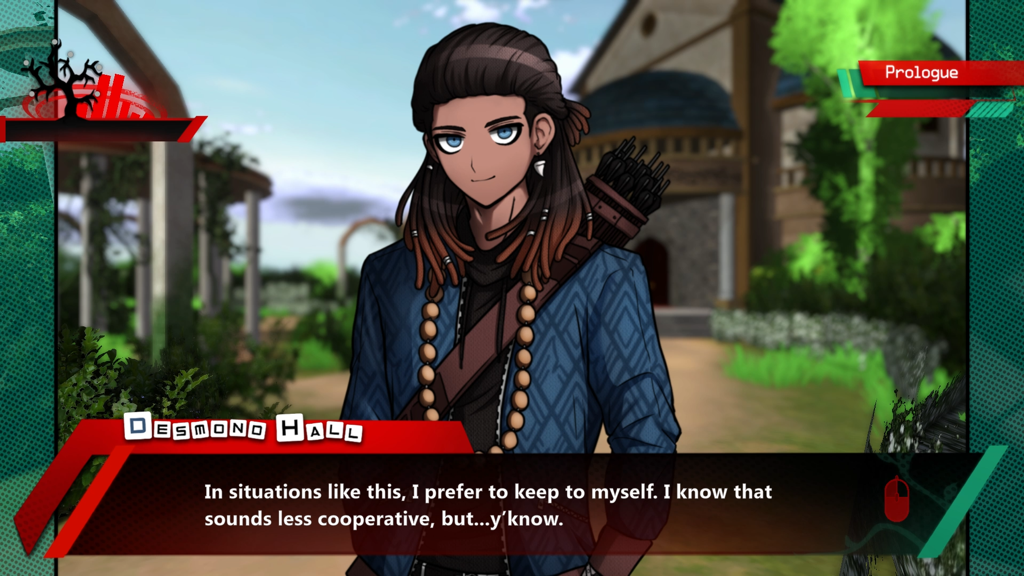 Also in the courtyard is Desmond Hall, the Ultimate Hottest Human Being To Ever Live—I mean Marksman. Like Eloise, his Talent may give you the wrong impression about him. Though his accuracy and coordination with all manner of ranged weapon may make you think that he's someone to be feared, Desmond's a rather calm and caring guy. In fact, despite his Talent as a Marksman, shooting a moving target is really out of his comfort zone. 
His character bio on Twitter contradicts this, but I digress.
And yes, I do call it Twitter. I'm never going to unironically call it X. Not after what Elon did to Treeter.
Before the group makes their way into the building across from them, Wolfgang asks Desmond if he'll keep Eloise company. He doesn't know how long their introductions to the others will take, and doesn't want Eloise to be completely alone out here. Desmond is more than happy to do so, and the group continues on.
The building holds the remainder of our cast, all circled around an artificial tree reaching towards the ceiling. Though there are plenty of orange leaves scattered on the ground immediately around the tree, they are, similarly, artificial. 
In this room, you're meant to talk to the pirate-looking man standing directly in front of the tree. But, I, going against the grain, chose not to. Instead, I talked to the other heavily muscled character in the room.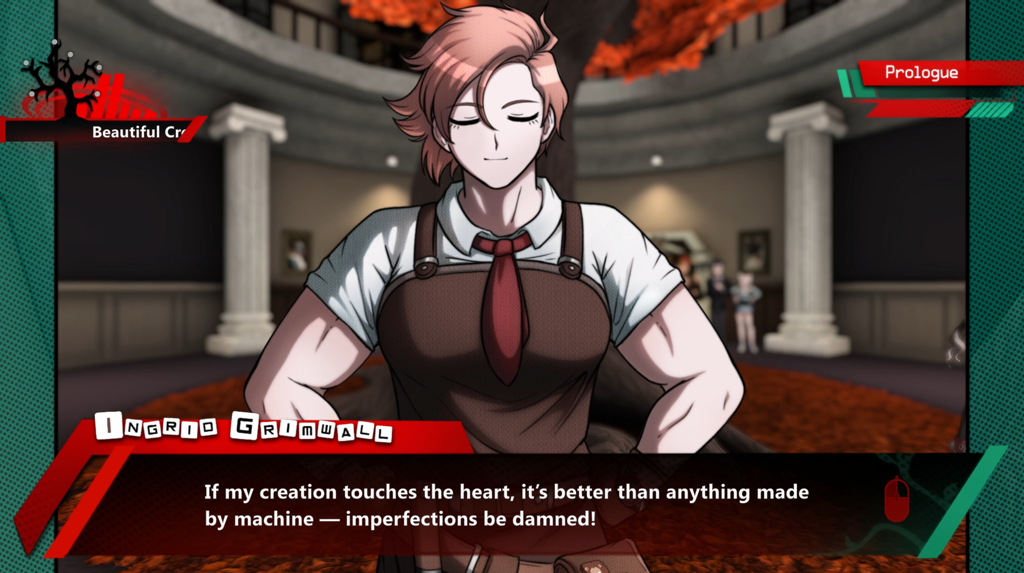 Her name is Ingrid Grimwall, and with a sweet smile she says she's the Ultimate Blacksmith. Fun fact: she has a southern drawl, and it's really cute.
Despite advancements in technology largely eliminating the strict need for blacksmithing as a profession, many people still employ Grimwall. Machines may be able to mass-produce weapons, sculptures, and the like with speed and precision that objectively surpass that of a human's, but Grimwall doesn't really mind that. For her, the human touch–the care that comes from something being handcrafted–and the tiny mistakes made in the process of creating something, trump it hard. 
Grimwall is stalwart in her self-affirmation, and it's honestly pretty infectious. Sonosuke Izayoi WISHES he were her.
And, because of course he does, Damon whines that a MERE blacksmith got compared to a machine before HE did. Believe me, Damon, with the way that AI learning models like ChatGPT are getting more and more involved with our daily lives, the day when you get lambasted for being a debater is coming soon 🙂
Near the end of their introductions, Wolfgang suggests that Grimwall head outside. Like he said to Eloise, he wants everyone who's been trapped here to congregate so that they can decide, as a group, what their next move should be. She's happy to.
Going clockwise around the tree from there, the next character to introduce is Wenona, the Ultimate Entrepreneur.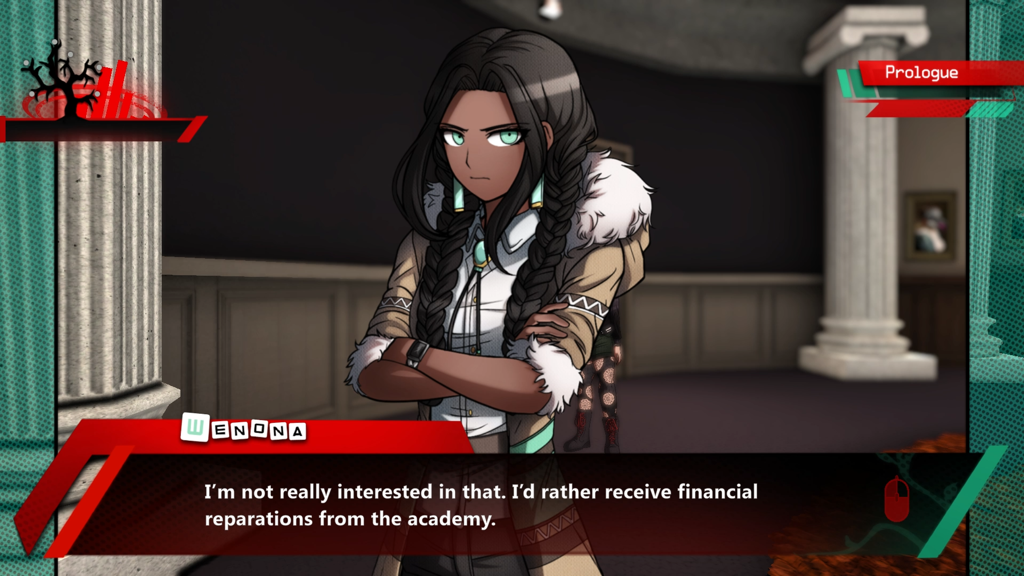 As you'd imagine with her Talent, Wenona is filthy rich. Like Andrew Carnegie levels of overwhelming wealth and monopolistic status within her choice industry. Grace says that she's even been awarded the title of the world's youngest self-made billionaire.
Though, unlike Carnegie, who specialized in steel and other metals, Wenona works in agriculture. If you've eaten a corn at any point in the last decade, odds are it was passed onto your local Albertsons supermarket location by one of Wenona's subsidiaries.
While Wenona, being a young Native American woman who's broken into and taken control of an industry that's historically been controlled by racist white men, is no doubt a girlboss–it should be noted that she does hate unions. It's kinda a requirement to be a billionaire, I'd imagine.
Still stan though. We love a problematic queen.
It's also in Wenona's introduction that we get a taste of Damon's hypocrisy, as she has an elitism not dissimilar to his. She too looks down on many people dubbed Ultimates, saying that she "knew the education sector had low standards" and is frustrated that they're "just handing out titles to anyone who asks?"
Damon, feeling slighted, asks what her damage is and internally complains that she's, quote, "a piece of work." 
BRUH-
YOU SAID ACTUALLY THE SAME STUFF LITERALLY WHILE YOU WERE BEING INTRODUCED IN THE OPENING MINUTES OF THIS GAME-
WHAT ARE YOU ON ABOUT?
We'll get more into why this interaction makes me excited for where Damon will go as a character in a bit, but for now, Wolfgang asks that Wenona go outside for their later discussion. She does so.
After Wenona is the person who is looming right behind her: Cassidy Amber, the Ultimate Pro Gamer. Thankfully, my fears that she'd be another Chiaki were quickly dissuaded, as, even just in her introduction, Cassidy shows that she actually has a personality.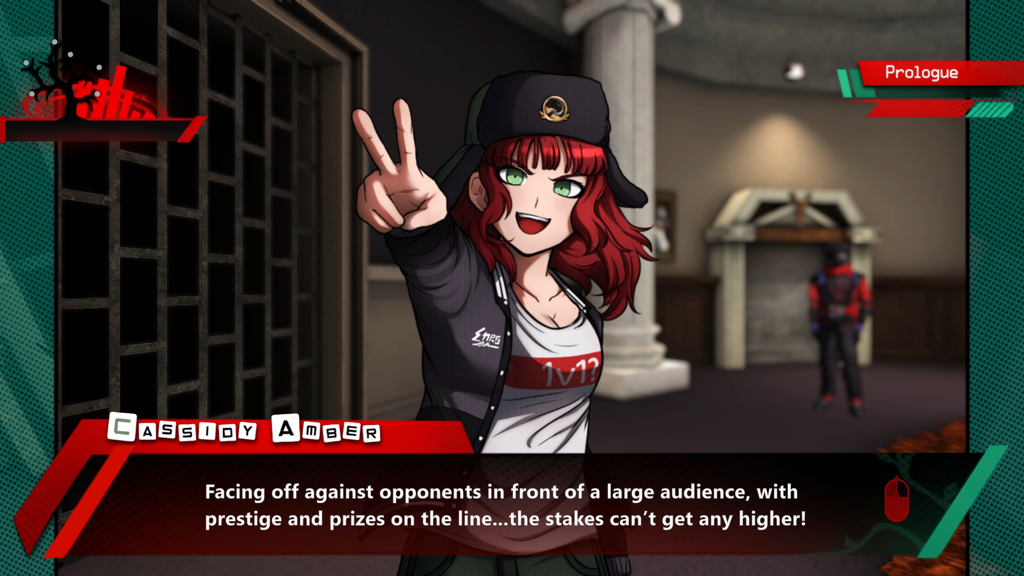 She's communist Mr. Beast.
Cassidy's modus operandi is to put her wealth forward to help others, then create content out of that experience, in turn gaining her even more money, that she can then put forward to help someone else. The cycle repeats from there. Through using her bombastic content as a means to help others, Cassidy's been able to curate a feedback loop of charity, to commodify it, and use it to do good in the world. 
She does obviously save some of her money for herself, her necessities, and some luxuries, but she makes sure to never hoard what she earns.
During her chat, Cassidy comments that she smells something . . . evil here.
There's bourgeoisie scum among them. 
 . . .I mean . . . we know exactly who that is. It's clear that Cassidy'll have a lot to say about Wenona.
Two Queens enter, one Queen leaves. While I say that as a joke, it is actually very possible, and even likely, given that this is a Danganronpa fangame. We haven't gotten to that part yet, but don't worry, it's coming.
Once Cassidy heads the way of Grimwall and her rival-to-be, the group continues around the tree to our next Ultimate. Or rather, Ultimates, plural—as with Wolfgang and Grace, these two's introductions are delivered together.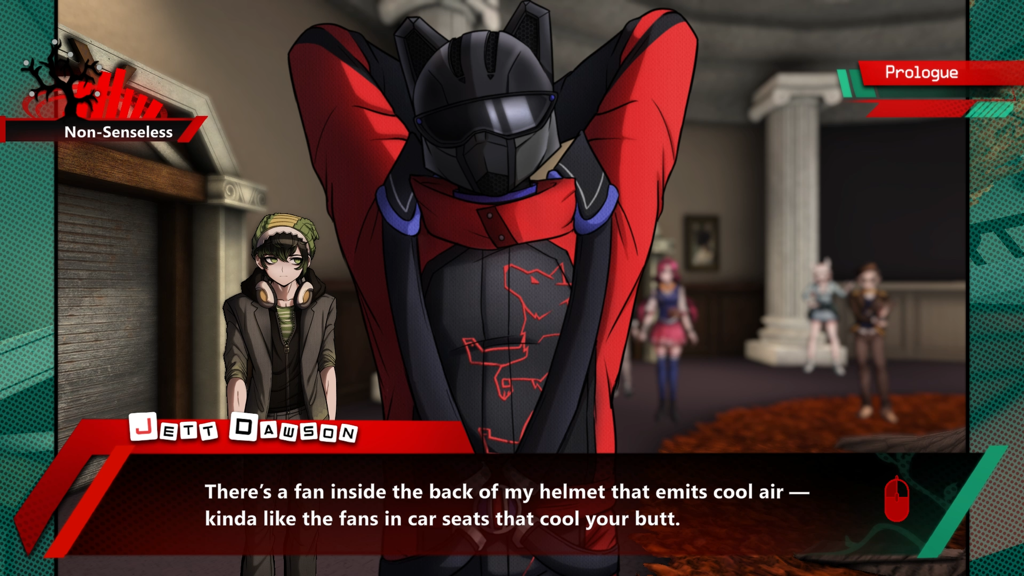 The man in the racing suit—you know, the one who messed with the bag back on the train—seems to be trying to get another, far quieter guy in a dinosaur beanie to talk to him. It's obviously in vain, though: his overwhelming personality seems to only make the guy uncomfortable and clam up more.
Turning away from the guy, he says his name is Jett Dawson, and he's the Ultimate Drag Racer. 
. . .Sadly, no, he's not the RuPaul's kind of drag racer. Well, I mean, he could be in a full face of makeup and covered in glitter. He's wearing a full-body racing suit, so we aren't privy to what he's really wearing underneath.
Jett claims he'd be naked, but we know the truth.
Also, Jett makes Scooby-Doo noises. I thought I should mention that.
While talking about the situation, Jett actually puts forward an interesting theory: that maybe this kidnapping thing is an extreme horror activity? Sort of like the McKamey Manor(s), extreme horror attractions in Tennessee and Alabama, where you can sign up to be physically and psychologically tortured in a brutal, terrifying survival horror experience. Maybe the supposed "acceptance letters" they received were really waivers?
It's definitely not the strongest theory, but there's no harm in the speculation.
During this whole exchange, the guy Jett was trying to converse with has not said a single word. Nothing. Eva tries to get him to introduce himself, failing to do so until she makes things too awkward with an impromptu staring contest. Her boring into his soul gets him to finally open up.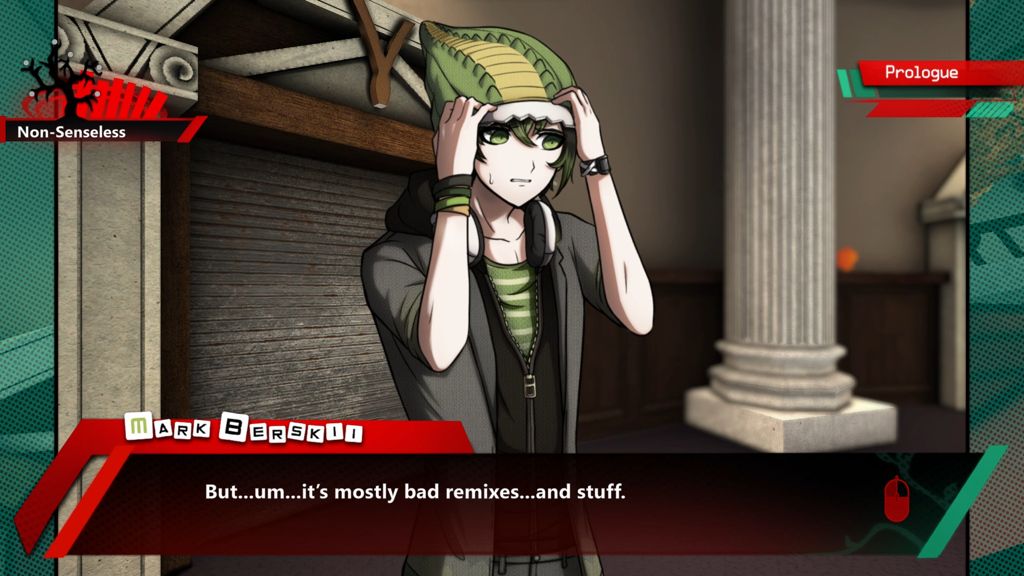 Speaking in a whisper-like tone, he mumbles that his name is Mark Berskii, the Ultimate Music Producer. He's even more socially anxious than Eloise, and not one to boast about his skills. The only example he gives is that he makes remixes, which encompasses a lot of things. Like he could be doing daycore, yet he might not. It's Schrodinger's daycore.
Out of all the speaking characters in Project: Eden's Garden's prologue, I'm like 95% sure that Mark speaks the least. Given that he's one of the youngest here, being seventeen, and that his Talent most often has him behind a screen by himself, it's understandable. I used to be exactly like Mark.
Being met with Wolfgang's same suggestion, Jett makes his leave, socially adopting and dragging Mark with him.
After they headed out, I had a few options of who to talk to next, and went for this guy: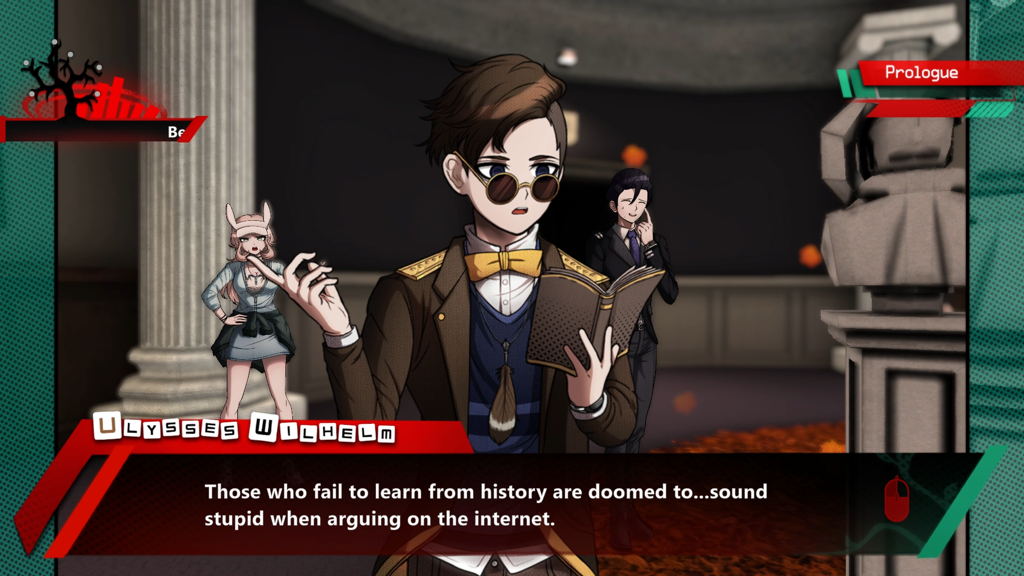 Ulysses Willhelm is tired, if not running on fumes, at the best of times. While he certainly lives up to his title as the Ultimate Historian, as he's an encyclopedia of a man when it comes to past civilizations, his dedication to studying those civilizations 24/7 means he's constantly fatigued to the point of collapse. 
That's not hyperbole even a little, I assure you. He has a ten-second power nap here during his literal introduction, that's how bad it is.
In addition to his frankly awful sleeping habits, Ulysses also struggles when it comes to remembering small events in his daily life. His brain is so constantly full of thoughts about stuff like the historical application of the Martens Clause that he fails to really retain any pedestrian information, hence the notebook he keeps on him at all times. The notes he takes are also very blunt, to Grace's chagrin as he jots her down as "loud woman with visor."
Unlike the last few characters, Ulysses doesn't heed Wolfgang's request to go outside and meet everyone. Instead, he falls back asleep, still standing up. 
Good for him. He really needs it.
After leaving Ulysses to take his much-needed rest, Damon reaches another dual introduction. First up to bat is Kai Monteago—my beloved—the Ultimate Influencer.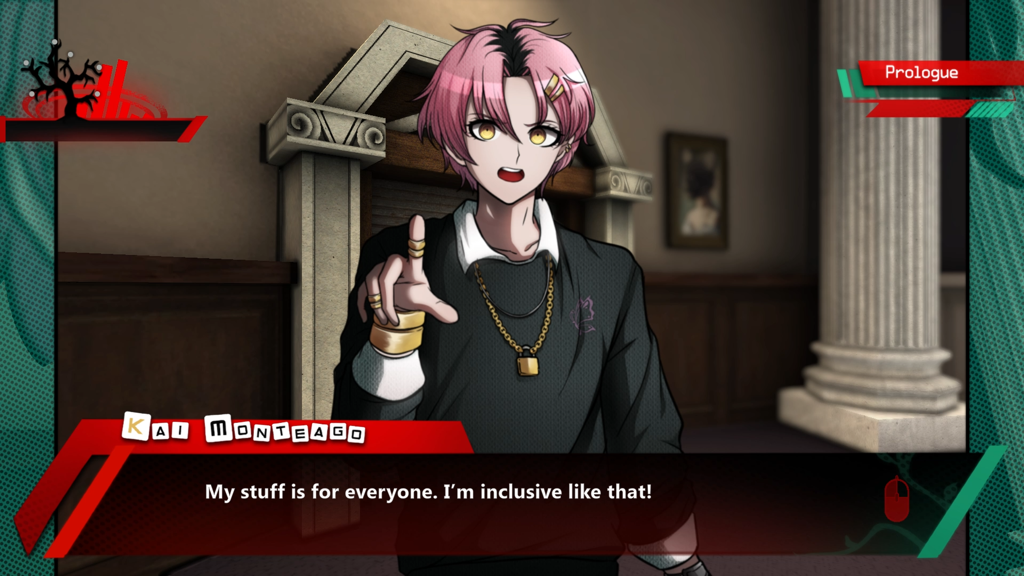 Despite having one of my favorite character designs and personalities out of the cast, I'll be the first to admit that Kai is a bit of an acquired taste. 
Nah, scratch that. He's a lot of an acquired taste.
Kai's vapid, vain, two-faced, generically attractive, and delicate in all the ways that stereotypical social media influencer characters often are in fiction. Even the slightest bit of resistance against him and he folds like a wet puppy, simultaneously because his ego is just that fragile, and because he prefers to play the victim.
However, Grace recounts that Kai is very vicious as well. It's been observed online that if something doesn't go his way, he will start loudly sobbing and send his followers to harass whoever the poor unfortunate soul who upset him is.
If I can be completely honest here—and bear with me on this—I love Kai. He's a pathetic, toxic slimeball of a guy who lives for drama and acts problematic simply because he can get away with it. If he was a real guy, I'd be much like Grace, annoyed anytime I'm made aware of his existence and wholeheartedly of the opinion that the internet would be better without him.
But, as a fictional character, I can't help but love this terrible eboy TikToker.
The woman that Kai has roped into his orbit here and now is someone who greatly intrigues me. Diana Venicia is her name, and she's the Ultimate Cosmetologist.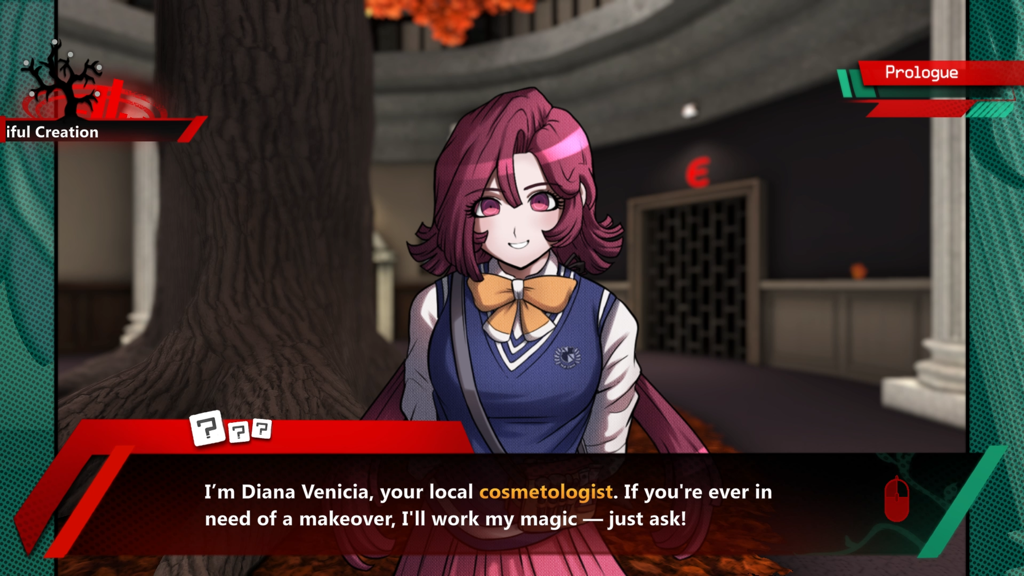 Once Toshiko hears her name, she jumps to explain who Diana is. Outgoing, easy to talk to, and eager to help others, Diana is quite the rising star in Hollywood. High-profile actors are constantly lining up, if not literally begging, for her to be their makeup artist. Her sheer ability to bring out the best of any person's features is unparalleled. Like, if she really really wanted to, Diana could make even Alex Jones attractive. That's how good she is at what she does.
Mari Maria better watch out.
Damon, however, is not amused. For as """"Talented"""" as she may be, what does being a cosmetologist really do? How does it impact the world at large? Sure, Grace, Eloise, and Desmond being into sports may not be particularly world-shattering either, but they're better than doing makeup. Putting colored powders and dusts on someone's face or giving them lipstick that goes well with their eyes is good and all, but change the world it does not.
If you are starting to feel a rising need to punch Damon in the throat, I'm right there with you. Let's kill him.
I like Diana, particularly her character design. It's really pretty, somehow making her magenta string cheese hair work, but there's something about it that makes me raise an eyebrow skyward.
Look at her character design again. Her vest specifically. Do you see the crest?
If you've ever played a Danganronpa game, you should immediately recognize what school that crest corresponds to: one Hope's Peak Academy.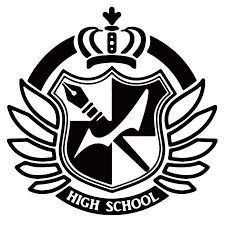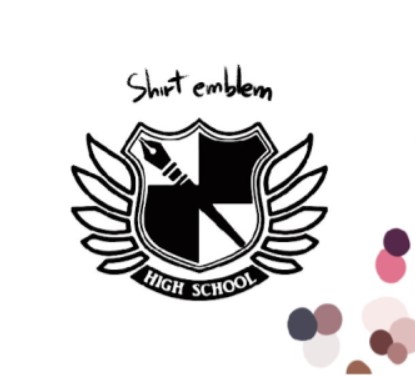 . . . kinda.
Admittedly, it's not the exact same. On Diana's crest, there's no crown, there's no connecting ribbons at the top, and there's no white Monokuma eye crossing the pen.
But, regardless of those differences, the similarities are too obvious for it to not be intentional. 
This is a Fanganronpa. The team behind it are Danganronpa fans. It's not like they just searched for "High school crest clip art free black white monochrome" on Google or Bing and just happened to find, choose, and use the one search result that's literally for the main school in the series they're making a fan entry of. 
I refuse to believe that it's a fluke or a coincidence.
Now, while I can safely identify this as Hope's Peak's crest, what I can't identify is what significance Diana having it on her vest has. The developers have said that their game is not connected to the story of the original Danganronpa series in any way, so why Diana has a crest reminiscent of the main school from that original series leaves me scratching my head. 
The only conclusion I can make is that Diana might be the arbiter of hope in this game, carrying on the ideals of Makoto, Hajime, and Komaru, since our protagonist this time around won't. Though, that's only a theory, and not one I can back up very well. At the time of writing this, only the prologue of Project: Eden's Garden is available, so there's not much to go on.
Back to that prologue, Wolfgang gives Diana and Kai his same proposal. Diana, trailed by a glum Kai, does in fact go outside, leaving Ulysses still asleep, and us with our final character. 
Last, but not least, is the pirate-looking man who I mentioned what feels like an eternity ago: Jean DeLamer, the Ultimate Ship Captain.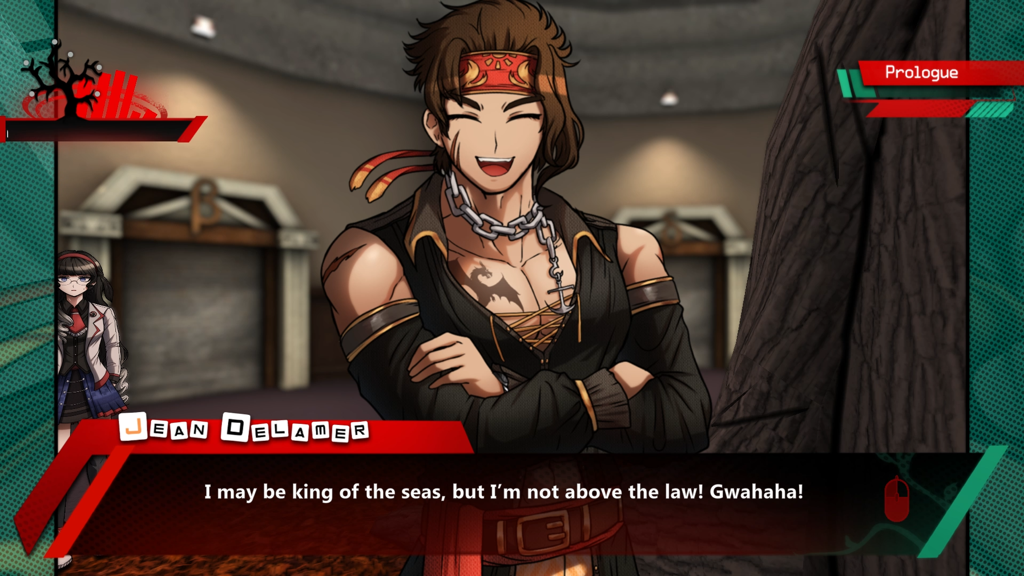 Holding a boisterous personality and being incredibly protective of everyone he meets, DeLamer proves himself to be perfect for his role. No matter how turbulent the situation, he acts as a rock to hold onto and a shoulder to lean on. He may not know you, but he'll make sure to treat you as he would his own crew.
DeLamer's only real weakness is being referred to as a "pirate," which is basically a slur to him. From his perspective, it characterizes him as a revilable thief, keen to plunder peoples' cherished valuables simply to satisfy a gluttonous desire to have. That's something DeLamer would never do. Not in a million years, not ten million, never. The sun would blow up before he stooped that low.
With him heading outside, everyone has been introduced. 
I've already elaborated on my love for awful human being Kai Monteago, but, also, gotta say, I like pretty much everyone here! Sure, I do think Ulysses is a bit dull, and Mark's social awkwardness makes him a little hard to pin down, but other than them, the cast is really strong.
I so SO SO appreciate that there's no token pervert character in Project: Eden's Garden. Every mainline Danganronpa has had one, and they're usually not good. Miu from V3 is okay in my opinion, but Hifumi and Teruteru are just abysmal.
Something else to note, looking over our cast, is that there's no Ultimate ???, a series staple. Kirigiri, Hajime, and Rantaro are all very important characters to their respective Danganronpa games, deeply intertwined with the killing games' secrets. The fact that Project: Eden's Garden doesn't have one at all makes me very curious to see where the plot will go. 
Well, there is actually one person who's not given us their Ultimate Talent yet, so maybe that's premature of me to say.
With everyone having gathered outside under the fake sky, the group starts talking about what they think they should do, and what's even going on here.
Ulysses, who's woken up, asks a quick question before everyone gets neck-deep into discussion. He never caught Grace's name, you see, and wants to know so he can save time and for future clarity, instead of constantly referring to her as the "loud woman with the visor."
This leads to Toshiko introducing not only Grace, but also Wolfgang, and. . . trying to for Damon and Eva, before realizing that she… doesn't know their names. Yeah! Throughout their whole friendship-meeting of everyone, not just Toshiko—Grace and Wolfgang, too—didn't know who Damon and Eva even were! That's actually hilarious.
Damon gives his introduction with little issue. Cassidy does remark that he's kinda a discount version of Wolfgang, which seems to hurt. Good.
But it's Eva's introduction that really gets the cast's attention. With some encouragement from Grimwall and coaxing from Damon, she spits it out: Her name is Eva Tsunaka, and she's not an Ultimate ???.
She's the Ultimate Liar.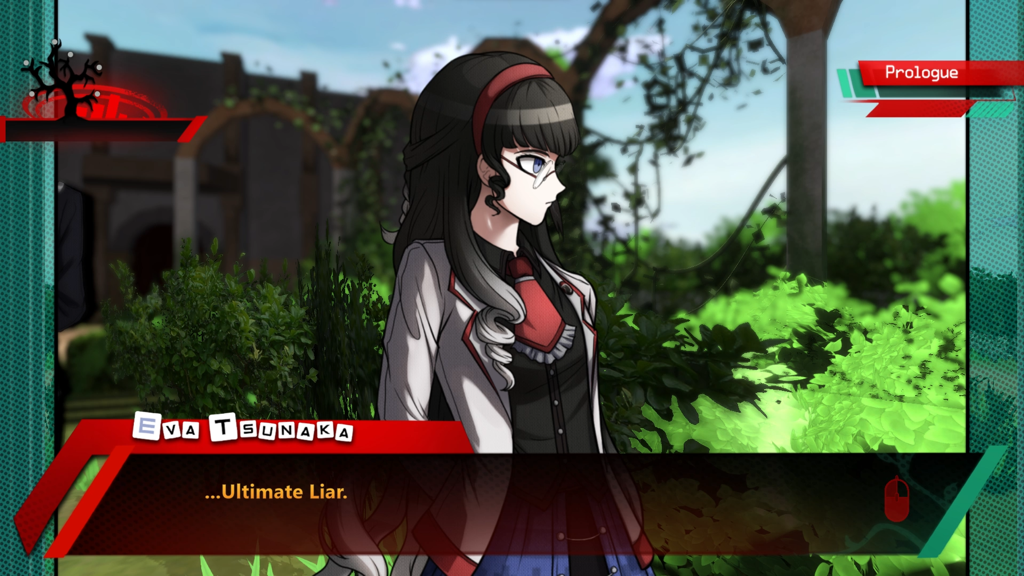 This unsettles pretty much everyone. Ultimate. . . "Liar?" The heck does that even mean? Did they hear that right? How is that a Talent, let alone an Ultimate one? Is she even telling the truth right now?
And a more potentially sinister realization washes over them: how are they supposed to trust someone who's been awarded an Ultimate Talent specifically for her ability to lie? 
One thing really jumps out to me about Eva. She describes her Ultimate Talent as ". . .It's just what I am." 
Not something she does. 
It piques my interest, but it's literally only one line, so I can't extrapolate much more than that.
Before the cast can question Eva further, the dingy PA system turns on, and a gallant, British voice speaks. They sincerely apologize for the rough time they all had getting here, proclaiming that this place is in fact Eden's Garden Academy, before kindly asking that everyone heads to the building that we started out in.
Assuming that this person is a man (very cringe of them), the cast, led by Grimwall, DeLamer, and Diana, begrudgingly do as the voice instructed. . .
Only to find a dead body, doused in the iconic hot pink blood the Danganronpa series is known for.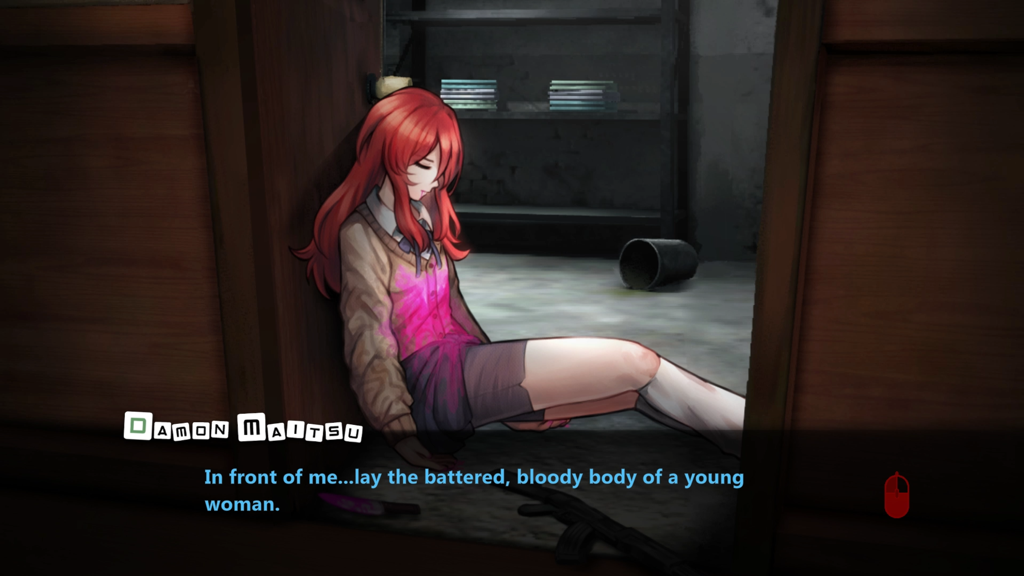 Toshiko screams bloody murder—seriously, her voice actress does a phenomenal job—and everyone spirals out of control. Some yell at Wolfgang and company for an answer, since they woke up in this building. He's able to diffuse the situation a bit, saying that the body wasn't here earlier, which we, the player, know to be true. We played through the earlier segment in this building and the body verifiably was not here. The janitor's closet wasn't even openable then!
In the middle of all this panic, Eva. . . just struts up to the bloody body and starts touching it.
As it turns out, this "body" is actually only a doll. 
No one really believes her, since they're hot off the heels of the Ultimate Liar reveal and don't trust her even a little bit. Since no one else wants to try and confirm if Eva's telling the truth, DeLamer takes charge and touches the body as well.
Eva's telling the truth. It really is just an eerily lifelike doll. DeLamer also finds an iPad planted under it, so that's pretty cool!
Unfortunately, there's no Crossy Road or Fruit Ninja or even Minecraft: Education Edition on the iPad because Eden's Garden Academy SUCKS and is BAD. Rather, it has details about the doll. 
Her name is Cara Koskinen, the Ultimate Teacher's Aide. She was 5'6", 112 lbs., and eighteen years old at the time she was killed. Then a brief account of her cause of death, blood loss from twenty-eight stab wounds to her stomach, as well as some harsh chemical burns on her scalp and eyes.
Before long, the PA system reactivates. The person overdramatically laments that such a horrible thing happened to this girl, because the scene before the characters, as it turns out, is a replication of a real-life murder that happened in-universe.
They then give our cast a goal: figure out the finer details of Cara's death, sans the killer's identity. They're not important, don't worry about it. Once the class is sure they've got it, they'll have to present their conclusions to the person on the PA for, like, peer review, I guess?
Leaving it at that, the PA system falls silent once again.
It's not even Chapter 1 yet, and we've got a mystery to solve.
Before the investigation even gets going, Kai and Toshiko dip. Even if it is just a doll, it looks far too much like a real person for them to be in the same room as it. They practically run to the dining room where Wolfgang and Grace woke up, with Diana following them to make sure that they have someone to lean on.
With our thirteen remaining characters on varying levels of on the case, the investigation begins in earnest.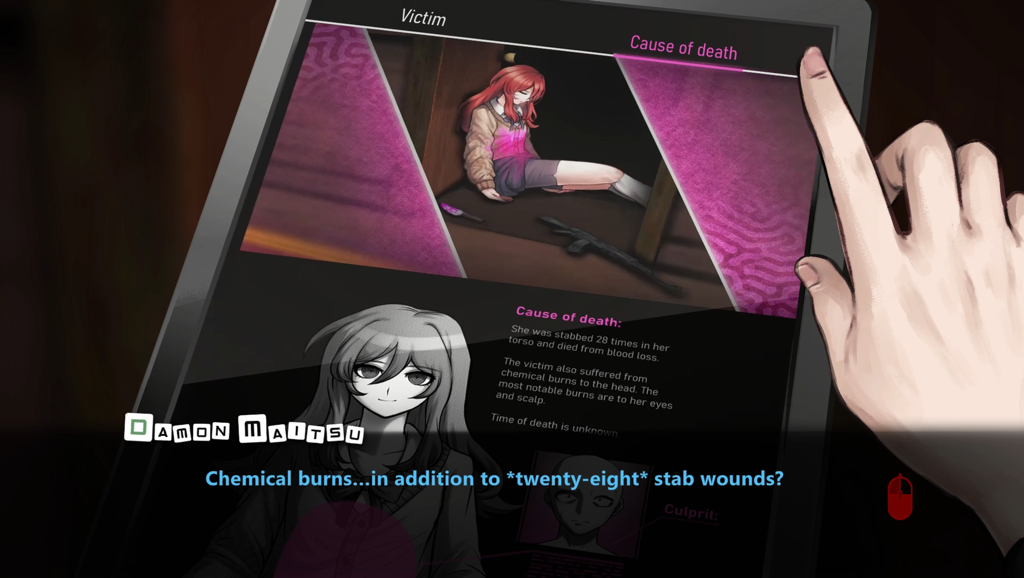 In addition to the details on the iPad, there are some things that jump out to Damon: a FULLY LOADED ASSAULT RIFLE left next to Cara, the knife that she was stabbed with, dried blood under her fingernails, an empty bucket that smells of bleach, an empty, gallon-sized bottle for bleach, and an Ace Attorney reference behind the door she's slumped against.
Also, looking closer at the twenty-eight stab wounds, Damon sees that despite their numerousness, none of them are all that deep. None of them breached any vital organs.
. . .That probably would've been a luxury.
During the investigation, you can actually strike out on your own and go check on the three people in the dining hall. Kai seems to be doing a bit better, but Toshiko seems really messed up from the whole situation. Diana is managing to keep herself together for them, and is adamant about referring to the doll body as "Cara," out of respect for the original, real victim.
Damon scoffs at all of them, downplaying Toshiko's fears and Diana's insistence by retorting that it's just a doll. Even if it was based on some real murder, it's not real. You're stupid if you're scared of it, and you're even more stupid if you mourn the "body."
. . .Which is very rich, Wenona-levels of rich, considering Damon himself has multiple lines of dialogue when investigating the bloody doll where he struggles to rationalize what he's seeing. He even almost throws up.
Hypocrisy just seems to be Damon's #1 favorite thing ever, doesn't it?
Suddenly, the PA starts up again. The speaker brings the investigation to an end, and orders everyone to return to the building with the "Tree of Ignorance" so that they can take an elevator to the grounds where the Class Trial will be held.
The class migrates over there quickly, but no matter how hard they try, they can't find this elevator that the speaker person spoke of. The only thing here is a pedestal holding a one-eyed bust of a. . . goat. . . man? I dunno.
The empty left eye does seem like it could potentially be a slot, and since there's barely anything else here that could maybe lead them to this elevator, the cast starts scrounging around in the leaves for something to insert into it.
Grace finds a really cool rock in the piles near her, which she shoves into the left eye cavity. On cue, the big door-ish outline engraved into the tree slides open to reveal that the tree itself T'WAS the elevator this ENTIRE TIME. Now that they have access to it, the class files into the elevator, and they wait with bated breath as it takes them down to a place unknown.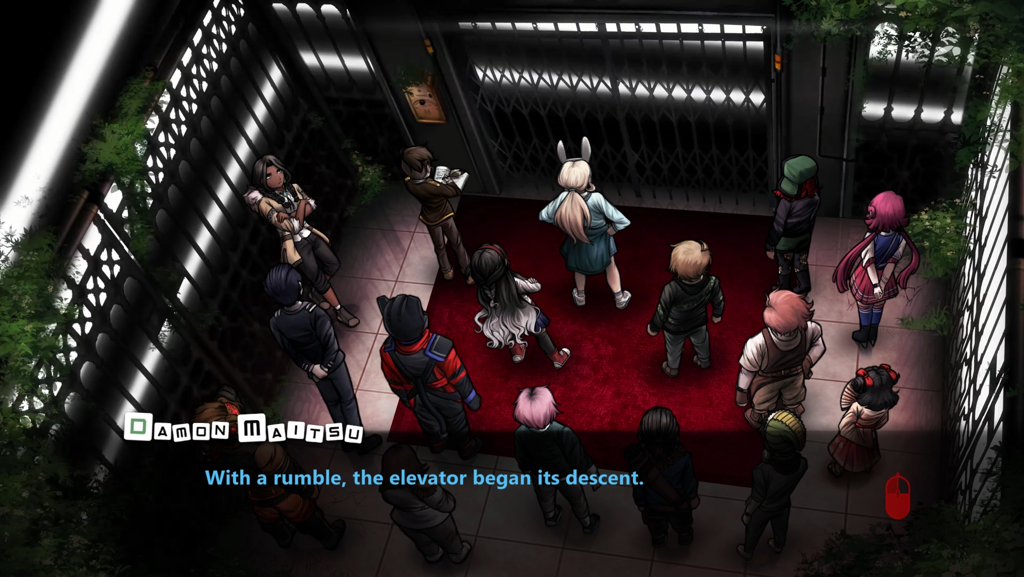 Once it's reached its destination, everyone enters a massive room with big pillars, equally big oak bleachers, bigger curtains, massive stained-glass windows, an empty throne, and a sight that should be familiar to any Danganronpa veteran at the center:
Sixteen podiums, one reserved for each character, positioned in a big circle. 
At the voice's behest, everyone slides into their spot, and the first Class Trial of Project: Eden's Garden begins.
Wolfgang, having more experience with stuff like this than anyone else here, is the one who brings up the first topic of discussion: What was the murder weapon?
Very simple, very tutorial friendly, and good for getting everyone on the same page.
The ensuing debate brings us to the bread and butter of a Danganronpa game, the thing that sets it, as a series, apart most from any other mystery game:
The Nonstop Debates.
Every round of a Nonstop Debate starts with positioning the camera at the center of the circle, before filling your Truth Cylinder in the lower left corner with some of your evidence—called Truth Bullets. With one selected, you can aim with your mouse-controlled reticle and fire it. In this case, your Truth Bullets are stuff like the details from the iPad and the bucket.
After your cylinder is loaded, the camera starts to swivel around from person to person, as the class discusses whatever the current topic is. The person's dialogue appears as large words that move, rotate, and fly around the screen for emphasis which come in a variety of colors.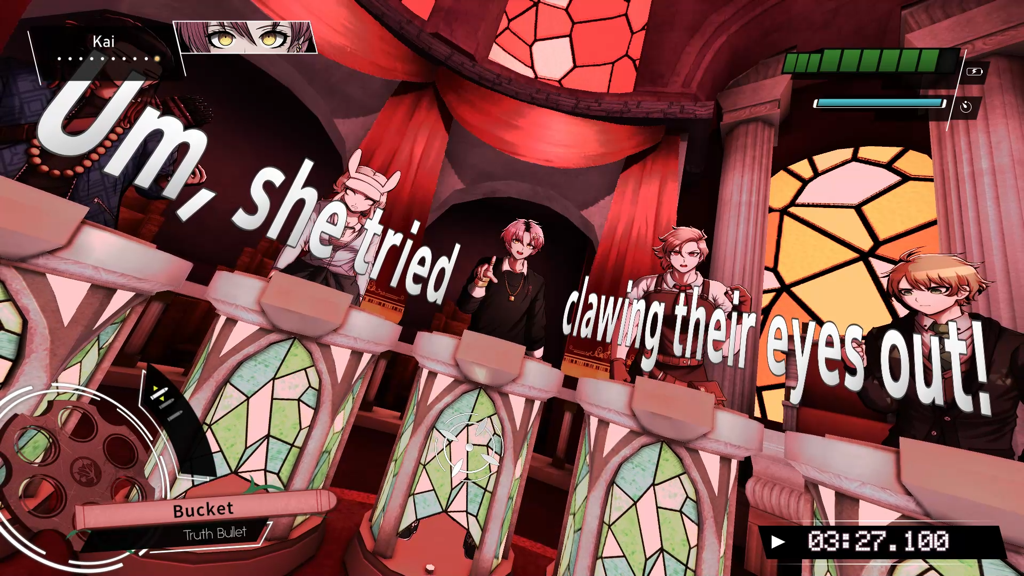 The basic white statements are purely dialogue. You can't really interact with any of them. 
What you need to watch out for are the orange, blue, and the Project: Eden's Garden-original purple text.
If the statement is orange, that's your signal that you can refute the statement. If Jett were to say that Damon eats glue, and his text was orange, and you had evidence to prove that Damon does not, in fact, eat glue, you could shoot that Truth Bullet at Jett's statement to deny the allegations.
On the flipside, if the statement is blue, you can agree with it. Once again using the Damon-supposed-glue-eater argument, if you wanted to prove that he does indulge in some Elmer's, and Wenona had a blue statement claiming that, you could use your evidence to agree with her.
Just because you can refute or concur with a statement doesn't mean you should though, as not everything everyone says is important to the discussion. You need to read between the various orange and blue statements and cross-reference your collected evidence to determine what's important and what isn't.
Frankly, I can't imagine that the status of Damon's glue-eating habits will really be relevant to any hypothetical murder. He can do what he wants on his own time; that's his right. This is America.
The purple text is different, though. You can't directly interact with it, but you can absorb it and use it as a new "Pathos-type Truth Bullet. You don't necessarily need only hard evidence to win a debate, after all: emotions can be just as powerful a weapon, something Damon knows well.
Mark or Eva's opinion on glue-eating as a pastime could be used to swing the general opinion of the class one way or the other—something they're likely to bring up during a discussion about such a topic.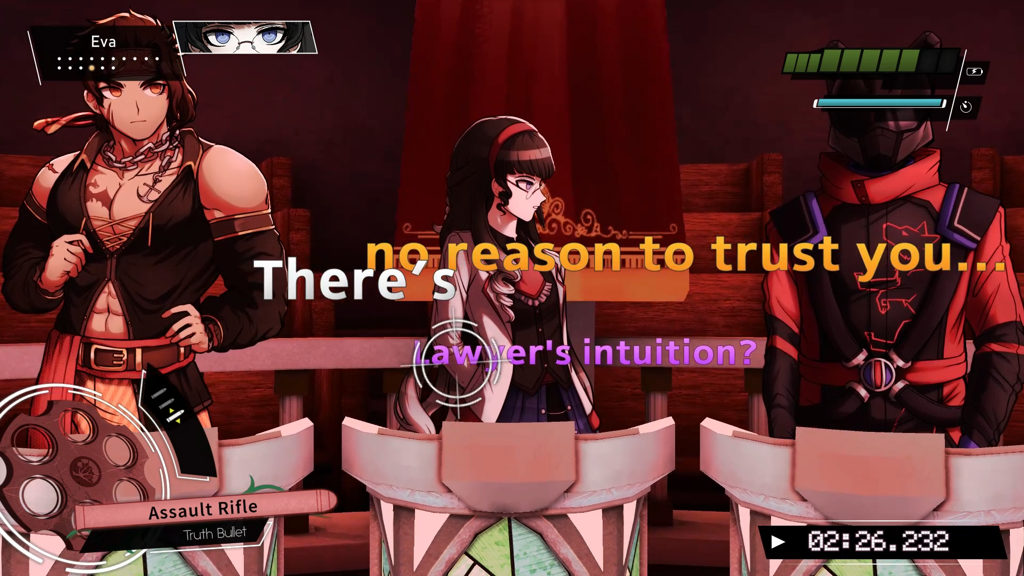 It should be noted that you can't just go around trying to argue or agree all willy-nilly. This is a video game after all, and you will take damage if you're not smart and precise. Your current health bar is shown by the bar with green blocks in the upper left corner, and if it drains to zero, you'll lose one of your five reserve hearts to restore back to full. 
There's no way to regain these hearts, so if you lose them all, it's over.
You do have the option to rapidly speed up or slow down the debate to a crawl. It's a really helpful feature if you're trying to get to a specific statement or line up your shot correctly.
In addition to all that, there's also the time limit to keep an eye on. If you let it run out, you'll take damage—because, clearly, there isn't already enough stuff to worry about when debating the facts of a murder with the threat of dying if you get it wrong.
OBVIOUSLY. 
The time limit was a thing in the main series too, so it's less of a complaint towards Project: Eden's Garden, more a vague criticism of Danganronpa as a whole. It does serve its purpose of making the Class Trials more hectic, but it doesn't really do it in a way that feels constructive.
I say vague, because this was actually my first real experience with the Nonstop Debate system, as even to this day I've never played any of the original Danganronpa games myself. 
Yes, it's true: I was the kind of armchair Danganronpa fan who slapfighted with people on Reddit about the characters and the blemishes with the writing, with my evidence based only on fan content, second-hand information, and singular Let's Play of V3 I watched.
. . . This article is really turning into a confessional, isn't it?
The closest I've gotten is from Master Detective Archives: Rain Code, one of Kodaka's other games that I have actually played. It has something ostensibly similar—the Reasoning Deathmatches—but those are from third-person view, not first, and don't have the dreaded time limit. 
So, gotta say, all of this was more than a bit overwhelming. A fun kind of overwhelming, though.
Now, before we get back to the story, I want to clear something up: I really don't want to call the killer just . . . "the killer" over and over. It's repetitive. So, in addition to that, I'll also be calling them Roland Library of Ruina Play Library of Ruina Now. 
Very succinct.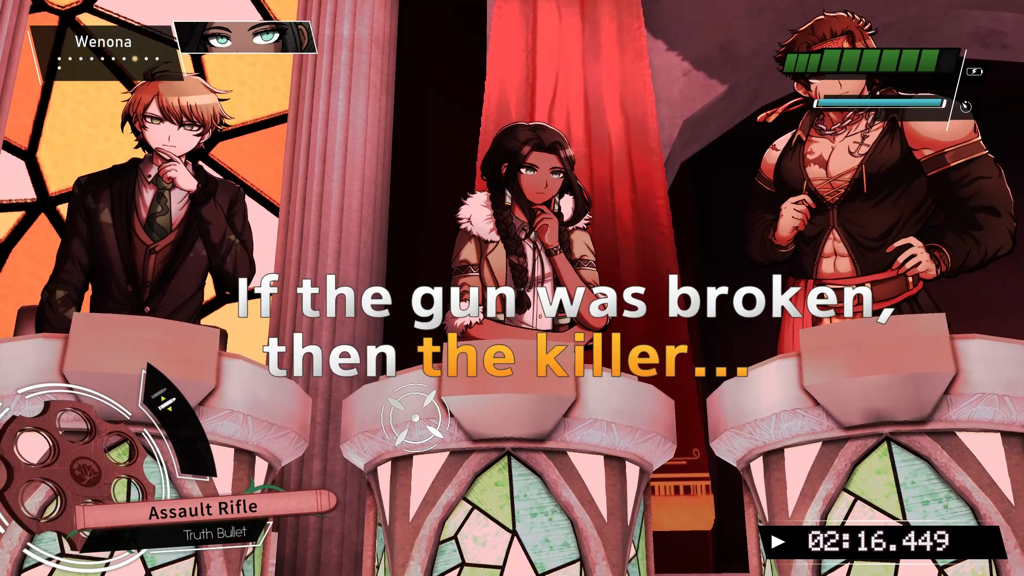 Wolfgang's icebreaker has gotten the debate rolling. Cassidy briefly muses that the gun was the weapon, but that's obviously not the case. The iPad stated in no uncertain terms that the killer stabbed Cara to death; there wasn't a single bullet wound. There're also no bullet casings lying around, so we can safely conclude that the knife at the scene was Roland Library of Ruina Play Library of Ruina Now's weapon of choice.
However . . . uhhh, why? 
Regardless of whether or not it was ultimately used, the killer had a much better weapon. Why in the world did they use a puny knife, when, you know, they had a FULLY LOADED ASSAULT RIFLE at the ready?? Like a literal tool of war, but instead they went with the thing you can buy for $8.59 on Amazon.
Damon suggests that, maybe, Roland Library of Ruina Play Library of Ruina Now didn't have the gun at all. There WOULD be no reason to deliberately use the knife, if they'd had the assault rifle on them, that much is true. It's faster, more reliable, and, on top of that, would give the killer the ability to shoot Cara down if she'd tried to run.
In every conceivable way, the assault rifle is the better weapon. Yet, the knife was used.
So, following that train of thought, Damon figures the gun at the scene must not have belonged to the killer. It would've, then, had to have belonged to the only other person there: the victim.
The cast is willing to entertain this idea, but there's a similar problem that comes up if Cara was the one with the gun: 
Why didn't SHE use it?
Based on the location of the stab wounds, Roland Library of Ruina Play Library of Ruina Now was directly in front of Cara when they started stabbing. If this was the case, why didn't she make use of the FULLY LOADED GUN Damon's claiming she had to defend herself? Cara could've pumped her attacker full of lead before they even had a chance to hurt, let alone kill, her!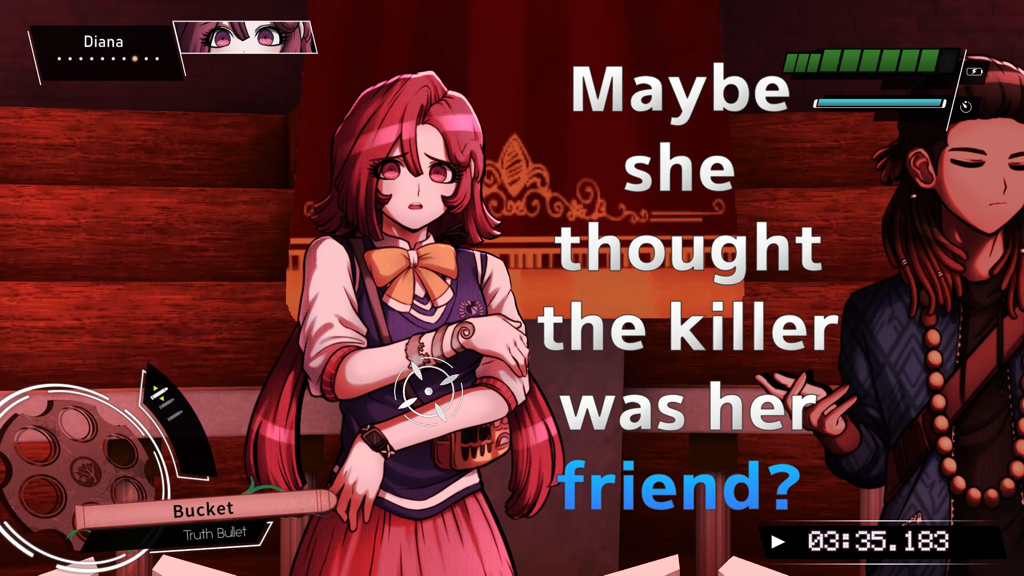 The class throws around a lot of ideas about this, but it's what DeLamer wonders aloud that Damon latches onto: 
Cara must not have been able to see Roland Library of Ruina Play Library of Ruina Now coming. She couldn't've used her gun to defend herself in that case.
But, once again, the stab wounds that did her in are on her front. It wasn't a sneak-attack from behind. How, then, couldn't she see her attacker?
It's simple: she was blinded using the bleach. The iPad said that she had chemical burns in her eyes, and the empty gallon of bleach shows that, somewhere during the confrontation, bleach was used.
Unexpectedly, Grace butts in. She's been stunned this whole time because she got a really bad shock at the start of the trial that I didn't mention, but she's back at full operating power now. She concedes that the whole blinding theory is good, but she shouts that they've neglected something stupidly obvious:
They still don't know how the killer used the bleach. Yeah, Cara did have chemical burns on her eyes—the iPad confirms that—but the rest of her face is completely fine.
How the heck did that work? 
The class struggles to come up with a definitive answer. Many of them just assumed that the killer sloshed it at Cara from the empty gallon, but Grace's point kills that idea. Bleach would've gotten all over her face that way.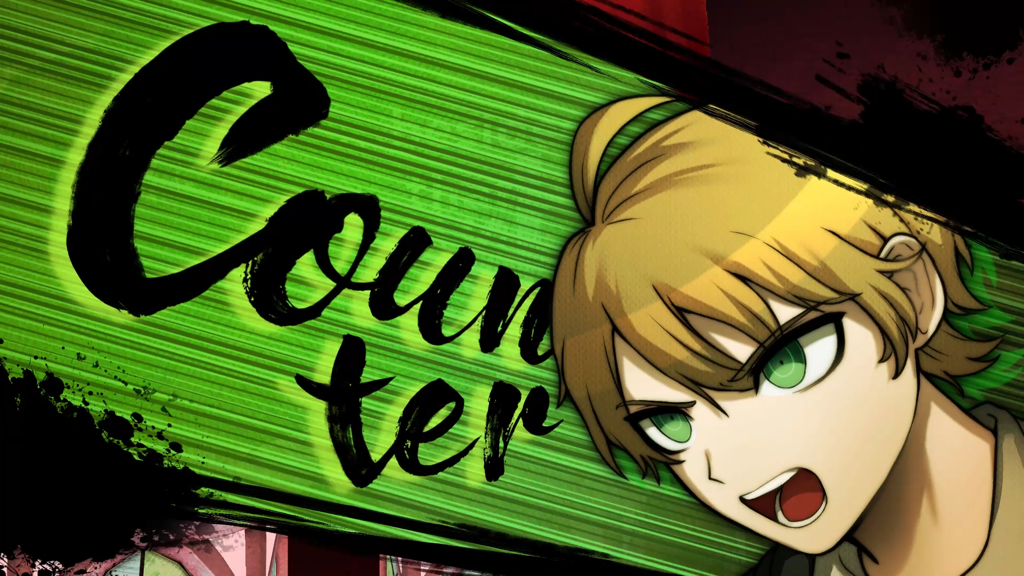 It isn't too hard for Damon to figure out the trick Roland Library of Ruina Play Library of Ruina Now used: they filled one of the buckets in the janitor's closet with bleach, then propped it on top of the door. When Cara, presumably following her to-be killer, opened the door, the bucket fell and the bleach splashed on her head, giving Roland Library of Ruina Play Library of Ruina Now the opportunity to strike.
From there, Cara couldn't do anything but flail. She dropped the assault rifle, started getting stabbed, and was only able to fight back by scratching her attacker. That's how the dried blood got under her fingernails.
And that would be everything, but . . . Wolfgang isn't satisfied yet. 
Breaking from his usually tender nature, he begins yelling like there's no tomorrow about the killer's motive. Not the complete reason why they killed Cara, but why they killed her this way specifically. With the barbaric knife assault that left her bleeding out from countless mutilations, dying alone in immense pain. 
Remember, none of Cara's wounds breached her vital organs. She died slowly from her blood loss. 
Her death was not graceful or kind.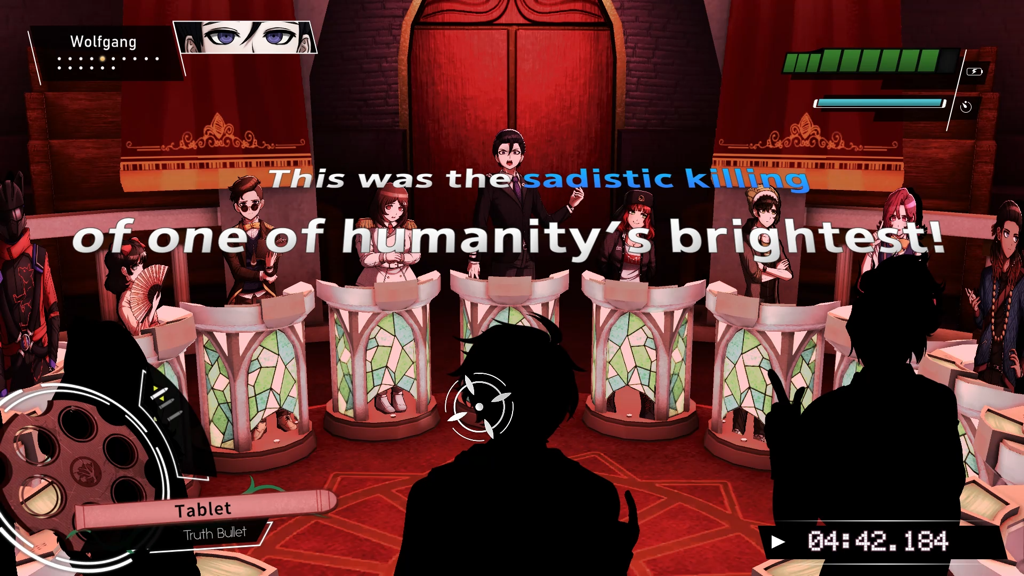 Wolfgang vehemently refuses to believe that this could've been in self-defense with how brutal this is. He makes this fact clear, though his sudden aggression makes most not side with him.
We don't know why Cara had that gun, after all. She could very well have attacked Roland Library of Ruina Play Library of Ruina Now and this is them retaliating. Or the reason could be completely unrelated to the gun, and this is the culmination of some strained relationship between them.
We could go on for hours about all of the hypothetical reasons why Roland Library of Ruina Play Library of Ruina Now killed Cara, but we just, straight-up, don't have enough information about the buildup to this to know the truth.
Wolfgang won't settle for that, and it's only through use of a Pathos Bullet that Damon is able to pacify him, by convincing the class to trust in Wolfgang's experience. He's handled plenty of cases of this sort, so he's naturally more predisposed to the kind of mindset one must have to do something like this.
With that, the first Class Trial of Project: Eden's Garden nears its conclusion. 
Grace yells for the person on the PA, at which point they reveal . . . that they got bored and started watching the FNaF movie or something instead midway through the Class Trial, so they ask for a summary of everyone's findings. 
. . . in comic book form! 😀
At the end of every Class Trial, before the culprit is condemned to their execution, you'll engage in the Closing Argument. Though, since this is more or less a test-run Class Trial, no execution will be happening once it's over.
In the Closing Argument, you're given a handful of panels representing specific events during the murder. Your job is to insert these panels into the pink question mark squares to splice them into the story to make it flow correctly, from start to finish. As you put the Closing Argument together, you'll unlock more panels, and you'll continue doing this until the entire comic book is complete.
Like the Nonstop Debates, there's also a time limit and health, so you do have to be careful. You can't just blindly shove panels into the Closing Argument until you get the right answer.
This case only has six panels, so it's relatively quick to summarize. 
The brutal murder of Cara Koskinen, the Ultimate Teacher's Aide, went as follows: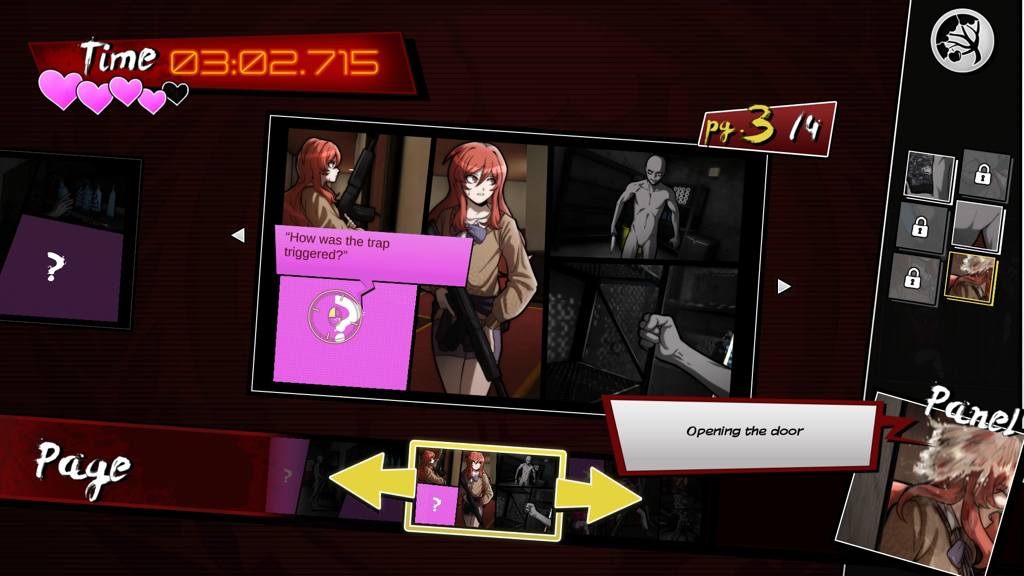 Because God forbid women do anything. Yep. That's it. That's the murder!
This article is already massive enough as is, and I still have my Damon predictions and general kudos to give after this. I had to cut corners somewhere okay–
Satisfied with the class's answer, our mysterious PA person finally reveals themself, and stands tall on the once-empty throne.
They're a Tumblr Sexyman.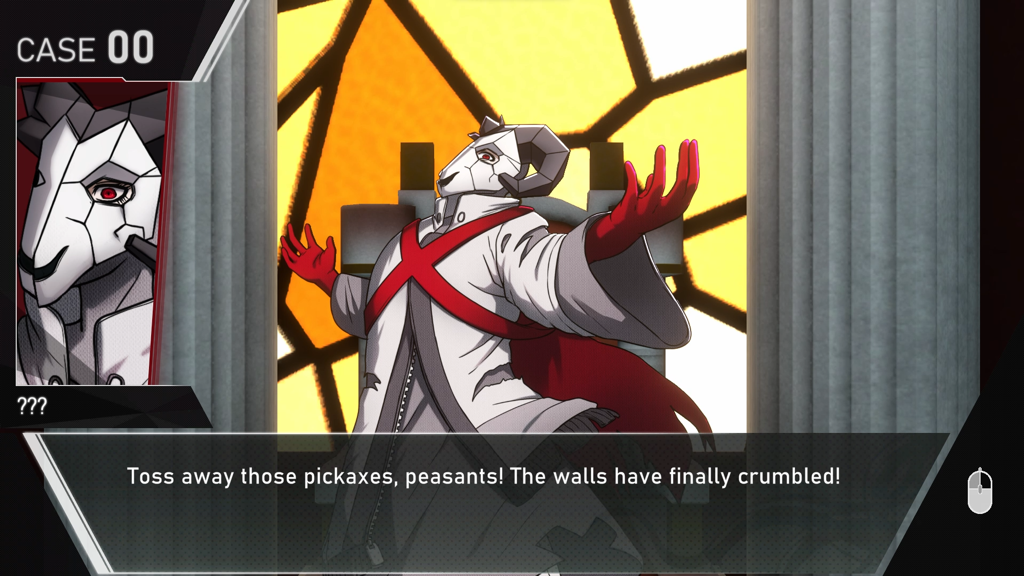 This is Tozu (he/him/his), and . . . THIS MAN!
Despite serving his role in this killing game, Tozu immediately makes it clear that he's no mere Monokuma clone. 
Monokuma is a cheeky little wretch throughout the games he appears in. He constantly pops up out of nowhere to degrade the characters, downplay their accomplishments, remind them that the Danganronpa-patented Despair™ will claim them in the end, and revel in their struggles.
Monokuma'd always hold a consistently goofy tone when doing this, deftly contrasting the horrific things he was forcing the kids to do while also being funny for the audience. He usually throws in an inane reference, or twelve, for good measure.
Tozu's personality, meanwhile, is . . . bigger. He's more grandiose, even Shakespearean, and he's, frankly, leaps and bounds more intimidating than Monokuma ever was.
I mean, c'mon, he's British! Even at his scariest, Monokuma could never compare to that!
Tozu does have his fair share of jokiness, too. He's a death game operator. Even outside of the realm of Danganronpa, it's sort of a requirement. But Tozu's comedy is done in a way that feels radically different from his progenitor, and I'm beyond excited to see more of him.
Now that he's here, Tozu lets the cat out of the bag:
This whole case was a tutorial, not only for us, the player, but for the cast as well. You see, Tozu intends to have them all play a little game he's come up with. You ever heard of Danganronpa? It's like that. He's very proud of it, and he wanted to make sure all his contestants got a chance to see how it works.
. . . Because there'll be one less person with them the next time the class enters these grounds.
Yes, the moment we've all been waiting for is here. Where it becomes crystal clear to our cast of smart, kind, level-headed, good people, that the only way out is with blood on their hands. Kill someone else and try to deceive those who're left—knowing that once you've done it, you can't go back—and that one of only two fates awaits you at the end of your Class Trial.
Eloise is the first to break. She doesn't want to do this; she wants to go home. 
Like he did back when they first met, Wolfgang takes a leaderly position and comforts her. He says that there's no way that everyone here would just toss away their morals and kill someone just because they're being told to.
Tozu seems entertained by Wolfgang's assertion, and meets it with a counterclaim: Can he truly be so sure that these people won't turn on each other? It's only been a few hours, not even half a day, since they met. 
Wolfgang does not know these people. How can he be so convinced that not one person in this room could be pushed to extinguish another's life for the sake of their own? What about for the greater good?
Furthermore, will they remain firm in that staunch resistance to the idea?
. . . Wolfgang can't answer him.
He doesn't necessarily need to, though, as Grace quickly lunges at Tozu, and tries to beat him to a pulp.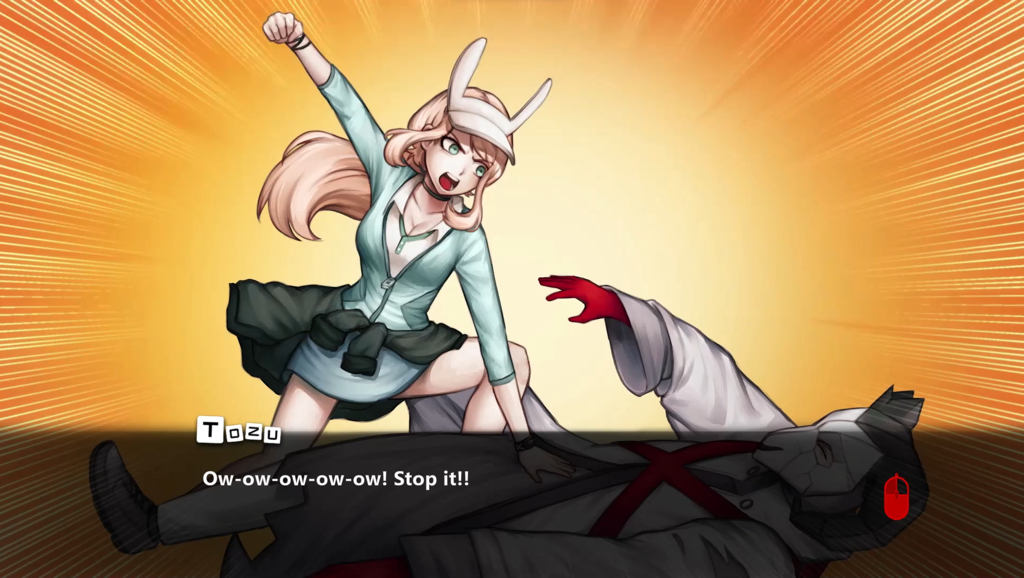 YOU GO GIRL! KILL HIM! KILL HIM! KILL HIM!
But Tozu has an ace up his sleeve for a situation just like this, which quickly reveals itself as Grace proves she's not backing down. 
A bright red dot appears on her face. 
Desmond immediately recognizes it as a laser for precise target aiming, but he can't get to her in time before a shot is fired.
Thankfully, Grace survives, only getting a nick on her cheek. The characters frantically turn to the source, a woman with a large rifle in a panther mask. Tozu introduces her as Mara, the enforcer of the Killing Game. Tozu is just a guy in a mask, after all; he's not an easily reproducible machine like Monokuma. He can die. However, any potential attempt on his life will be met with fierce resistance from Mara and the swift death of the offender.
This killing game is going to happen, whether these people want to participate or not.
But, here. . . Wolfgang speaks up in opposition to this notion once more. In the interim, he's found his answer to Tozu's earlier question. The reason why Wolfgang is so sure that none of these people will engage with this "game:"
They're Ultimates. Every one of them is. They're people tasked with the future of humanity, despite their young age, regardless of whether they want to. Even in just their short lives, they've all been met with so much hardship to reach where they are here and now, and they still have so much to achieve. 
Some of them aren't even adults yet. 
They all have dreams, aspirations, and people they care about waiting for them on the outside, and Wolfgang has no doubt that they have the resolve to stick together. They've made it this far, haven't they? They're not going to let this Xehanort-lookin' knockoff Asgore cosplayer and his gun-toting all-American assistant get to them.
They're better than that. 
If the only winning move is not to play, they'll stall Tozu until the bitter end.
This lights a fire in nearly everyone. One after another, the others rally behind Wolfgang's sentiment. The lines that connect people, even strangers, aren't so easily cut. Unity comes naturally to us. No matter how different we are, that one fact is immutable.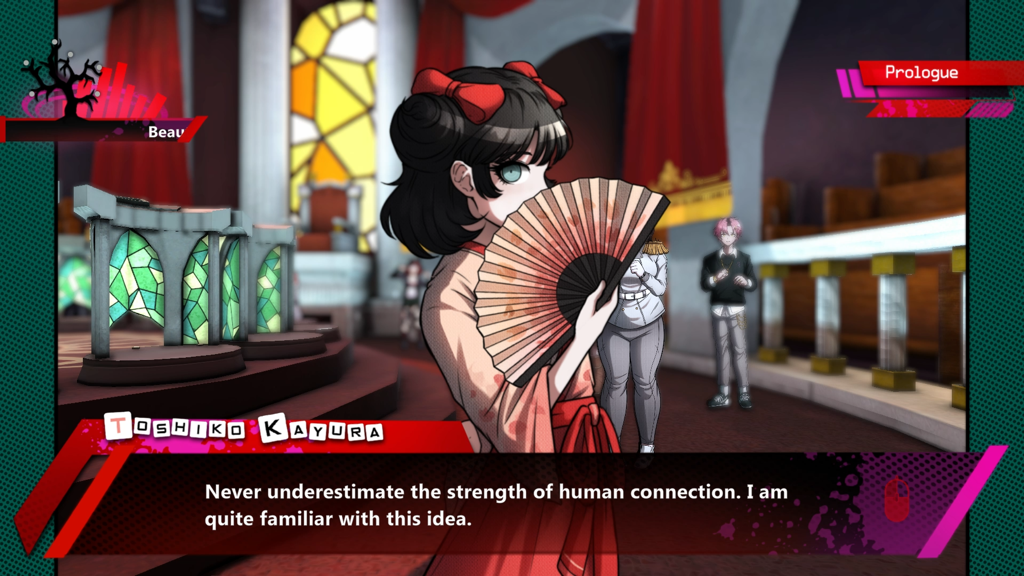 The downtrodden atmosphere that Tozu's reveal created has been swiftly overturned, replaced with one of fervent determination and hope.
But I did say nearly everyone . . . and you already know it's Damon. He's not super convinced by this whole determination talk–-even feeling a little contempt for the others—but he actually decides to keep his mouth shut, and not be a party-pooper for once. 
Someone else does speak their mind, though. 
Eva.
She voices her concern that Wolfgang's idea is fundamentally flawed. At best, it's naïve. But, at worst, it holds a deeply sinister intent.
The fact that everyone here is an Ultimate, to remind them that they have loved ones waiting for them outside, that they have dreams they still want to actualize. . . that doesn't make them less likely to kill. Rather, it gives them a very good, very appealing reason to do just that. Those things are the carrot on the stick that will drive them to murder. 
This isn't an empowering defiance of the goat man; this is exactly what he wants.
Eva, then, follows this up with an accusation. 
Now's the time to call upon your knowledge from approximately 8,000 words ago. Do you remember what animal Wolfgang has a pin of on his lapel?
A sheep. Wolf-gang has a sheep pin.
A wolf and a sheep, huh? 
. . . a wolf in sheep's clothing, maybe?
It should be obvious to everyone by this point that Wolfgang is not stupid. Knowing that, Eva feels safe to claim that he could not possibly be ignorant of the fact that what he was spewing would lead to one thing: making everyone blindly trusting of each other.
Blindly trusting, and vulnerable. 
Eva supposes that might've even been Wolfgang's real goal with his rousing speech; to make everyone vulnerable, for a possible murder plan of his own. He's an Ultimate, too. He's got dreams and aspirations, things he wants to do with his life, and no doubt people he loves waiting outside.
Wolfgang has just as much reason as anyone else here to kill.
Everyone starts, understandably, getting upset with Eva for tearing down their determination, which pushes Damon to #breakingmysilence and speak up in her defense.
He does pre-emptively cushion the blow with a bit of empathy, but he's very direct about his agreement: No matter how much they may want to deny it, every last one of them has a motivation to kill and try to get out.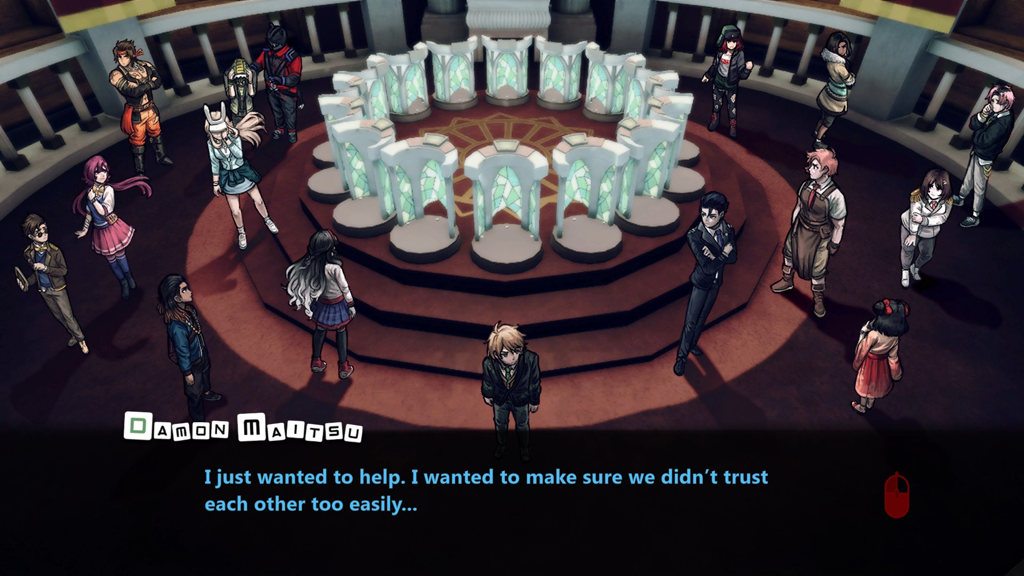 While he starts good, this sentiment quickly turns into Damon ✨Sparkling on✨ and ✨ being himself, ✨which normally I'd encourage, if it were anyone but Damon. 
Pouring out all of his pent-up grievances like a broken-open dam, he complains on and on. About how frivolous most of the people here's Talents are, how they don't "contribute anything of worth," and how they've devalued what being an "Ultimate" used to mean. 
Sure, there are exceptions like Wenona, but what does a Golfer, a Drag Racer, a Music Producer, or a Cosmetologist really accomplish for society at large that makes them worthy of being recognized in the way that Grace, Jett, Mark, and Diana have?
Some try to combat Damon by turning his worldview against him: What makes him, a mere debater, oh-so special as to get to demean them like this?
Well, Damon shakily enlightens them: he can actually do world changing things with his talent, hypothetically, unlike many here.
He also tries to remind them; just who was the one who got them all through that trial? The person who realized Cara was the one who really had the gun? The one who pieced together Roland Library of Ruina Play Library of Ruina Now's bleach bucket trick? The one who strung together all of the disparate pieces of evidence and actually made sense of it all?
Who was that?
It wasn't Cassidy. It wasn't Grimwall. It wasn't Delamer, or Ulysses, or Toshiko, or Kai. It wasn't even Wolfgang.
It was him: Damon. Damon Maitsu.
Damon's malice leaves most of the cast angry and with a bad taste in their mouths, to which Tozu is brimming with delight. You can practically see his ear-to-ear grin through his mask. 
. . . However, despite how excited he is about this turn of events, Tozu doesn't want any of these peasants to die in his pristine courtroom. So, before leaving with Mara, he makes sure to shepherd everyone toward the elevator, informing them that the dorm rooms are now open for them and that the crime scene has been cleaned up.
With their bright host gone, a sense of unease worms its way into everyone. Not only has their unity been fractured, not only has one of the people here unabashedly announced that he finds most of them to be worthless hobbyists, but the weight of their reality is hitting them hard.
They're trapped in a death game. It's kill or be killed, and they can't trust anyone but themself.
On that note, Project: Eden's Garden's prologue ends, signing off with an image of everyone together; a grim reminder that things will only go downhill from here.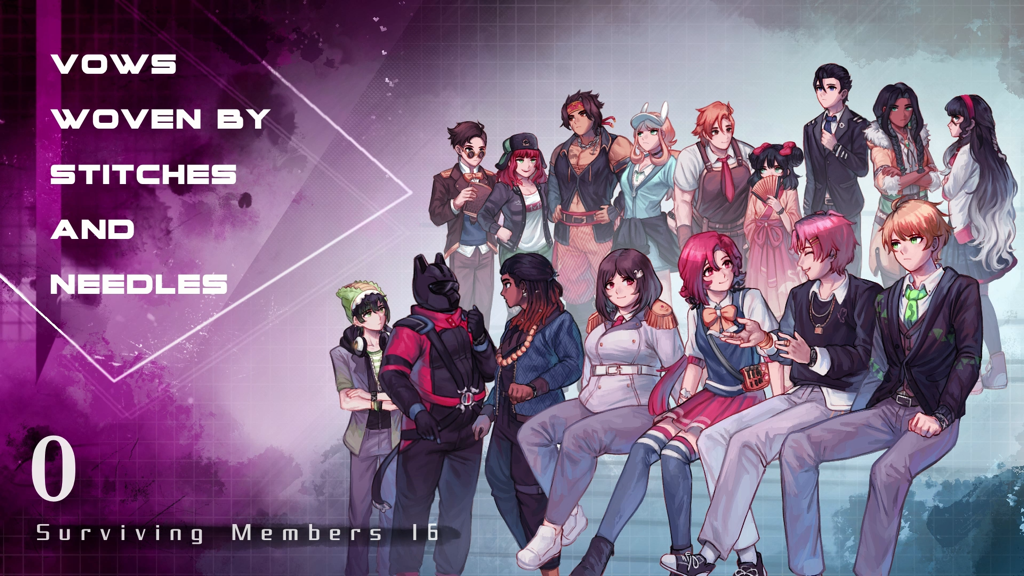 So, what did everybody think?
Personally, I'm FLOORED. MY GOD THIS IS SO GOOD!!!!!!! 
Like— I'm sorry. I really don't know how to articulate in text alone how much I love love loved Project: Eden's Garden's prologue demo other than keysmashing, so I'll just do that.
FnihorunhCSFnwgsnahlcughgvrhhreuthaetaout[mua4w9upomweu++
That's better. Okay, now that I've gotten that out of my system, it's time for my more composed thoughts.
Project: Eden's Garden does so much right.
First, the immediately obvious: the game's art is sublime. All of the characters' outfits are appropriate levels of overdesign, hitting the same sweet spot that the original series did. They have enough unique patterns and accessories to be recognizable, but not so obsessively many that they could be mistaken for a Genshin Impact character. 
Get burgeon'd Genshin fans—you know I'm right.
With one exception, all of their individual sprites are top-notch, too. If I didn't know better, you could slip any one of Project: Eden's Garden's characters into a selection of main series ones and I wouldn't be able to tell which one's from a fangame. 
Secondly, the innovations Project: Eden's Garden makes on the Danganronpa formula. This is mainly referring to the fact that there's both a mock murder investigation and a mock Class Trial, giving our inevitable first victim a shot at actually being present for both. 
Danganronpa has always had the issue of its first case victims being forgettable. Their screentime is limited to the prologue, where they're introduced—alongside every other character—and the first half of the first chapter until they get murdered. Trigger Happy Havoc and V3's prerelease demos notwithstanding, first victims don't get to be a part of any investigations or Class Trials, so they end up getting sidelined HARD.
Cara's murder circumvents this issue entirely.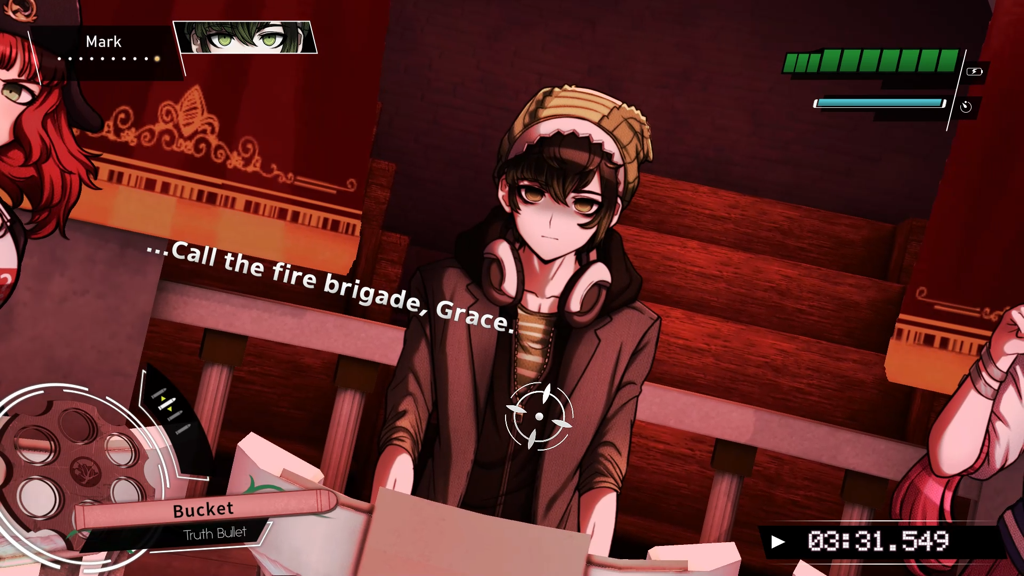 By having an unimportant filler character die first, instead of one of our sixteen main characters, the screentime issues that come with being a first case Danganronpa victim are greatly neutralized. Sure, their screentime will still be much shorter overall in comparison to their peers who live longer into the game, but it still helps a lot.
Also, while on the topic of her, I doubt we're done with Cara. I have a sneaking suspicion that she'll be relevant again at some point, though probably not for a while. 
Independent of the first victim dilemma, having an investigation and trial also makes the demo a lot meatier. It's not just you meeting the characters and then you're done, forcing you to have to wait a year or more for even a crumb of plot development.
Independent of that too, is the fact that everyone chips in during the Closing Argument recap. The original Danganronpa games just had your protagonist doing it, but here, most everyone gets at least a line of their own while reviewing Cara's murder.
Thirdly, the voice acting. I already mentioned how Toshiko's VA, Ajisai, did a phenomenal job with the scream when they found Cara. If you end up playing Project: Eden's Garden yourself—which you absolutely should—I'd highly recommend turning down the volume when you get to that part unless you want your ears to explode.
Besides her, Wolfgang's VA, Daniel Bauzon, also gives an outstanding performance. Particularly during Wolfgang's rage at the end of the Class Trial.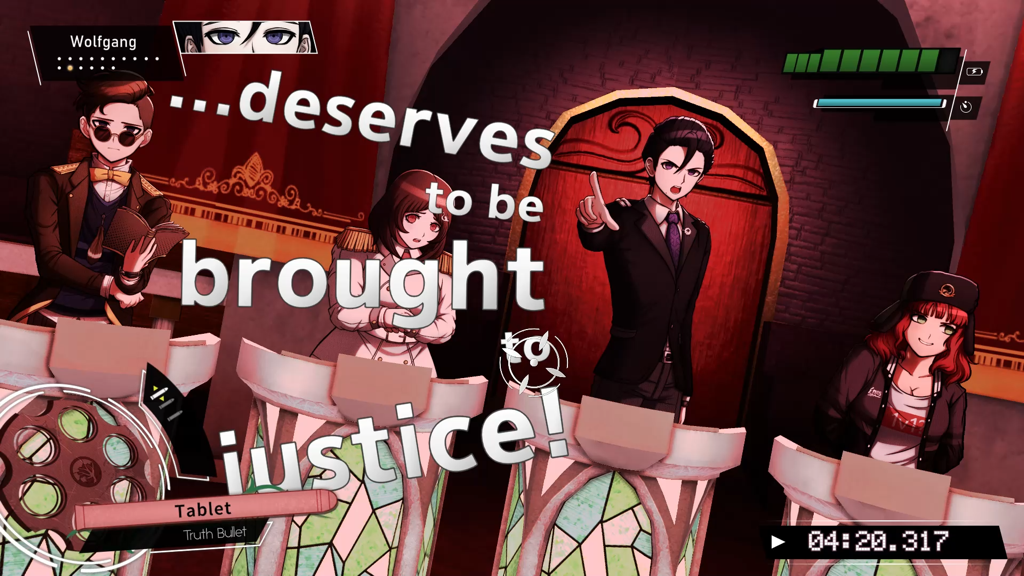 You can feel his rage, how he's barely able to restrain himself from going completely volcanic. The way Daniel Bauzon delivers "This was a SADISTIC KILLING of ONE OF HUMANITY'S BRIGHTEST!" is insanely powerful.
Maddy Goshorn does great with Grimwall's motherly tone. The added southern twang to her voice—which wasn't originally intended, as it turns out—makes her somehow even more endearing than she already was. 
Dakota Farnsworth's work as Kai really sells his thing as a Gen Z TikTok star with more clout than God, but who would start crying if you so much as sighed in his general direction. 
And the big one, Kevin Gerard makes Tozu. His pompous, magniloquent personality needed someone who could go all the way with it, and Gerard absolutely went that extra mile. All the Way, if you will.
While those are my personal standouts, that's not to say everyone else didn't do a great job! No character sounds even remotely similar to another, and not one of the VAs phoned it in.
Fourthly, the music. There are two specific pieces that jumped out at me when I heard them: The Heat-Up theme and the Closing Argument theme. 
THEY'RE SO GOOD!
The Heat-Up comes on after the first round of the Nonstop Debate, replacing the song Class Trial – Frenetic Edition. The synthesized clavs are very bouncy, the rising cello and fluctuating synth keep things moving, the bell tolls add the necessary intensity, and the series' voice line "Don't stop the debate now." being swapped with "May I have your attention please?" maintains the Danganronpa flair while not compromising its identity as a unique piece of music.
The Heat-Up theme is actually a pretty good microcosm of Project: Eden's Garden itself: it's no doubt a Danganronpa game, but it's not going to rely solely on the series it's inspired by. Listen to it here.
I don't have as much to say about the Closing Argument theme, other than that it goes hard. Listen to it here.
Before we get to the fifth and final thing, was there anything I didn't like about Project: Eden's Garden's demo?
Some of the animations during the Class Trial look . . . not great. Take refuting/agreeing, for example.
Whenever you send a Truth Bullet into the correct statement for that round, the statement will splinter out into a bunch of little pieces. It's closest to how Danganronpa V3 does it, rather than 1 or 2. 
In V3, there's a big movement at an angle for emphasis that the text experiences as it's smashed apart that's incredibly satisfying to watch.
Project: Eden's Garden's . . . aren't. The broken shards of a statement do move, but not particularly far. They move like you kicked them a little hard, and it lacks a lot of impact.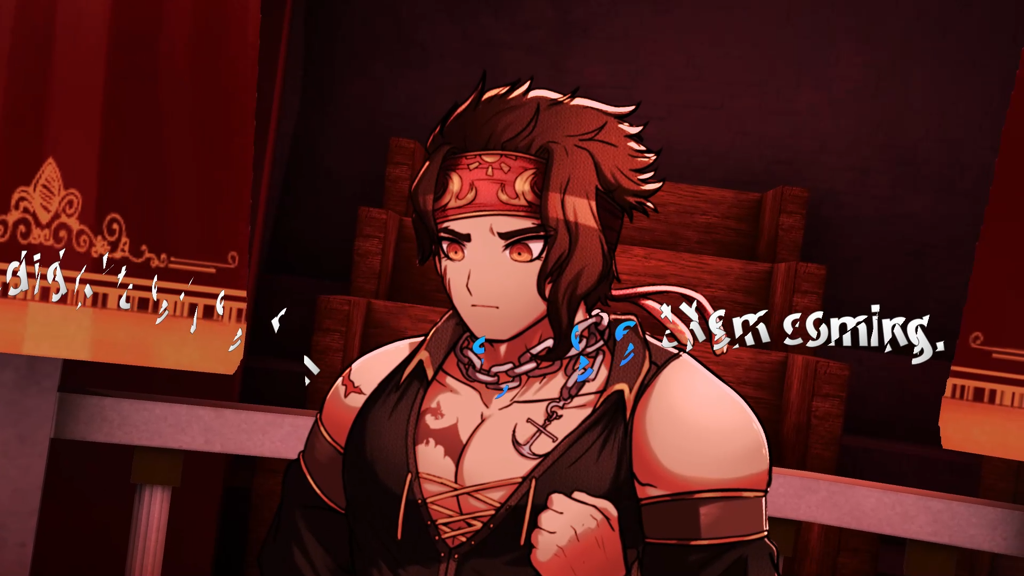 It's not helped by the particular sound effect that's used to punctuate the breaking of a statement. It's a tiny, weak glass splintering sound that fails at accentuating the moment.
It's a similar case for the screen breaks, unfortunately.
Once again resembling V3, the way the game transitions from the end of a Nonstop Debate round and back to the normal discussion is through the screen shattering, emphasized by some text screaming "BREAK!"
Project: Eden's Garden's screen breaks come out in a very obvious, almost lethargic circle motion, instead of shattering in a big display like in V3. After that, neon green Edo SZ font just . . . awkwardly slides towards the screen before taking a second to fade.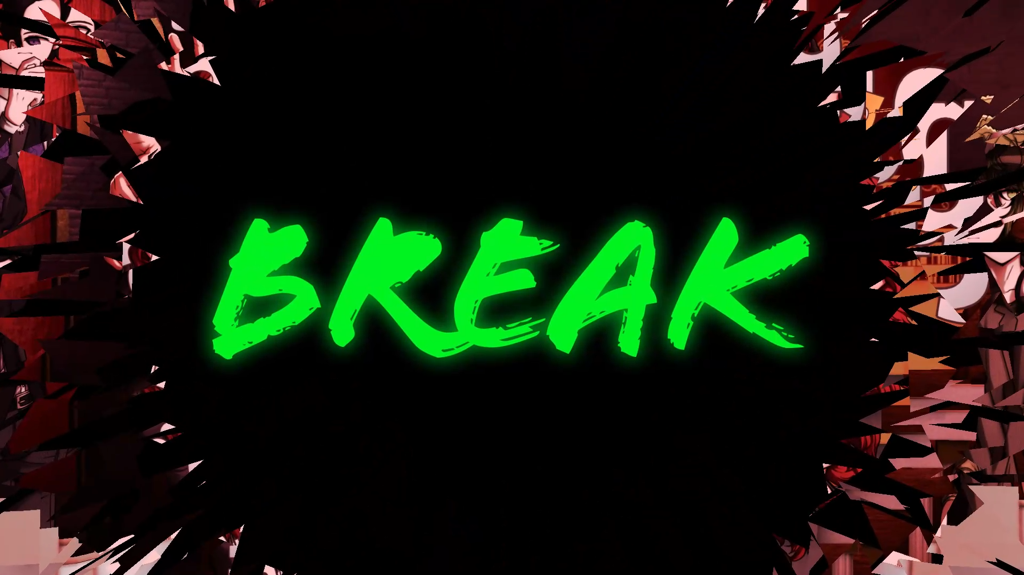 It looks cheap, in contrast to everything else. 
These things aren't egregious offenses—this is a fan project; you can't expect hyper-professional quality from literally every last detail—but I also can't deny that they stick out like sore thumbs.
Beyond technical things, I do also wish there was at least one minigame in the Class Trial. 
The original Danganronpa series had a bunch of those, like Rebuttal Showdown and Psyche Taxi, but all Project: Eden's Garden has is the Closing Argument. I'm sure that future trials will include them, but it's still a little disappointing.
I wanted to experience the epic highs and lows of Hangman's Gambit >:(
But enough complaining. There's one last thing—or rather, person—who I absolutely need to talk about in more depth before this article ends:
Him.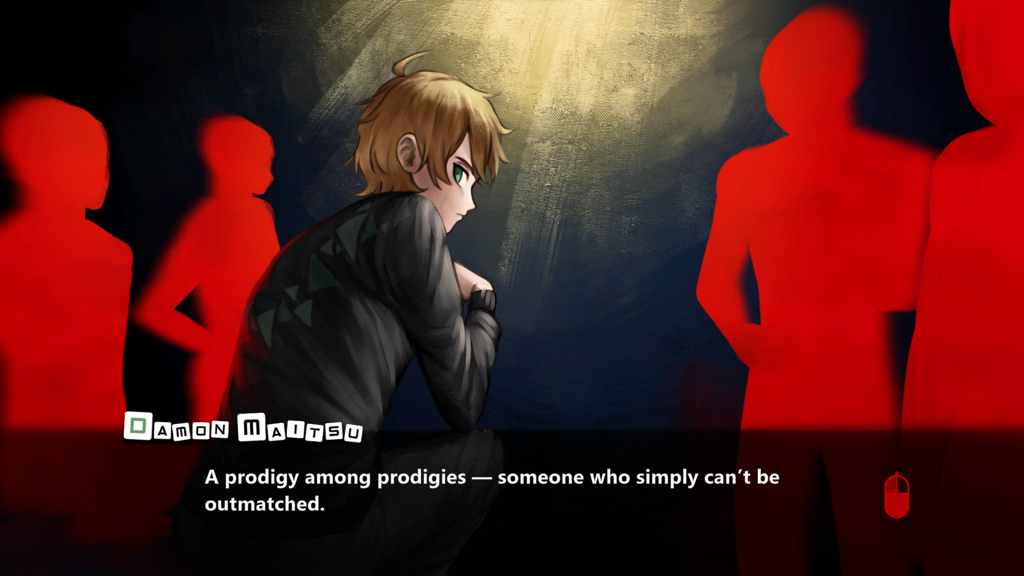 As you read, Damon is not exactly a nice protagonist by any definition. His best attribute is that he keeps to himself most of the time, only speaking his true feelings when he really wants to, like when Diana and Toshiko were annoying him with their reactions to Cara's "body" or at the end there with Eva.
That's Damon's ABSOLUTE BEST personality trait. Otherwise, he's . . . pretty dang barren in terms of likable qualities. 
I mean . . . he's pretty, I guess? But, like, so am I. He's not special.
Damon constantly thinks himself better than most everyone around him, despite the fact that, by his own rubric, he is one of the hobbyists he hates so much. He debates because he enjoys it—just like how Diana does cosmetology because she enjoys it—not for any of the projected career paths he'd thrown up when pressed about it. 
He's a prick, he's an elitist, and he's a hypocrite.
And that makes me SO excited to see more of him. 
Damon fascinates me, and plays with what's, sadly, an underexplored aspect of the Danganronpa universe. That being the "value" of an individual Ultimate Talent. We've had normal, Talent-less people vs. People with Ultimate Talents, but never infighting over what deserves to be an Ultimate Talent.
Damon's insistence that his Ultimate Debater ability is valid, and how that conflicts with him being labeled as a "bargain-bin" Wolfgang, is something that I can't wait to see fester in him. 
And, in addition to that, there's Eva. 
Throughout the prologue, it's clear that Eva is being primed to be Damon's main associate character, along the lines of Kirigiri or Shuichi. However, there's something about Eva, compared to those who came before her, that would inevitably put her at odds with the protagonist she works alongside.
Do you remember what her Ultimate Talent is?
An Ultimate Liar is, really, the farthest one could possibly get from being a worthy Ultimate in Damon's eyes. Lying is something entirely self-serving, covering up the inconvenient parts of reality with half-truths and unverifiable facts for convenience. How can that possibly make any positive impact on the world?
Filtered through Damon's worldview, it doesn't.
I speculate that Damon's arc over the course of Project: Eden's Garden will be him being forced to confront the ideology he subscribes to: that a Talent must be of use for some greater purpose to be worthy. 
But, when he's faced with people fighting for their lives in pursuit of escape, Damon will slowly come to understand that . . . the value of a Talent is wildly relative. They don't exist in a vacuum. The expectations society forces onto these kids—making them out to be future leaders when they may just really like crocheting—are incredibly toxic and harmful, even to him.
And this is just me theorizing, but I believe that this arc of Damon's will culminate in him sacrificing himself during the final Class Trial, so the survivors—people he used to scoff at—can live on and continue chasing their passions.
I think that'd be a really satisfying conclusion to him as a character, don't you think?
But before I conclude this behemoth of an article, I want to give you all one last reminder for the road:
Project: Eden's Garden is a free-to-play, nonprofit fan project. 
This is the brainchild of various fans, who've come together to create something in the image of something they all adore, and they're not charging even a cent for it. Furthermore, they don't even have a Patreon or Ko-fi that you can force feed them money through.
Project: Eden's Garden is—through and through—a passion project. The devs aren't in it for the money, they're in it because they want to bring this thing to life.
While you can't directly fund them by donating or anything, there is still something you can do to support them: go download it and play it yourself! It's literally free, both on GameJolt and Itch.io, right now! Go! Do it! There's even an installation video guide if you need it.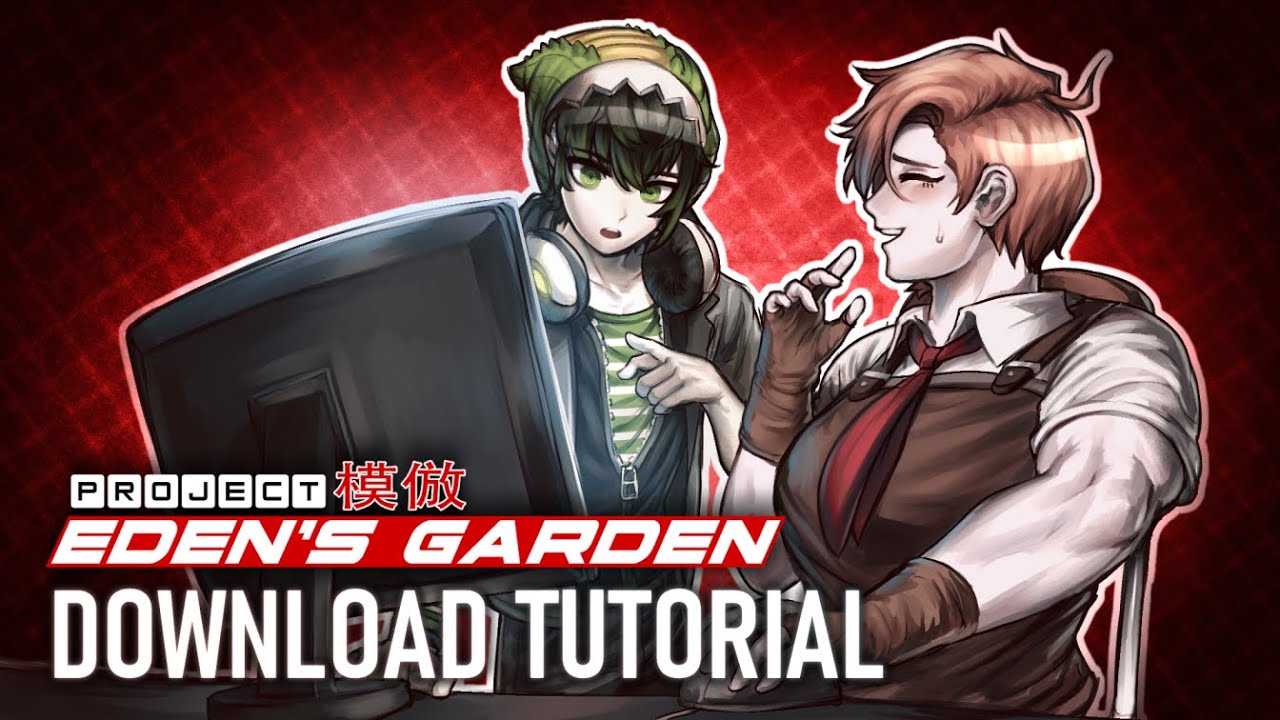 No, I don't care that I've spoiled the whole plot of the prologue, it's still absolutely worth it. Not only did I have to cut out a lot of small details for the sake of cutting down on this article, but also, as of the time of this article's publishing, Chapter 1: Beneath the Veil of Hypocrisy, is on the horizon. 
Go check out Project: Eden's Garden, but, more importantly, go Bengals!