An International Perspective on COVID-19
Helena High, along with many schools around the world, has not seen a "normal" day of school since March 2020. Since then, the lives of people everywhere have changed dramatically due to COVID-19. One small change was that Helena High was unable to welcome foreign exchange students last year. However, this year we have seven new Bengals from around the world. 
We know what the past year and a half has been like for us, but what has the experience been like for people in other countries? 
Tommaso Netto, a senior from Italy, explained that at first, students celebrated the shutdown for just being two weeks off school, but they quickly realized it was going to last much longer than two weeks. Similarly, Mirthe Wijnhof, a senior from the Netherlands, said that they had two lockdowns, both with very strict restrictions. Jaime Guttierrez, a junior from Spain, had a two-month-long quarantine period where they couldn't leave their homes except for grocery shopping and going to work. While many countries have passed what we hope is the worst of the pandemic, some countries are still in lockdown, like junior Neila Dechanupong's home country of Thailand.  
Like us, schools abroad also underwent big changes as well. Wijnhof said the Netherlands had a hybrid schedule, much like Helena High did last year, with half the students attending one day and the other half the next. Maiken Schie, a senior from Germany, had to attend online school, but only for two months. In Spain, Gutierrez said they were just sent homework. "It was easier because we only had to do homework, but it was a lot of homework,"Guttierez said. Netto said that "the teachers didn't care as much" once they were online and that it was "much harder to pay attention in class."  
Traditionally, the exchange students at Helena High are juniors; this year, however, the school has many senior students due to COVID-19 cancelling earlier plans. Alex Seelmaeker, a senior from Germany, had initially planned to study abroad last year, as did Gutierrez, Shie,Wijnhof, and Dechanupong.  
Wijnhof said that, in Netherlands, they experienced a 9 PM curfew for many months back in 2020. Both Seelmaeker and Netto said current restrictions are stricter back home as currently to go into public places, citizens must present a 'green card' which is documentation of vaccination or a negative COVID test.   
Some foreign exchange students said their country has made more progress against Coronavirus than America. In Norway, "most people are vaccinated, so masks are only worn in medical spaces now," Shie said. She also spoke about how many people lost their jobs as companies and stores had to "fire" or send home many employees because of COVID-19 which was something that also widely affected Americans in the past year.  
However, other students found that the US has more COVID-19 measures currently in place. Macarena Vazquez Vidal, a junior, from Spain said that Spain was very slow to get the vaccine and it is still being rolled out to citizens now. Similarly, Dechanupong said that Thailand does not yet have widely dispersed vaccinations.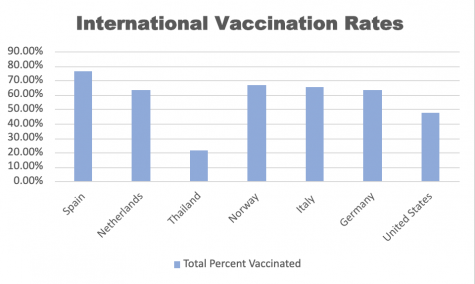 Overall, it's clear that COVID-19 has impacted the lives of everyone in many different aspects. Thankfully, things have improved enough that Helena High is able to host exchange students again. Hopefully, the worst of COVID-19 is behind us all.