Club Profile: SkillsUSA
Hang on for a minute...we're trying to find some more stories you might like.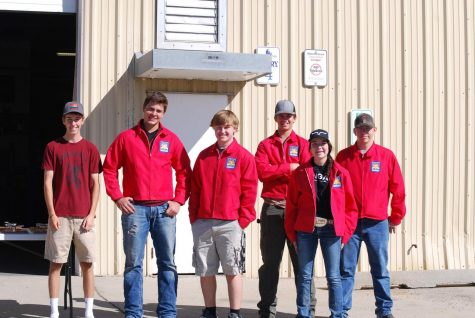 SkillsUSA is a Student Run Organization and a Career and Technical Student Organization that partners students with teachers and industry professionals to learn skills important in today's current job market. SkillsUSA is for anyone looking to be prepared to join the workforce. The group meets Thursdays during lunch in room 304; Mr. Hartwick and Mrs. Robertson are the club advisors.
While Skills deals mainly with hands-on types of jobs typically found in the manufacturing and construction trades, it is not limited to students that like to take shop classes and pursue those types of careers. At the national level, SkillsUSA encompasses many different career choices including culinary arts, cosmetology, science & medical fields, drafting, and computer-aided design. Of course, SkillsUSA also focuses on the more traditional fields of automotive repair, welding, and construction. Anything you can do for a career and has a high level of skill attached to it, skills probably has a competition that can tie back into that field.
The main goal of SkillsUSA is to produce highly trained and skilled students who will become highly sought after and valuable employees for any career path they choose. These people will be in extremely high demand in our very near future and will be commanding excellent wages and benefits for their developed skills.  
A little known fact about SkillsUSA is that it actually started out with a different name: Vocational Industrial Clubs of America (VICA).  The organization was established as VICA in 1965 but changed to SkillsUSA in 1999. VICA's Helena High Chapter was started in 1972 by Mr. Lee Holmes, the longtime drafting teacher. Susan Bjerke was Mr. Holmes' first student to compete at the national level in architecture. Bjerke now owns and operates Bjerke Architects, a very successful firm based out of Helena.
The HHS chapter is involved in a variety of community service projects such as providing food baskets during the holidays to families in need, picking up garbage around the campus and community, participating in the Haunted Hallways for young trick-or-treaters, and various other service-based opportunities.They put on an annual car show that is a fundraiser for the club and helps them pay the costs of going to State and Regional Competitions.
Winners of these competitions advance to the next levels of competition and win some amazing prizes and scholarships, as well as meeting many business partners along the way that may offer them a good paying job when they are done with school or their training. It is a great organization that has been helping students succeed for over 50 years.