Battle of The Bands
Two Bands. Four Songs. One Winner.
At the Homecoming Assembly this Friday, two Helena High bands, Blinded MT and Spank, will enter the gym to face off in an epic song battle. Each band will perform two songs and then the student body will do an applause vote to decide which band came out on top. Nick Pida, student body president, helped pitch and organize this event. "Live music has a certain air of community about it which is what I want to increase," Pida said.
Blinded MT has three members: juniors Spencer Nelson and Ben Medina-Caplis, and senior Evan Wright. While Blinded MT has existed about four years, guitarist Wright joined the band last October. Band member Evan Wright explained, "Our band started with Spencer, Ben and Aidan in 8th grade named Blinded… ,  my sophomore year of high school Spencer came to me and confronted me about replacing their guitarist [because] I was more equipped for their style, and they are happy as can be with me." In preparation for Battle of the Bands, "Spencer, Ben and I are on what's called the grind… meaning we are all in a special state of mind where each of us are connected by a spiritual force connecting each of our third eyes to create truly unique experiences," Wright said.
Blinded MT plans to perform "War Pigs" by Black Sabbath and "Float On" by Modest Mouse. "We choose our first song "War Pigs" because… the crowd cannot resist the emotional stimulation that this piece of auditory joy will bring them, and we decided to choose "Float On" … to ease the crowd after such an intense experience," Wright said.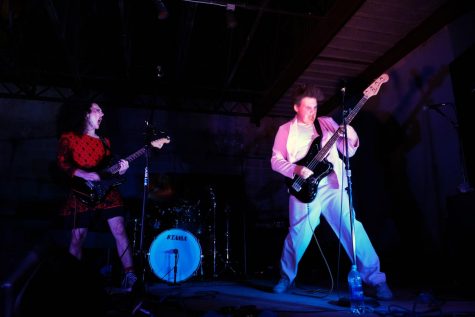 Spank is a much younger band, only playing together for the past three months. Members of the band include juniors Chris Shields and Aaron Burke, and sophomore Sam Geary. "Originally it was Spencer and Evan from Blinded MT, me (Shields) and Aaron. Over the summer, Spencer and Evan decided to leave, so we replaced them with Sam. We had to redo our entire set list for a music festival we did, but ever since then we have bonded together to play music." To prepare for the battle, "we've been practicing every day for the last two weeks trying to get our songs ready and as perfect as possible. We are throwing in some extra little surprises that will knock your socks off," Shields said.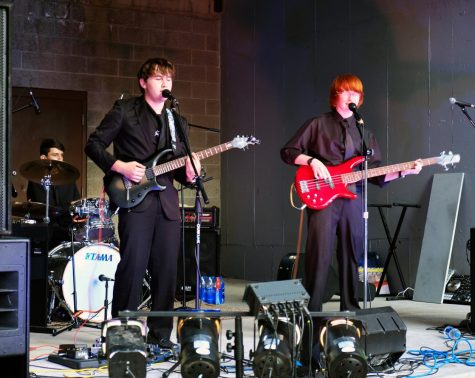 Spank will perform "Heavy" by Collective Soul and "Hotel California" by The Eagles. 
"
Sam Geary chose our songs. He said these songs would be good, and I didn't want to argue because he would have clapped my cheeks."
— Chris Shields, Spank band member