Broadway Best "Fiddler on the Roof" Coming Soon to Helena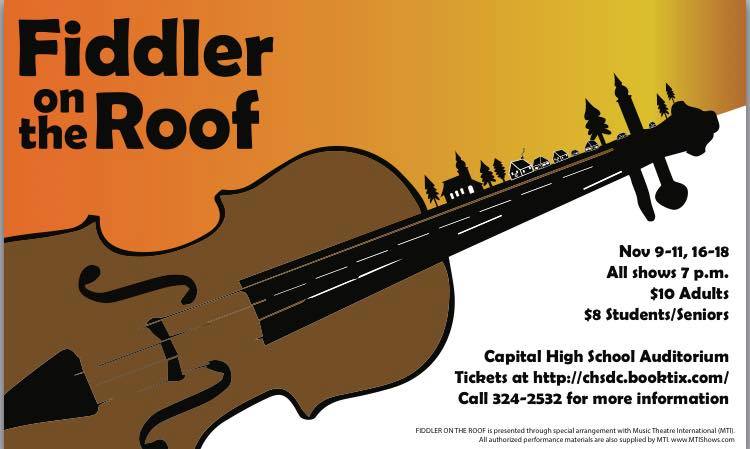 The lights dim, the stage is set, and the audience eagerly waits for the show to begin. There's nothing quite like the feeling of seeing a live performance. This year, you can get that feeling with a crosstown production of Fiddler on the Roof. Unlike crosstown sporting events, which put HHS and CHS against one another, crosstown theatre productions have the two schools working together. This heartwarming tale is being directed by Laura Brayko, an English and theatre teacher at Capital High and Rob Holter, a theatre teacher at Helena High. Shows will take place on November 9th through November 11th and November 16th through November 18th. All showings will be performed at Capital High.
Austin Giarde, who was cast as main character Tevye, told me a little bit about what we can expect. " Basically, CHS and HHS …  work together to make something like this happen. It's really cool." Giarde is looking forward to doing the whole musical and mentioned that a scene about a dead grandmother really stood out to him. When asked if there was anything for the audience to watch out for, he answered, "A really great show. It's honestly a masterpiece. And to all the Fiddler fans out there, I'm trying my hardest to respect the character."
The musical is about a Jewish milkman named Tevye, who has five daughters and is trying to survive in early 1900's Russia. In this musical, a matchmaker name Yente, who is set on marrying the young people of the town, begins to find matches for Tevye's daughters. Tevye breaks the fourth wall, or talks directly to the audience as if they are characters, throughout most of the musical. Fiddler on the Roof, a classic on Broadway, once held the title for longest running Broadway musical, lasting for ten years until Grease came to Broadway. Opening in 1964, it remains the sixteenth longest running Broadway show. It has also won many Tony awards including Best Musical, Best Score, Best Book, Best Direction, and Best Choreography. This show was first seen 53 years ago and it still known worldwide.
This musical is a touching story that will appeal to a wide audience. Don't miss this production of Fiddler on the Roof!
Get tickets for the show: https://chsdc.booktix.com/