Our Nuggets are Older than McDonalds!
The History of Helena High's Nugget Newspaper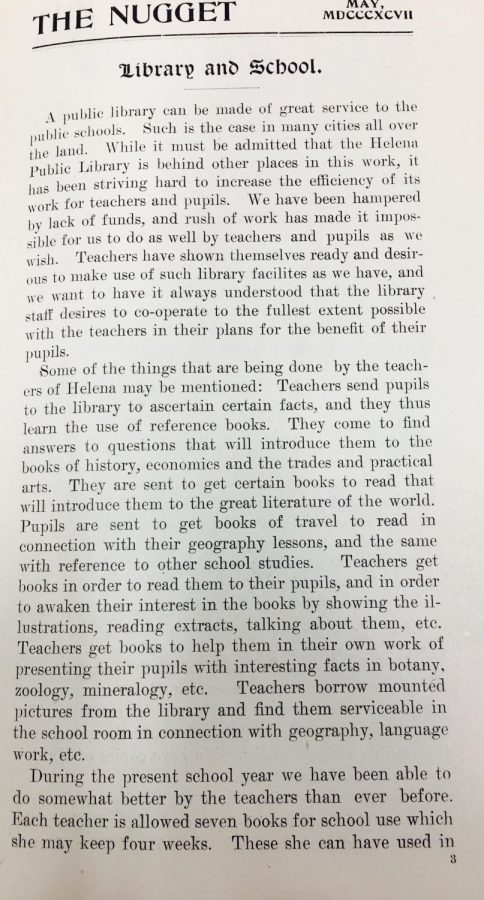 We know you don't read The Nugget now, but maybe back in 1897 they did. You heard that correctly; for over 120 years, The Nugget has been published, making it the oldest high school newspaper in Montana. When the first issue came out, it was much more sophisticated in wording, using sentences like, "This concept is a product of abstraction and generalization carried to its remotest limits." It also had sections that may or may not be included in today's version of our paper, like poetry and advertisements for "ladies fur collarettes," whatever those might be. Maybe some version of a scarf? The old Nugget was much more educational than the one now; instead of "Asking DeQuan," they were in fact writing "Stories of Montana History" or the "Department of Helena Business College".
In the newspapers that were published in The Nuggets early years, Helena High writers also had some differing opinions on today's issues and opinions. For example, they believed in a pre-WWII issue (1906) that the swastika was a good luck charm that would, "drive away evil…[and bring] long life and prosperity to the wearer." Today, of course, the thought of wearing a swastika is highly opposed, for very good reasons concerning a certain German fellow. The Nugget hasn't changed in some aspects, however; back then they had holiday issues just like we have, even though back then they were called "Christmas Numbers" or "The Easter Issue[s]." They also covered school events such as "Athletics" or 'Personals and Locals" which was focused around things not only happening in Helena but around Montana, and other global happenings. They also published creative submissions, just like we do now.
This year, however, The Nugget has made technological advancements as well – we now have a fabulous website for easier access, which is great because our news reporting skills are still really amazing and the stories are definitely worth reading. They include important student news, information about community events, polls, editorials, and much more. You can access the newspaper via the url www.thenugget.net.
After all this time, our wonderful school newspaper is still around and making new advances. Thats pretty amazing, especially considering how much Helena High has been through in its long history. We've been promoting Bengal news since 1897 – and we certainly aren't stopping now!