Goodbye Seniors 2017!
A Goodbye to Senior Writing Staff of the Nugget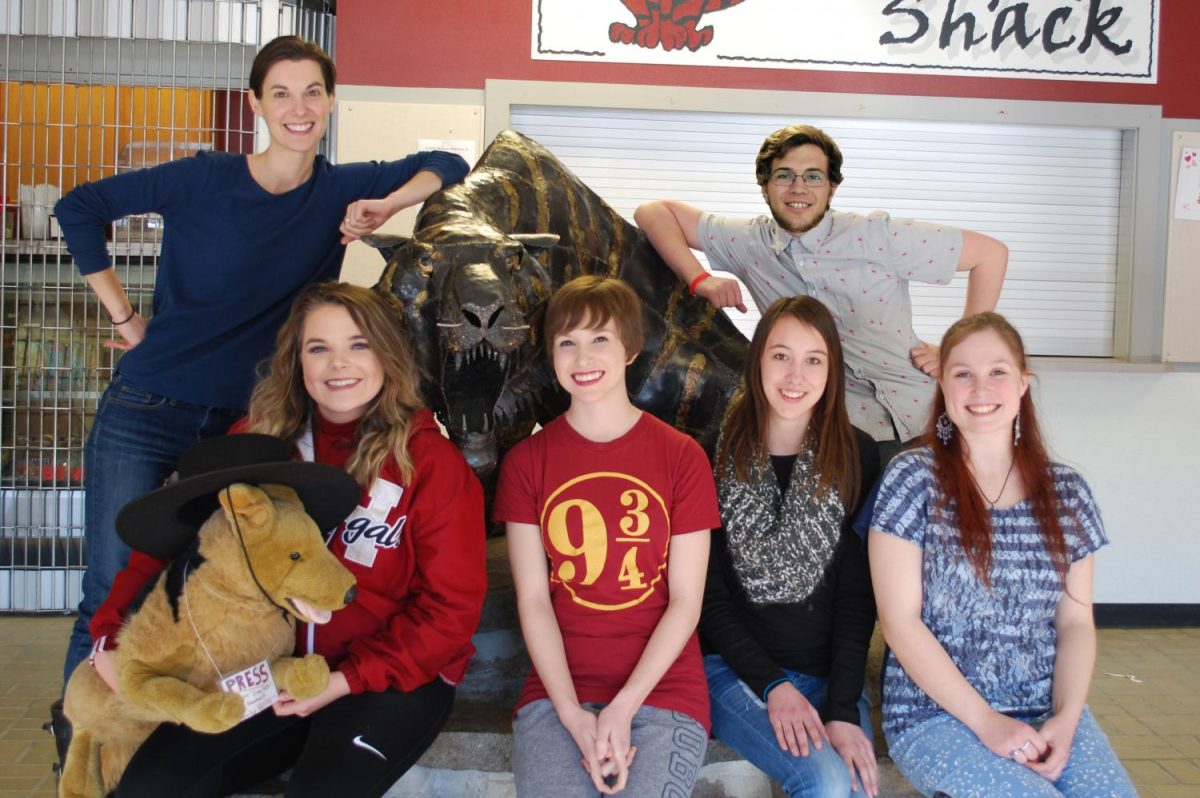 Ms. Walsh, Advisor
May 25, 2017
In life, we create many short-lived families, often because we share a certain experience together. These families tend to drift apart when the shared experience is over. When we no longer share that job, class, club, or team, we slowly lose the familiar connection built through regular interaction. This process happens many times over the course of your life; each short-lived family plays a small role in helping you become the person you want to be. And if you are very lucky, you will be a member of a family that teaches you lessons, challenges your ideas, shares your passions, and leaves you with memories that stay with you and bond you forever. I feel so lucky to have spent this past school year with the Nugget staff.
As the advisor of the school newspaper, I have had the privilege of working with a small group of wonderful people, five of whom will be graduating this year – Selena Goddard, Jada Lecce, Danielle Nelson, Jaurdyn Johnson, and Kameron Kottas. Each of them have left me with memories I will not forget. Selena with her "awful selfies" and an ill-advised love of Darth Vader; Jada with her Disney princess outfits, Harry Potter mania, and creepy library stalker; Danielle with her distaste for movies and her hilarious impersonation of a girl who has a "house on Echo Lake!"; Jaurdyn with her Bengals cheerleading outfit and inside scoop on just about everything happening at this school; and finally Kameron, who became a great addition to the Nugget a little late in the year, with his far-off stare and unbelievable stories.
I hope I never forget the hilarious antics that happened in this class. We probably spent at least half our time laughing at and with one another. Despite this, I never really worried about whether or not they would make their deadlines; we were able to have so much fun because I could always trust them to finish what needed to be done.
Over the course of the year, I learned a lot more than just their sense of humor. I also saw their many strengths shine through. Selena is dedicated and hardworking; she has a strong sense of personal responsibility and is more ready for life after high school than she thinks she is. Jada is efficient and organized. Most people who meet her instantly recognize her maturity. This year threw a lot at her, and watching her respond to these challenges has taught me a lot about strength and perseverance. Danielle is a natural people person. She knows and is genuinely interested in everyone's story, which is a great quality in a journalist. Jaurdyn is warmhearted and confident. She manages to be both effortlessly cool and kind – a feat not many high schoolers accomplish. Kameron honestly reminds me of a big puppy. He is enthusiastic, brings considerable joy to the room, and sometimes forgets what he is saying as he is saying it.
It has been a genuine pleasure spending 5th period with these wonderful people. Every day, no matter what frame of mind I am in before class, they brighten my mood and make me laugh. Each of them helped to create a class where every person feels valued and comfortable enough to truly be themselves. I have watched them over this year and been consistently impressed with their outlook on life. Even when times get hard or stressful, they choose to focus on the bright side.
I'm sure by now every senior is sick of all the life advice thrust upon them by teachers, parents, coaches, aunts, uncles, and pretty much every adult within calling distance. Honestly, we really can't help ourselves! So, here is the best advice I have ever received and that I want to pass on to you. First, you will rarely be certain about anything in life, and that's okay. It's not your choices you need to have full confidence in – it's yourself. Second, create a life that is your own – a life that reflects who you are and who you want to be. Don't worry if your priorities and values are at odds with those of society, your friends, or even your family. The only person who needs to understand your life is you. Finally, and most importantly, how you treat people, especially people you will never see again or who will not benefit you in any way, is who you are. Choose to be kind even when you don't want to be; choose to be kind even when it is hard.
Saying I'm sad to see them go is a bit cliché, so I won't. In fact, I'm happy to witness their excitement and anticipation for the next stage in their lives. If I am sad about anything, it's that our small, short-lived family is coming to its natural end. Simply put, some families are hard to say goodbye to.