Third Place Victory for High School Bighorns at State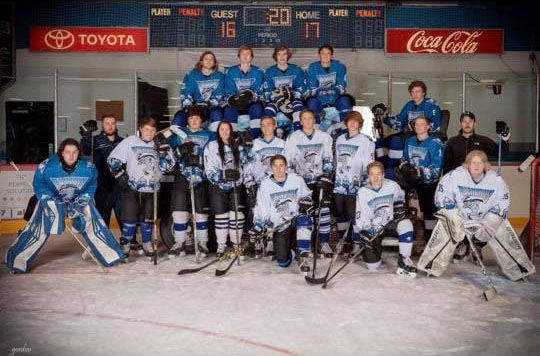 Hang on for a minute...we're trying to find some more stories you might like.
As the 2016-2017 season of hockey wrapped up, the high school Bighorns skated away with a 3rd place state victory.
The team started strong on Friday, March 3rd when they defeated Flathead 8-2. On Saturday, things got slightly more tense when they lost their game to Missoula by 5 points.
However, later that night they had a chance to redeem themselves against Billings. The game's intensity was high, Billings was ahead and the score was nearly tied at 2-1 with less than 10 minutes remaining.
Desperate to tie the game and go into overtime, the coaches decided to pull the goalie, Simon Jolicoeur, in order to have a sixth player on the ice.
Kaden Lindberg, junior, made several shots that were nearly successful. Within seconds, a player from Billings hit the puck directly into Helena's goal and the game was over.
Sunday morning, the team played Great Falls for 3rd and 4th place. They were victorious as they won 8-5. The Bighorns took home 3rd place for the 2016-2017 season.
Following, Missoula and Billings competed for 1st and 2nd place. Missoula won the game 3-0.
Coach Troy Green said he was, "definitely proud of all the guys." and that they deserved to end on a victory. "Truly, they deserved to win state." Green also mentioned that the team demonstrated "a great work ethic on and off the ice."
Previously, the team which was third in the Montana high school standings. They had an overall record for the season of 15 wins, 3 losses, and 2 ties.
Eight seniors concluded their high school hockey career this season. Friday, February 24th was senior night which honored Ryan Arntson (Assistant Captain), Nic Berbos, Justin Durbin, Nick Garcia, Simon Jolicoeur, Kameron Kottas, Colin Sassano (Captain), and Jacob Sodja (Assistant Captain).  Although saying goodbye to the seniors was a bittersweet situation for Green, he said that he is "confident that all of them will be successful in their futures."
Overall, the season was successful for the high school Bighorns. Kameron Kottas, senior, said the team this year "had a really strong goalie and two lines of offense." Kottas also added that even though third place wasn't what they wanted to accomplish from the season, it was still fun "playing with the kids [he's] been playing with since seventh grade."
Coach Green added that the team was "extremely resilient" this season and that coaching them was not a hard task to do. Green says he believes they will have a strong team next year, and that they have "a core group of guys that are ready to step up and lead."