Fashion Forward and Backwards
From corsets to streetwear, fashion has played a significant role in our lives. The world of fashion trends has undergone steady change through the decades, from the striking and glamorous apparel of the 1920s to the loose and revealing options of the 2020s. Fashion trends that are unique to each decade have influenced how we dress and express ourselves. 
In the past 20 years, social media's emergence and growing popularity have made fashion more visible and accessible than ever, allowing people to express their personalities through their apparel. Below are the most famous fashion trends of the decade and how they changed over time.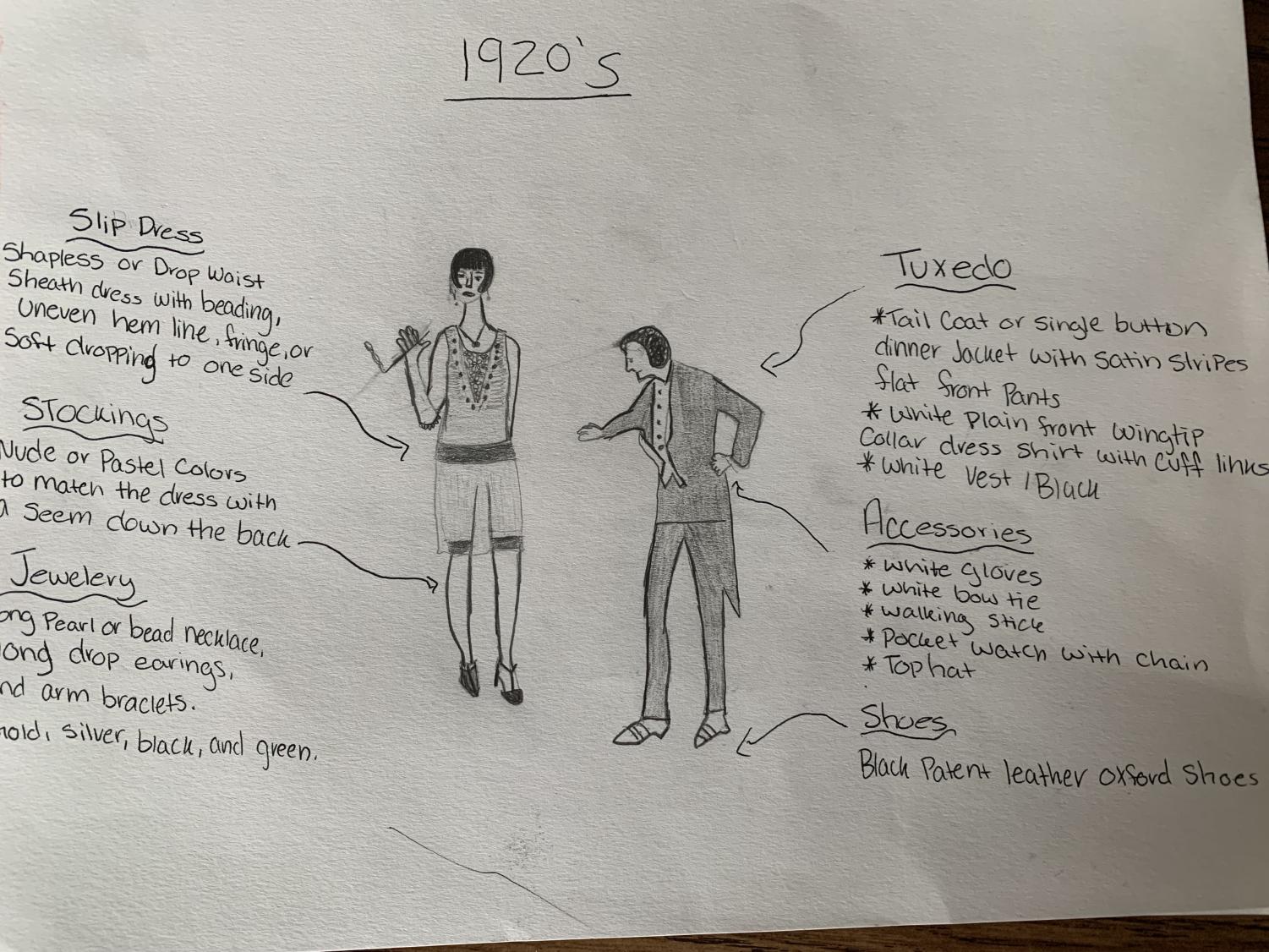 The trends that are still in style today were influenced by the 1920s fashion era. At the conclusion of the Edwardian era and the start of a contemporary, liberated era known as "the roaring 20s," women's dress became bold and revealing, characterized by its daring and rebellious spirit. Women started to adopt shorter hemlines, looser shapes, and more masculine looks in place of the classic, traditional styles. With its lowered waist and feathery hem, the famous flapper dress represented the time. These styles coincided with changes in men's fashion: the debut of the first tuxedo and the rise in popularity of the double-chested suit. The early 1920s were a decade marked by invention, uniqueness, and expression in fashion.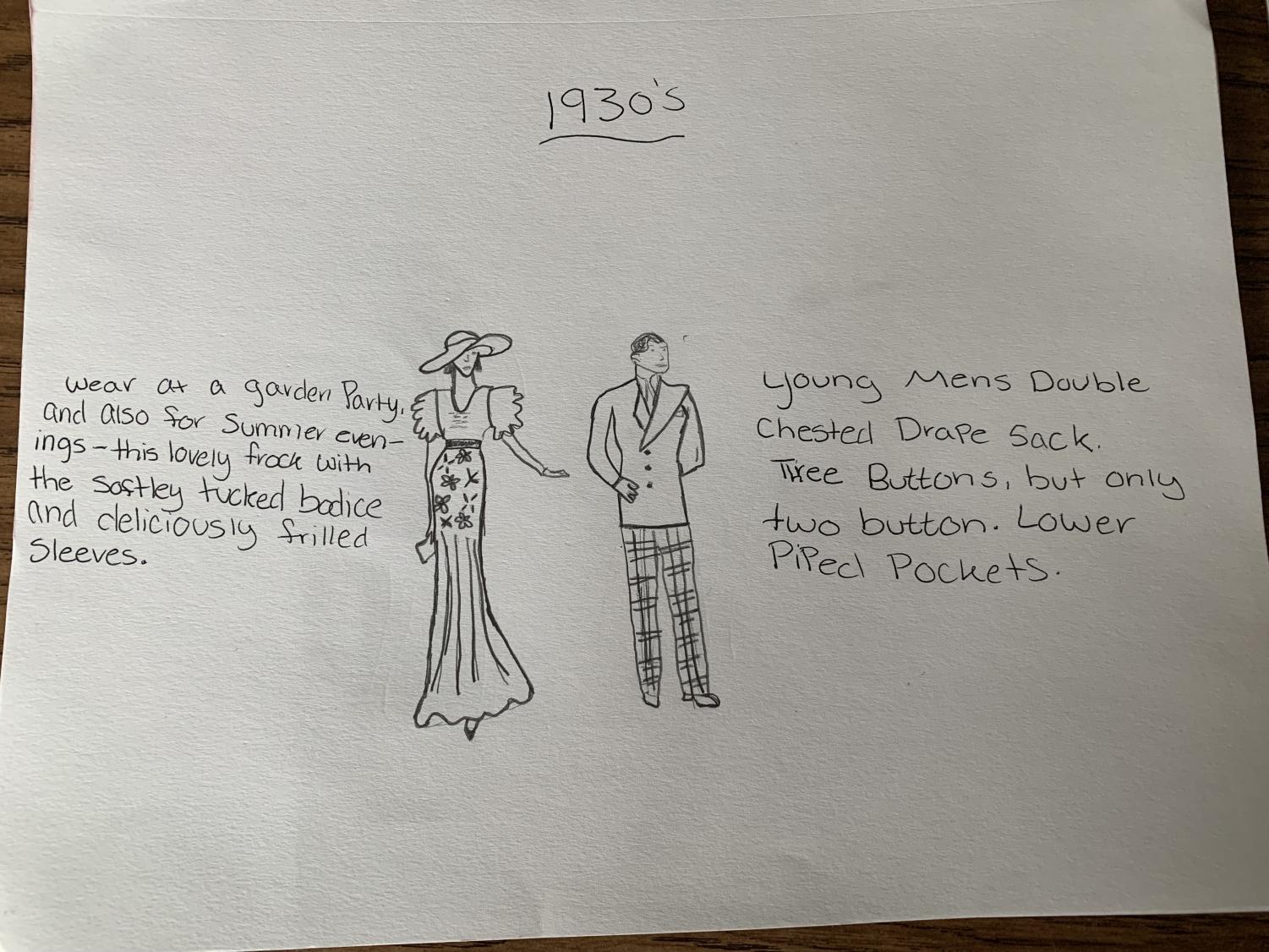 Throughout the 1930s, the Great Depression and WWll prompted designers to produce apparel that was both affordable and useful. The period's shape included a tight waist and large hips, with skirts falling to mid-calf. Women frequently wore suits or fitted dresses, but men wore wide lapels, high-waisted slacks, and fedora hats. Gloves, hats, and stockings were fashionable accessories. Overall, the period emphasized plain, modest attire suitable for both labor and relaxation.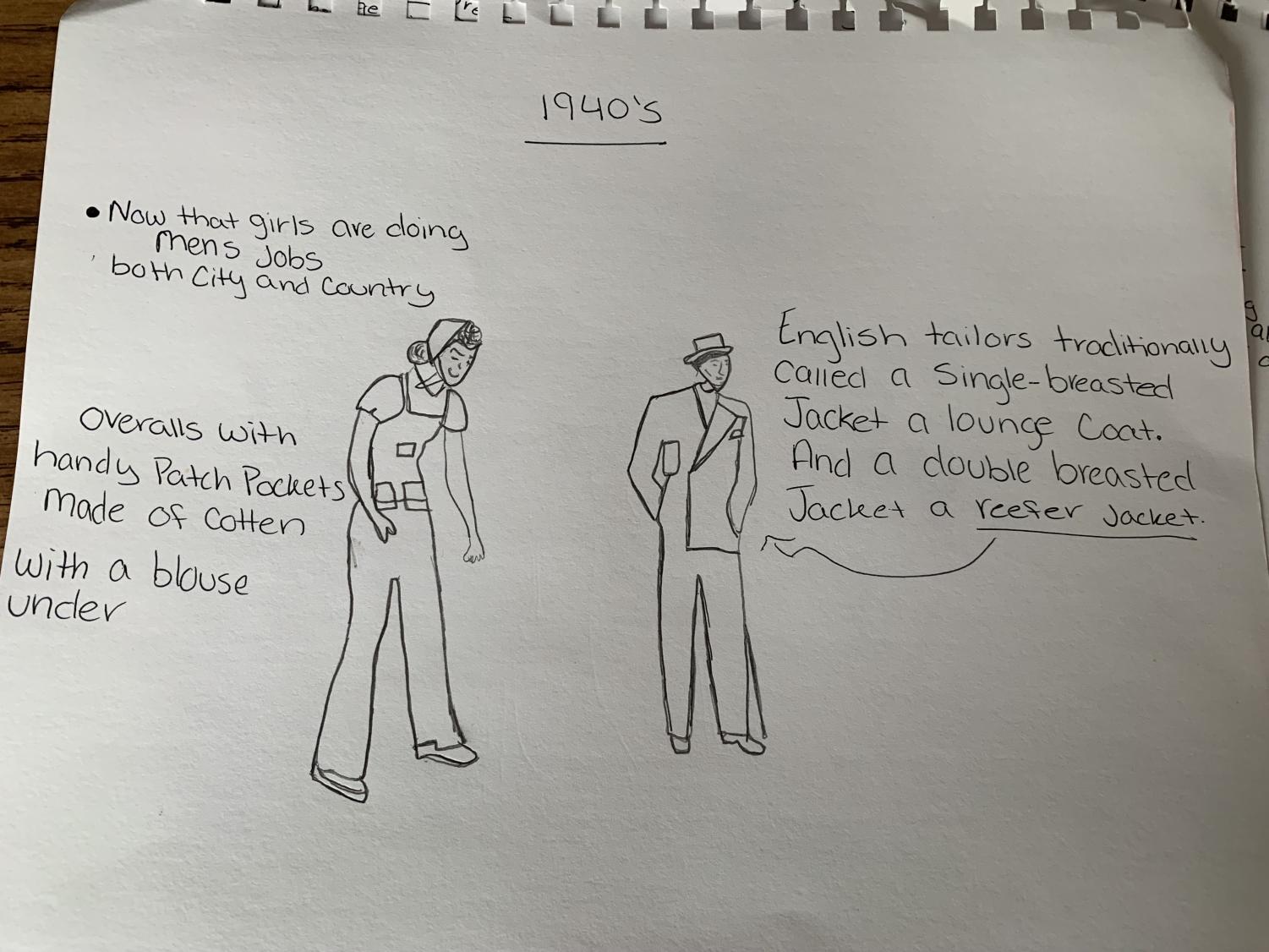 The effects of World War II on fashion and the economy defined the 1940s. Due to the restricted fabric available owing to the war effort, clothing was created with utilitarian and useful patterns. Shoulder pads, fitted suits, and knee-length skirts were prominent features of women's fashion. During this time, women started sporting overalls and other labor attire, giving rise to the famous "Rosie the Riveter" appearance. For men, high-waisted pants continued to be popular, but with a more relaxed fit. Fedora hats and wide ties were still in style as accessories. Overall, with an emphasis on toughness and functionality, the 1940s represented the difficulties of the time.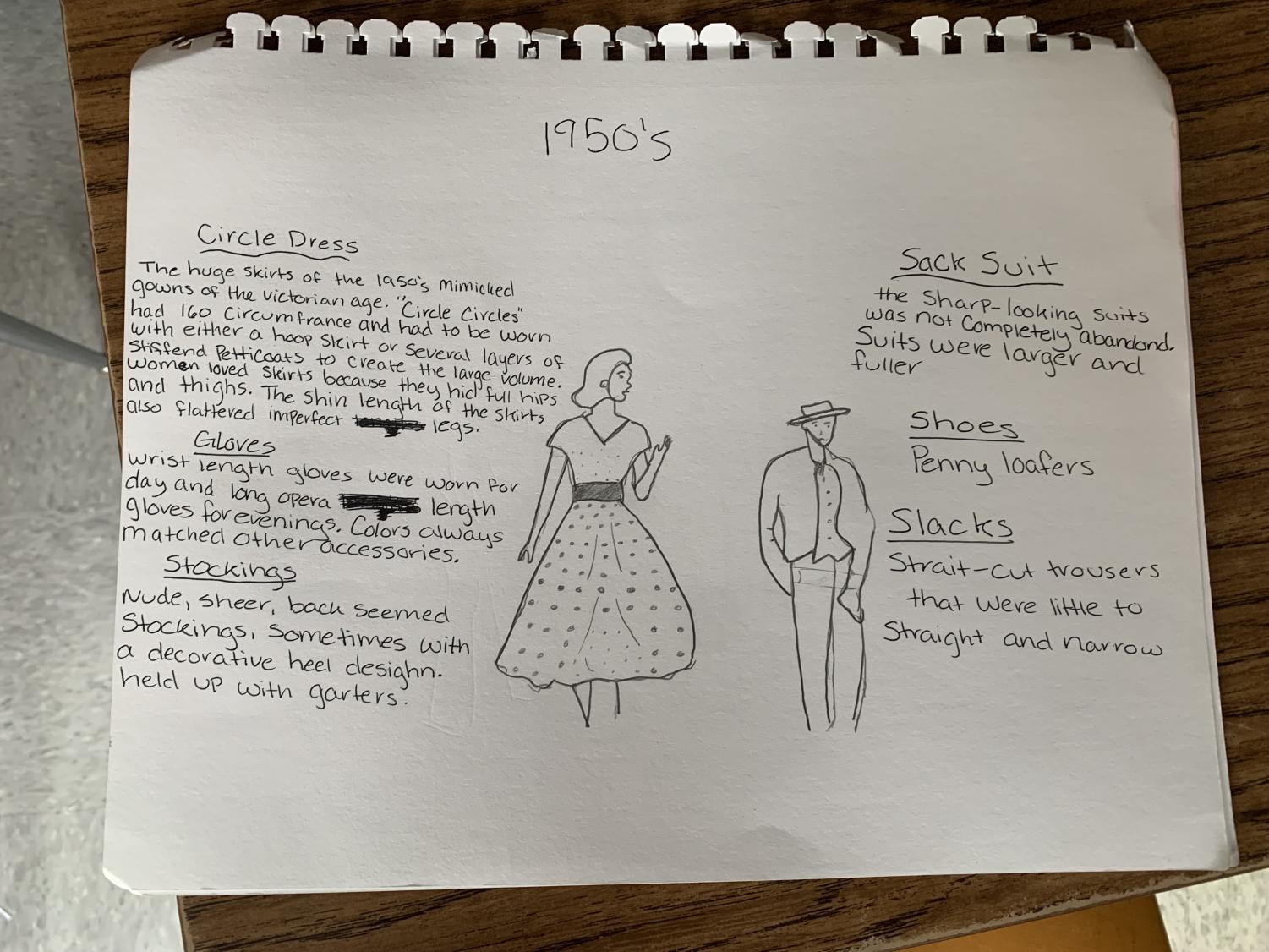 The utilitarian fashions of the 1940s gave way to more glamorous and feminine styles in the 1950s, which was a huge change in fashion. Circle skirts, pencil skirts, and shirtwaist dresses were fashionable styles of women's clothing that featured long skirts, tight waists, and an hourglass figure. Fashion was influenced by the "new look" that Christian Dior debuted in 1947, which featured a daring new form with padded hips and elongated shoulders. In contrast to the austerity of the preceding decade, suits for men began to have broader lapels, striking patterns, and vibrant colors. For men, fedoras and sunglasses were in style, while pearls and gloves were in style for women. The 1950s also saw the peak of the leather jacket and vintage rockabilly subculture—jeans and a pompadour hairstyle. Overall, the 50's fashion was characterized by elegance, glamour, and celebration of femininity as well as rock and roll and finding masculinity in a more casual way.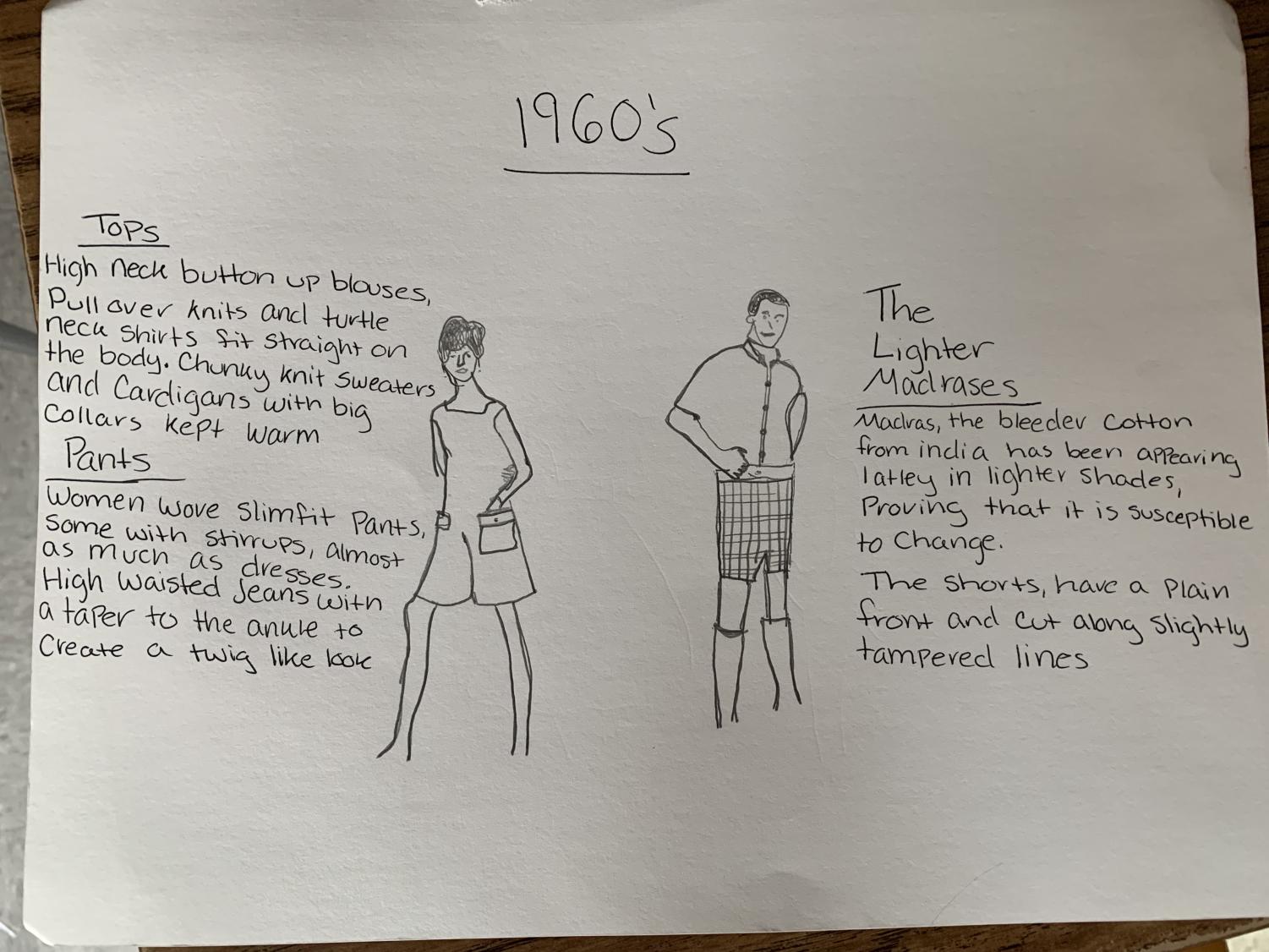 As the younger generation sought to depart from the more traditional designs of the past, fashion underwent a dramatic change in the 1960s. As a result, several famous fashions—including the tiny skirt, hot pants, and bell-bottoms—emerged. Bright colors, strong patterns, and psychedelic prints all gained popularity as women's fashion became more daring and body-conscious. Men's fashion witnessed significant modifications as well, with suits and ties making way for more relaxed garments like jeans and turtlenecks. The 1960s were all about individuality and self-expression, and this was mirrored in the fashion trends of the time. 
Bold, expressive fashion choices dominated the decade of the 1970s. Bell-bottom jeans, tie-dye shirts, and billowing maxi skirts all gained popularity due to the hippie movement's significant impact on fashion. Glittery jumpsuits, platform heels, and flamboyant accessories were all big in disco culture's influence on fashion. Polyester was a widely used material because of its strength, ability to hold vivid colors, and powerful designs. Women's clothing featured peasant blouses, colorful jumpsuits, and high-waisted skirts and slacks. Leisure suits, collared shirts with large lapels, and making a statement were all part of men's fashion.  
The 1980s were characterized by excess and outlandish fashion choices. Music videos and the emergence of pop culture, which had a substantial influence on fashion, marked the time. Leg warmers, giant sweatshirts, and power suits with shoulder pads were among women's fashion trends. Additionally fashionable were spandex, neon colors, and animal patterns. Acid-washed jeans, leather jackets, and bomber jackets were all popular menswear items. With the popularity of studded belts, leather boots, and shredded clothing, the punk rock movement also impacted fashion. Levi's 501 jeans were a classic and timeless style that has been popular for over a century, including in the 1980s. These jeans are known for their straight leg, button fly, and durable denim fabric. Big, bold hairstyles were the norm, with voluminous curls and teased bangs. Large earrings, thick bracelets, and fingerless gloves were some of the accessories. In general, 80s fashion was all about being bold.   
A shift toward more relaxed, comfortable clothing was seen throughout the 1990s. Flannel shirts, ripped jeans, and combat boots all gained popularity thanks to grunge music and culture. Baggy jeans and sweatshirts, among other items of oversized clothes, also developed a following. Sportswear, especially tracksuits, returned to fashion. Hip-hop culture also had a substantial impact on fashion, increasing the appeal of names like Tommy Hilfiger and FUBU among young people. Women also favored high-waisted jeans and crop tops. Hair was normally straight and sleek, and the renowned Jennifer Aniston "Rachel" hairdo was a favorite. Chokers, hoop earrings, and snapback hats were among the accessories. In general, 90s fashion was all about looking good while being at ease and easygoing.  
The early 2000s saw an explosion in fashion choices, with new and vintage trends coexisting. Low-rise jeans were in style, and they were frequently worn with crop tops or graphic t-shirts. Denim dresses and skirts had also returned. Track suits and shoes were still common items of everyday attire for those who liked to dress in athletic apparel. For many young ladies, Juicy Couture tracksuits have become essential. In the middle of the 2000s, boho-chic gained popularity, with many people sporting flowy maxi skirts, peasant tops, and fringed accessories. With celebrities and influencers influencing trends and pushing certain businesses, social media's emergence also had a significant impact on fashion. Large sunglasses, heavy jewelry, and luxury purses were some of the accessories worn. Overall, the first decade of the 2000s was all about mixing and matching distinctive styles and expressing individuality.  
The decade of 2010 saw diversity and inclusivity in fashion. With influencers and bloggers establishing trends and pushing a range of styles, social media has become a crucial tool for the fashion industry. As clothing from companies like Supreme, Nike, and Adidas was worn daily, streetwear grew in popularity. The popularity of athletic wear persisted, with apparel from companies like Adidas, Nike, and Supreme being worn daily. Yoga pants and shoes were still common attire for athleisure, even outside of the gym. Customers started looking for eco-friendly clothing options as sustainable fashion started to gain popularity. Women started wearing crop tops and high-waisted slacks, and men started wearing fitted suits and jackets again. Statement jewelry, large sunglasses, and designer bags served as accessories. Overall, 2010's fashion was all about celebrating diversity and inclusivity, with a focus on self-expression.  
It is anticipated that fashion will continue to change and adapt as we enter the 2020s. With customers growing more aware of their impact on the environment, sustainability and eco-friendliness will continue to be significant trends. As more people opt for comfortable apparel when working remotely, comfort and functionality will also remain a top focus. Streetwear will continue to be popular, with market dominance held by companies like Nike and Adidas. Brands will continue to emphasize inclusivity and diversity while displaying models with a variety of ethnic backgrounds and body types. Fashion businesses will continue to advocate for change and awareness in social justice and activism. Fast Fashion is a term used to describe the quick and inexpensive production of clothing in response to the latest trends. It often involves unethical labor and harms the environment. Recycled fashion involves the repurposing of used or discarded clothing and materials to create new garments. It can be a sustainable and creative way to reduce waste and make unique fashion pieces. In general, expanded fashion is anticipated for 2020.  
Fashion has changed and evolved over the years to reflect the times. The distinctive trends and fashions of each era have served as markers for that period's cultural and social movements. From the 70's flamboyant and expressive fashion to the 90's relaxed and comfortable attire, the times have always been mirrored in fashion. Sustainability, diversity, and social justice have emerged as significant fashion trends in recent years. They are anticipated to change and adapt to the times, reflecting the goals and values of the contemporary world.