When We Watch Theater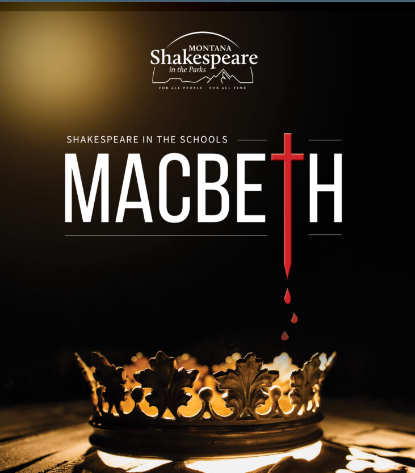 On a brisk October morning, actors and actresses from across the country immersed an audience of over 1,000 Helena High students in Shakespeare's 1623 tragedy Macbeth. 
Shakespeare in the Schools, a program through Montana Shakespeare in the Parks, is an organization that travels throughout Montana and Wyoming, reaching 47 schools. Since 1973, Shakespeare in the Parks has been fulfilling its purpose of interacting directly with the state's people.  
Helena High theater students had the opportunity to sit and have lunch with the cast of the play. This has been a part of the day's itinerary for years, and a big contributor to this is Ms. Clark.  
"I started organizing Shakespeare in the Schools–both the performances and the workshops–many years ago," said Clark. Helena High teacher Jean O'Connor organized it for years prior to Clark, and in 2011 when Clark started teaching at Helena High, she began volunteering to help with it. "When [O'Connor] retired, I took over running it. I get lots of help from the English Department and Mrs. Preshinger, of course," noted Clark.  
To talk about the performance and the profession of acting, I spoke with Macbeth and Lady Macbeth, played by Ian Geers and Rachel Jones.   
Geers got into acting through his older sister while living in Virginia. When her high school needed extra townspeople for their production of The Music Man, Geers convinced his friends to try out with him. Playing salesman #4 and having one line began his lifelong passion in theater.  
Geers became even more serious about acting in high school. He went to college for performing arts at Boston University and has been working regionally with theater ever since.  
He noted how the whole experience has been special. A previous teacher of his always said, "Art should be entertaining, enlightening, and educational," and Geers feels, while performing Macbeth right now, they're hitting all three of those points. "The questions that [the play is] asking and the way the students are engaging with talking about personal accountability, guilt, taking the easy route, and shortcuts" show how the play still impacts audiences today, he said.
 He went on to say one of the most fulfilling elements of the play is "the way that a lot of young male-identifying people have been coming up and talking to us about watching men be emotional on stage." He didn't anticipate these types of conversations when signing up for this project. "It's great that we're doing a show that's 400 years old that still holds all that water," Geers exclaimed.  
Playing Lady Macbeth, Jones also believes the play encourages introspection. Like Geers, she began acting as a child. Originally from Rochester Hills, Michigan, she started acting when she was 11 years old. With a love of being the center of attention, she began performing in her church community and immersed herself in all fields of performing. Jones didn't get serious about acting until high school. After a conversation with her brother following a production of Seussical the Musical, he offered his support and love. Jones decided to pursue the profession by going to university and getting into a good conservatory, only graduating last year.  
When asked what the most rewarding part of performing is, Jones noted, "As an actor it is my responsibility to help people figure out what they think and figure out who they are and what they agree with." Being a 5'1.5" often-underestimated woman, all those hurdles melt away when she's on stage. Jones sees this confidence reflected back in the eyes of the people on the tour. Students feel "capable of being a queen or asserting themselves because they see me do it and then they know it's okay."
With this being her first tour in the schools, watching students become inspired and have fruitful conversations about Shakespeare is the most rewarding thing. Hearing students cheer and hearing students care, it reminds Jones of what it must have been like when Shakespeare debuted these plays 400 years ago.  
The process of getting the roles was fairly easy for the actors. The Montana Shakespeare in the Parks organization holds yearly auditions in Chicago, where Geers and Jones auditioned. The actors prepared pieces, memorized scenes from the show, and gained the attention of the director. Liking their work and the idea of Geers and Jones together, the director cast them as Macbeth and Lady Macbeth.  
For students interested in the field of acting, Geers said, "Watch and read as much as humanly possible–be absorbing all the time." He went on to say, "Anything that you read is going to boost your vocabulary. Anything that you watch is going to inform what you like and the kind of work you want to be doing or it's going to tell you the type of work you don't want to be doing. There's value in anything if you look for it." Jones furthered this by quoting Aristotle saying, "When we watch theater, we find out who we are."  
Jones commented on the impractical feeling of creating an acting career. "It feels impossible to start acting, and then you start, and you don't stop." She continued by saying, "If you love it, and this is what you want to do with your life, I would implore you to choose this and be happy rather than do the safe route or what a normal career might look like.
"Life is too short; you might as well be happy," Jones exclaimed.  
Furthermore, Geers mentioned, "In any [theater] field that you're in, the more you branch out and do other jobs, the better of an artist you're going to be and the more you experience."  From knowing how to mend clothes or set up lights, the entire field of theater is a collaborative space. 
"Theater is just a comment on the human experience. So, experience humanity and you will become a better actor," Jones explained.  
When asked what advice they wish they'd been given when they were in high school, Geers said, "Know how to do taxes!" The business side of acting is something not readily talked about in the field of theater and it's just as important. 
Additionally, he mentioned learning how to properly take care of oneself before becoming the artist you want to be. Jones simply stated, "breathe on stage." "The second we feel we need to be emulating something else, we lose all of our humanity, we go stiff, and we stop breathing." By putting the breath back into the body, a deeper connection to the words is made, and a connection to your scene partner will be richer. 
Lastly, they mutually agreed, "Don't wait for that phone call." Whether it be a call back or possible opportunity, if you're stuck or bored, look within. "Boredom is just a lack of curiosity," Geers said. In the beginning of her career, Jones self-produced, fundraised and wrote grants to give herself an opportunity. Through gaining scholarships, hand-making costumes and getting rights to the play, Jones exemplifies this.  
To view Rachel Jones' website click here and keep up on what she's doing next. For more information regarding Shakespeare in the Schools, visit here 
Many thanks to Shakespeare in the Schools for visiting HHS and to all the whole cast and crew for their insight and engagement with students. To HHS students interested in acting, look to Shakespeare's quote, "You know who you are, but know not who you could be."