From Montenegro to Montana; Luka Krivokapic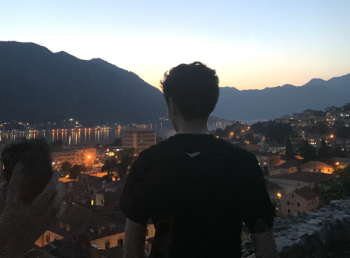 Helena High is back in session this school year and with it also come new students from across the world. One of our students in particular, Luka Krivokapic, has traveled 5,585 miles from his home in the Balkan country of Montenegro to study here in the U.S.
Off the Adriatic coastline, Krivokapic's home lies in the small coastal town of Kotor. His home sits on a bay near limestone cliffs, with winding streets and medieval architecture and squares. So, the busy nature of Helena Montana is quite a contrast.
Montenegro is a country rich in culture. Krivokapic commented on the fact that "Montenegrins are very keen to celebrate just about everything." He went on to explain, "One of our country's most interesting stereotypes may be our 'rest first, work later' lifestyle. We even have 'lazy competition' where you win money if you do absolutely nothing for the longest." 
Another important aspect of Montenegro is its food. Much of the nation's cuisine depends on what part of the country you reside in. Living by the sea, lots of Krivokapic's meals consist of an abundance of fish and Italian dishes.
Some hobbies of Krivokapic include a passion for volunteering and helping others as well as learning about other countries cultures and traditions. In his down time, Krivokapic enjoys skiing and listening to music.
Krivokapic chose to become an exchange student to discover a different culture, lifestyle, and grasp a better view of the world. "Making connections that last a lifetime are always great and are another reason why I chose to take onto this journey," Krivokapic noted. Here on a scholarship funded by the U.S. State Department, The Future Leaders Exchange program elects around 15 students a year from Montenegro to receive a scholarship to study abroad in the United States. Based on personal interests, the program itself decides where the students go.
Back in September of 2021, Krivokapic wrote a handful of personal essays where he noted preferences and interests. Then, in December, after being chosen for a select group of students to proceed in the scholarship's second round of selection, he wrote more essays and provided extensive medical information. "In May, I received a notice that I had been selected for the scholarship. I had to attend a few orientations, and I got the chance to meet the Ambassador of the United States for Montenegro as well," Krivokapic explained. His stay here is entirely funded by the scholarship.
Since the start of this new chapter, Krivokapic's family and friends have been "extremely supportive" of his decision to apply to an exchange program, Krivokapic said. Some of his close relatives have even taken advantage of exchange programs and came back with positive comments. Krivokapic still keeps in contact with his friends and enjoys making them jealous of his time in America by showing them videos of assemblies or high school football games.
Like many exchange students, the differences between the countries' education systems are a big adjustment. Krivokapic noted key contrasts between American and Montenegrin schooling: "Instead of choosing our subjects, we choose the type of high school we want to be in," Krivokapic explained. His country utilizes specific high schools for topics such as economics and grammar. In these schools, students are assigned subjects within one classroom with the same group of people each day. A comparison can be seen between this way of schooling and that of the American elementary.
So far this year, Krivokapic has enjoyed the kindness and warmth from everyone at Helena High along with the acceptance and welcoming nature of the student body. Krivokapic said, "Many people have shown interest in learning about my country and its culture, for which I am grateful." Krivokapic noted how there is still so much time for making "unforgettable memories" this year and looks forward to creating them. The hardest part of this transition for Krivokapic thus far has been the idea of being on his own. The fear that he is not adjusting the way he wants to be is an aspect he can, "sometimes find hard to comprehend," Krivokapic explained.
While in America, Krivokapic plans on using his time here to volunteer, create new friendships, and start academic projects which will help him in the future. Furthermore, Krivokapic is simply looking forward to celebrating American holidays. In Montenegro, the festivities include things like Independence Day on the 21st of May and Day of Ecological Country on September 20th.  "I can't wait to experience more of America and see more things that are going to become core memories for me," Krivokapic said.
Welcome to America, Luka! We hope you enjoy your time here as much as we'll enjoy spending it with you! From everyone at Helena High, we wish you a prekrasna godina!