What Can't Adam Sandler Do?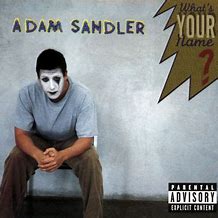 Many know Adam Sandler as a one-of-a-kind actor and comedian who has his own movie production company, Happy Madison. However, besides his musical skits on Saturday Night Live, some might not know that he also writes his own music. At least, I didn't know he did until I found one of his albums while I was at Goodwill.  
Sandler has made six studio albums since 1993, with his latest being released in 2019. I stumbled upon Sandler's third album titled What is Your Name?, released in 1997. The album has 14 tracks, and, like "Weird Al" Yankovic, most songs are parodies of other artists' music. The artists Sandler parodies range from Bob Marley to Elvis and Johnny Cash. Sandler does a great job with each voice and writing his own version of their style of music, particularly with the punk-rock songs from the album. However, Sandler's own music style shines through on some songs from this album, and these tracks were often my favorite.  
These included "The Goat Song," the thirteenth track from the album. Sandler truly did save the best for (almost) last with this song, with pretty spurts of piano mixed in with accordion and some rockin' guitar. In addition to the awesome music, the lyrics had me chuckling to myself for most of this song's nearly 8-minute run. "The Goat Song" details the story of a French goat who is picked up by a lost man. The goat escapes the abusive man to go to a punk-rock concert, only to be run out by an angry mob. This is a story only Sandler could come up with, and, besides the fun music, he did an especially terrific job with the lyrics.  
Another funny song is "Moyda," the album's first track. The guitar and bass riffs for this song are super cool, and from what I can tell, aren't based on any riffs from other artists. This song introduces listeners to a kind, considerate next-door neighbor who has a slightly abnormal hobby: murder. Or, as the silly Sandler calls it, "moyda." Because of this exaggerated New York accent, I couldn't always tell what Sandler was talking about, so this song lost some of its comedic effect for me.  Luckily, in the bridge, Sandler loses some of the strained accent to sing "murder" more clearly. Another slight trip-up with this song is the outro, which was a super long period of Sandler just singing "moyda," with the drums fading out. Besides these two aspects of the song, though, it is super funny and well-written.  
Although some songs' lyrics aren't very funny to me, like "The Lonesome Kicker," they were still well-written and clever. These songs also made me appreciate the funnier tracks more, because I was able to see what Sandler was capable of writing.  
A track I thought odd from the album, though, was "The Respect Chant." In this track, Sandler and a couple background singers were chanting that they needed more respect. Although this track is less than a minute long, I was curious the entire time about why it was written, what movie it could possibly be from, and what its purpose is on the album. It seems super random. Maybe there's a joke or a reference to something that I'm missing, but, either way, "The Respect Chant" confuses me and is my least favorite track from the album.   
As one would expect, with a popular comedian like Adam Sandler, the production is well done. The instruments are mixed well by professional producers, and every instrument can be heard and distinguished quickly.  
With the high production quality, hilarious lyrics and well-parodied music, I give this album 8/10 stars. My only issues with the album are the repetitiveness of certain songs' outros and lyrics that I don't find very funny. Besides these two aspects, the album is a great listen! With 14 songs and some tracks lasting over seven minutes, What is Your Name? is sure to be a fun hour and three minutes for other listeners, too.  
If you feel like listening to an eight-minute song about a goat at a rock concert and other crazy stories, listen to Adam Sandler's What's Your Name? This album will be sure to raise any listener's spirit just as it did mine.