Intro to Fall Drinks
Pumpkin Spice Cold Brew: difficulty 1.4/5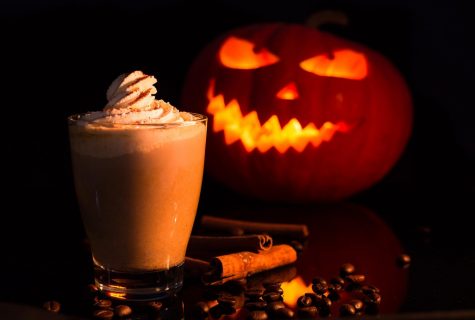 Before I go off the rails into autumnal insanity, I must explain myself. Pumpkin spice has nothing to do with the nasty little squash it is named after. That is what I have been missing all these years. Pumpkin spice is not a miserable Halloween themed vegetable, it's cinnamon, ginger, nutmeg, and cloves, with just enough actual pumpkin to give it an alluring color of pastel orange. Think about it this way, if French Toast were orange, it would be labelled as pumpkin spice and slandered, but it is not, because this combination of spices is amazing. 
This recipe I made uses homemade cold brew or it can be substituted for any hot or cold coffee of choice: strong brewed, espresso, or instant coffee. All there is to do is add this whipped cream to some strong coffee. 
Cold brew: soak 1 cup medium coarse coffee grounds in 4 cups of water for 12-15 hours at room temperature, strain and pour over ice.
Whipped Creamer Ingredients:  
½ cup cream 
2 tablespoons of pumpkin puree 
3-4 tablespoons of powdered sugar 
2 teaspoons pumpkin pie spice  
1 teaspoon cinnamon 
1 teaspoon vanilla extract 
One step: mix it all together with a whisk or mixer until it turns to whipped cream and stir into coffee. 
Masala Chai: difficulty 3.5/5 (Trial and error to personal taste)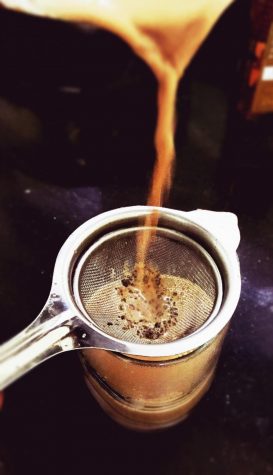 Yet another amazing drink has had its reputation ruined by the S- word coffee chain. Chai tea means Tea-Tea. America has fumbled both the name and the recipe. The typical "chai tea latte" is too sweet, too watery, and stale from a concentrate bottle. This is Masala Chai from India, a rich latte of warming spices and black tea. The best thing about this is how flexible the recipes are, for fans of vanilla, more sugar, vanilla extract, and cinnamon can sweeten it to taste. Otherwise, I like to be more generous with peppercorn and ginger. Oat milk and almond milk also work very well with this, and there is almost no difference between that and regular milk.  
Pro Tip: Grocery stores charge a robbery for cardamom pods, cinnamon sticks, and star anise. The best places to find these spices for cheaper are natural grocers and WinCo.  
For those with a powdered version of the spices, no worries! Use about a half tablespoon of each spice per cup of milk and strain with something a bit finer like a coffee filter. Chai turns out best with whole spices but for a couple of substitutions it will still work. 
Ingredients: 
1-2 whole star anise 
A handful of black tea, or about 3 tea bags 
2 large cinnamon sticks 
2 tablespoons of chopped unpeeled ginger 
1/2 tablespoon peppercorns, any color 
½ tablespoon of green coriander pods 
1 teaspoon whole cloves 
3 cups oat milk 
3 tbs sugar and more to taste 
In a mortar and pestle or coffee grinder, crush the spices and chop ginger 
Bring milk to a boil and add spices all at once.  
Stir and reduce heat, milk tends to boil over quickly 
Add tea and sugar, then boil for another two minutes, or until the chai smells as strong as you like. 
Strain and add any additional cream or sugar before it cools. 
Bubble tea difficulty 5/5 (Extremely time-consuming. High risk high reward)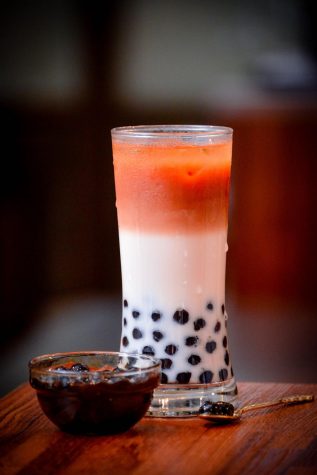 This one isn't necessarily a fall drink, but for the brave few with time to spare, it's a fun craft or party idea. First made in Taiwan, Bubble tea is a flavored milk tea with chewy tapioca at the bottom.  It has become very popular in the U.S within the last few years but has a rather controversial texture. The tapioca pearls are very time sensitive. After a few hours, the boba turns to mush, and often, the pricey drink is alarmingly slimy and mediocre. Homemade is far different, the milk tea tastes like melted ice cream, and the boba is like a rich brown sugar candy. For those who have had a bad restaurant experience, it is worth trying from scratch, because when done well, bubble tea is worth the hype. This takes about an hour to make, but if you prepare ahead of time it's possible to have it in about 30 minutes. 
Tea Ingredients  
1/3 cup of water  
¼ cup dark brown sugar 
1 cup tapioca starch 
Black tea 
Steps: 
Boil 3 tbs of dark brown sugar with a tablespoon of water, set aside.  
Brew a cup of strong black tea and set to cool 
In a small pot, heat 1/3 c water and 1/4c brown sugar to a boil  
While still on the heat, stir in a few tablespoons of tapioca starch until it gets very sticky 
Remove from heat and stir in the remaining cup of starch until it is mostly incorporated. 
Dump out the mix and knead into a dough until it's cooled and smooth, then you can shape small portions of dough into small spheres, making sure to keep them small enough to go through a wide straw.  
Add the balls of dough to a pot of heavily boiling water, cover, and boil on medium high for 20 minutes, then turn off heat and let it sit for 15 more minutes.  
Strain and add boba to your brown sugar syrup 
Combine tea with milk of choice, ice, and add boba with syrup to taste.  
Extras: 
 Brown sugar syrup can be substituted with other flavors like strawberry or mango, and green tea or even coffee can be used as a base. 
Cover excess dough and save in the fridge for up to two weeks, or half the recipe for one serving.