Nothing But Thieves Squared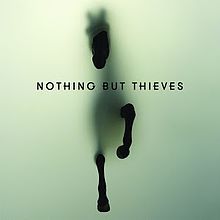 Nothing But Thieves' self-titled album is an indie rock/alternative work of genius. Released on October 16th, 2015, this album is a flashback to the nineties. Complete with soft guitar riffs and slow drumbeats, this album is all you need for a long drive in the middle of the night. Some songs (like "Graveyard Whistling") are slower, with softer beginnings building up to faster choruses. The album also includes alternative rock songs, though. "Excuse Me," with bass riffs by Philip Blake backed by slow drums by James Price, is a terrific opening to the album. It is also a good example of the band's ability to make slow, pretty songs and, as we later learn, rock songs easily – something many bands struggle with.  
The band's vocalist, Conor Mason, has a beautiful voice. This is especially apparent on tracks like "Lover, Please Stay." It's romantic, sad, and sweet. This song as well as the final track, "Tempt You," sound like they could be on a Cigarettes After Sex album.  
With many similarities to other bands, Nothing But Thieves isn't terribly unique. The album's alternative rock style has been done in many albums before it, like with the band Foster the People. One of the songs from the album, "Drawing Pins,"even has a very similar guitar chord pattern and rhythm to Foster the People's "Pumped Up Kicks."  
Luckily, Mason's voice saves the album from sounding too familiar. He can hit high notes that I've never heard any man sing before, like on the fifth track of the album, "If I Get High."  Laced with a beautiful, simple guitar picking pattern, "If I Get High" is easily one of the prettiest (and saddest) songs from the album. But it is also one that I always skip because it's right after one of the faster, heavier songs of the album, "Itch," and it's hard to get into the sad mood needed to appreciate "If I Get High" fully. This problem comes up again with the songs "Lover, Please Stay" and "Tempt You," which both come after more poppy, happy songs. Again, it's hard to appreciate the slower songs fully because of the feeling listeners were left with in the previous songs.  
However, besides the ordering of the tracks and the fact that Nothing But Thieves could be more of a distinct sound, the album is very well written. With the soft picking patterns of guitar and slow drum beats, Nothing But Thieves is sure to be ear candy for many. The band members match Mason's voice perfectly, and the music and singing alike make the listener feel a certain way after hearing the tracks, whether it's confident or sad. If Cigarettes After Sex and Foster the People are your jams, I would suggest Nothing But Thieves. And, who knows? Maybe Nothing But Thieves have found their own sound now that they have released many albums since. Either way, though,  Nothing But Thieves is worth a listen.