Pepperoni Bandage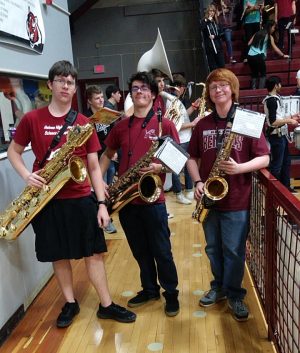 "What are we? We are the hype!" The HHS Vigilante Pep Band can be seen tearing the house down and revving up the audience at nearly every Helena High home game. From football games to basketball games to school assemblies, more often than not the band is there to cheer on teams and pump up spectators. The epic drumline hammers out cadences and the horns wail a variety of classic songs. As awesome as the pep band is, over the last few years the number of participants has dropped dramatically.
Directed by Robert Loveridge for decades, the pep band is one of the more entertaining parts of school events, when musicians actually show up that is. As time progresses, the number of kids who show up to play in the band has greatly decreased and no one really knows why. Maybe football games are too cold and long for kids to attend with instruments in their hands; or maybe it's just "not cool" to show school spirit anymore. "Usually when people show up it's pretty fun, but sometimes we have really not great numbers so it makes it a little bit skin and bones," junior Fischer Friend, a saxophone player said. Whatever the cause may be, the band can't sound their best without student participation, which is something they're lacking at the moment.
At an average game, the band consists of a couple trumpets, quite a few saxophones, a few percussionists, and some miscellaneous low brass and high woodwinds, but that's about it. Balance and blend are usually non-existent at pep games, but it's even worse with a lack of instruments. It's usually the same group of band kids that show up to every single game, and rarely they see a new face participating. If band students showed up to a game to see what it's like to play in the band, they may find an activity that they really enjoy, like many other band kids have done. 
The band is mainly comprised of junior, a few seniors and a freshman here and there, but rarely any sophomores. Loveridge has done all that he can to get kids interested in participating like having older kids talk to the younger kids, and hyping it up in class, but no one feels like showing school spirit anymore. The band is a terrific place to meet new people, participate in school events, and have a great time. "Pep band is a lot of fun because everybody gets together and they get to play at the football games, and the basketball games, not volleyball games or soccer games which is too bad, but we get to play fun music and have a good time and yell fun things like 'Fire up it HHS.' It's a great time," Alexander Roylance, an avid participant in the band said.
Band kids of every instrument and grade level are encouraged to show up to pep band games and see what all the fuss is about. We can't properly represent our school and how much spirit we have, without a full band. Looking over at the band during games and assemblies, you will see a great group of kids dancing, singing, cheering, and playing their instruments to the enjoyment of the audience. The pep band is a fun activity to participate in during your free time, so if you're a band kid sitting on your phone at the football games, pick up your horn or sticks and join in the fun of the band!