Pancreas to Pan Rats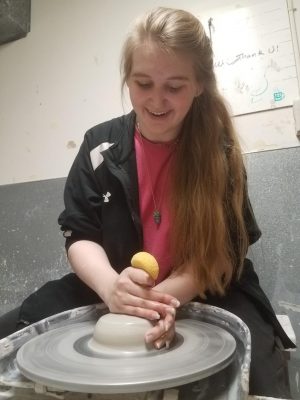 Lindsey Pankratz, a senior at Helena High, is looking forward to her possible career in ceramics. With only one year of experience in ceramics, Lindsey has developed a deep and burning passion for it. She plans on making 150 pieces by the end of the year. Lindsey is one of the most dedicated ceramics students you will ever meet.
Lindsey fell in love with ceramics upon first touch. She likes making things for herself, and others. Lindsey has made numerous pieces, such as bowls, mugs, vases, and many more. "Making something that I can use, like being able to make something from start to finish from scratch. Making it, firing it, blazing it, and actually being able to use it… it's something anybody can use," Pankratz said. It's evident that Lindsey loves the whole process and won't leave ceramics behind anytime soon.
When senior year comes to an end, Lindsey plans on moving to Gardener, Oregon with her friend Emily Free to help her with her Ceramics business. Lindsey has been working as a painter with Emily at Free Ceramics, a local ceramics store for about seven months. She hopes it can take off so she can do something that she loves every day along with building a livable foundation in Oregon. 
Besides ceramics, Lindsey participates in a weekly discussion group at the Scenic Brew Coffee House, and enjoys spending time with her boyfriend Soren Beebe. "A good amount of my week is spent at Soren's house. Pretty much I have discussion group, ceramics, and Soren," said Lindsey. As simple as it is, she still does her best to live her life to the fullest each and every day. She aspires to be a great student, and an even better ceramic artist.