40 in 4D at 1+1=1 Gallery
A Conversation with digital artist Gabe Shaughnessy.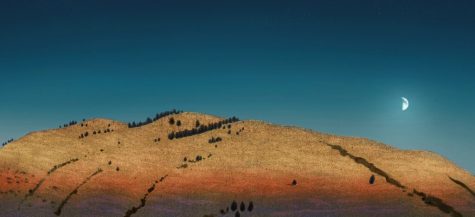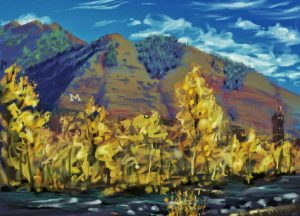 The 1+1=1 Gallery is hosting a digital artist exhibit titled "40 in 4D." It opened on September 27th and will run until November 9th. The exhibit features 40 digital paintings by four digital artists. These artists are Dan Cohen, Andy Lunday, Gabe Shaughnessy, and Ryan Johnson. Cohen, Lunday, and Shaughnessy hale from Portland, Oregon, and Johnson is from New York City. These paintings were printed out with a custom app, so viewers can go back and see the artist's entire process for every painting in the exhibit. 
Gabe Shaughnessy answered a few questions about his experience working with the gallery and this exhibit in particular.
How long has the 1+1=1 gallery featured your work? Do have your work up in the gallery regularly?
I had a show with some of my books and illustrations in 2017, and this will be my second show in the gallery. The gallery has a collection of my prints available to anyone who asks, and they occasionally feature some of my work in the back gallery.
How is it working with the people that work at 1+1=1 gallery?
Gotta be careful what I say here – my parent's own the gallery! Just kidding, I'm here all the time helping them out with other shows, and I love it. Their staff that they have hired throughout the years, and all the volunteers are wonderful people.
What is your process when making a digital painting?
For these paintings I would walk, drive or bike around Missoula to find something I was interested in painting and then waited for something interesting to happen. I used an iPad with the app procreate and painted most of these sitting in a coffee shop, the car, or on a hillside somewhere, looking at whatever I was painting. 
Do you like talking about your artistic process?
I like talking with other artists or people that are learning about art. You learn so much by watching other artist's work, and it can be fun to compare notes.
What do you like about digital painting?
For me digital painting gives me a lot of flexibility to experiment and make mistakes.
What is exciting about this exhibition?
People will be able to use an app to explore the process of painting each of the works in the show. I think seeing all the work together and watching how it was created will be an interesting experience.
Also, printing digital work is always exciting, it makes this thing that was just on screens something real you can touch. 
Did you have a particular inspiration when creating these paintings? 
I grew up in Helena and moved to Oregon to go to college, then stayed out there afterward. My wife went to graduate school in Missoula, so I had a chance to come back and live in Montana again for a couple years. While she was in school, I had a lot of time to myself to explore, and I was inspired by being back in the Montana landscape and seasons to do these paintings.
Do you ever get nervous about this exhibit? 
Quite a bit, there are so many moving pieces it is easy to get nervous. I think the most stressful part was the app that accompanies the show. I developed the app myself and it is my first time developing an iPad app, so I was nervous that it might not work or that I wouldn't be able to distribute it.
What is your favorite painting (by you) in this exhibit?
That's a hard question to answer, they each have things I like about them. But if I had to choose, it might be 'Mount Jumbo Morning' just because it evokes really strong memories for me of a place and feeling.
What is your favorite piece in this exhibit that not your work?
Well, I don't want anyone getting jealous, so I'll pick one from each artist. Andy Lunday's "Hey there," Dan Cohen's "Alien Deco Construct," and Ryan Johnson's "Plains Bison."