March Madness is gonna be Wild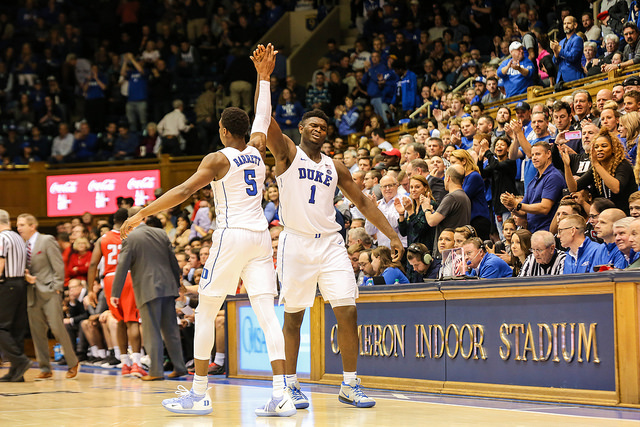 Today at 10:15, the first game of March Madness begins between the #10 Minnesota and the #7 Louisville. 63 games and a little less than three weeks from now, some school will be cutting down the nets in Minneapolis. Duke, Virginia, Gonzaga and North Carolina are the 1 seeds this year. Here are some matchups and players to watch out for in the next couple weeks.
Anything with Duke: Duke owns the one seed in the East, largely due to the stellar play of Zion Williamson, R.J. Barrett and Cam Reddish. Zion is the best NBA prospect since Lebron James. He's 6'7'', weighs 285 pounds, and has a 45 inch vertical. He's basically got the first overall pick in June on lock. R.J. Barrett might have the second pick secured, depending on his performance and the performance of Ja Morant. Duke is primed to make a deep run into March, and Williamson and Barrett are going to make the Blue Devils one of the most electric teams in the tournament.
Murray State: Ja Morant was unranked coming out of college, and therefore ended up at the small Murray State instead of a school like UNC or Duke. But this year, he showed he belonged on a much bigger stage than the Ohio Valley Conference could give him. This summer, he'll be a top three pick in the draft. But for now, he's going to try to lead the 12 seed Racers as far as he can. Murray State's first game is against the 5 seed Marquette Golden Eagles and fellow highlight reel frequent Markus Howard. Howard is an electric scorer who's dropped over forty points two times this season. Marquette has been weak lately, losing five of their last six. Morant will take advantage of this, and Murray State will make it past the first round.
Montana: I won't go too in depth into Montana, because they're a 15 seed and there's next to no chance they advance past Michigan in the first round. But they're in the tournament for the second year in a row, playing the same team for the second year in a row. Michael Oguine and Ahmaad Rorie will try to keep up with the Wolverines, but I think Zavier Simpson and Charles Matthews will prove to be too much. At least they're in, right?
The best players in the tournament
#10: Cassius Winston, Michigan State: Big Ten player of the year who averages 19 points and 8 assists a game.
#9: Carsen Edwards, Purdue: Carried a fresh Purdue team to the Big Ten title averaging 23 points, 3 assists and 1.5 steals a game.
#8: Jarrett Culver, Texas Tech: Helped TTU end Kansas' 14 year Big 12 title streak with 18.5 points, 6 rebounds and 4 assists a game.
#7: Markus Howard, Marquette: Big East POTY who drops 25 points, four assists and four rebounds a night. But if he isn't hitting his shots, Marquette is out.
#6: De'Andre Hunter, Virginia: Brought the Virginia Cavaliers back to the ACC title for the second year in a row, dropping in 15 points on 53% shooting.
#5: Grant Williams, Tennessee: SEC POTY two years in a row, averaging 20 points on nearly 60% shooting on two pointers. Whoa.
#4: PJ Washington, Kentucky: Bleacher Report's most improved player of the year, who has raised every number in his statline. The best player on the (debatably) best non- Duke team in the conference.
#3: R.J. Barrett, Duke: Averaged 23 with Zion and 26 without, all while scoring the most points by a Duke freshman in a single season. Great second option, but great first option too.
#2: Ja Morant, Murray State: 25 points per game. Explosive playmaker. Best non- Mini Lebron in college basketball.
#1: Zion Williamson, Duke: Freshman that weighs more than Aaron Donald and averages 22 points, 9 rebounds, 2 steals, 2 assists and 2 blocks a game. Future NBA first overall pick.
The Nugget Newspaper Staff's final four predictions
John Orzechowski: Duke v Florida State (Duke) and Virginia v Kentucky (Kentucky)
Duke beats Kentucky
Connor Casne Jones: Duke v Florida State (Duke) and Wofford v Purdue (Wofford)
Wofford beats Duke
Melina Scott: Duke v Gonzaga (Gonzaga) and Villanova v Washington (Washington)
Gonzaga beats Washington
Ms. Walsh: V. Tech v Michigan (V tech) and Tennessee v Houston (Houston)
Houston beats Virginia Tech
Marcus Roberts: Marquette v Duke (Duke) and Tennessee v North Carolina (UNC)
UNC beats Duke