Starlighters in Spokane
The Choir's Trip to Washington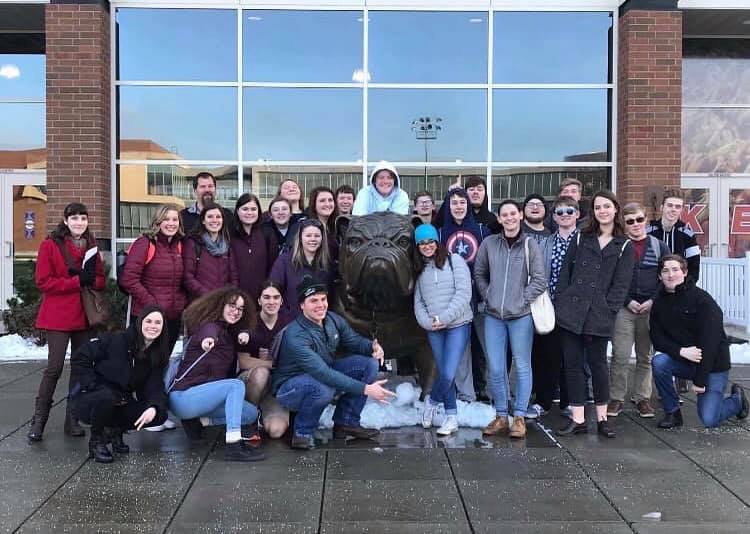 You've heard about the band's trip to Florida, but the new expedition this year is the Starlighters choir of Helena High School going to Spokane to sing. We have had this trip planned out since first quarter, and it was everything that we hoped it would be and more. With a four hour ride on the first chartered bus we've ever been on, we spent four days in Washington, touring multiple universities and going to several different events, with a pit stop to sing in Missoula along the way.
1/23 – Wednesday
Once we made it to Missoula, we stopped for about two hours to practice some sight reading with the Sentinel High School choir, along with performing some songs for them and listening to some of their work, including a mash-up of Michael Jackson songs and a piece about autumn wind. On the bus ride there many of us slept underneath blankets and with coats covering our eyes, but we also learned two songs while still on the bus. If that's not a perfect example of choir kids, we don't know what is. To everyone's delight there was a pool at the hotel which of course initiated a full on battle with a beachball, featuring Colin Neilson as a main contender for spiking it into the water. For a mostly travel-centric day, this one was still eventful and exciting.
1/24 – Thursday
The first stop on this splendid and foggy Thursday afternoon was at the Cathedral of Our Lady of the Lourdes. While this was a holy experience for many members of the students, some had not sung in a church before, and either way rendered many of us awestruck at the amazing acoustics and sound quality the church had to offer. Though a congregation wasn't present during the time we sang, the experience was still very special and personal for many of the students, including the ethereal moment when Halley Grebenc sang an angelic solo featured in the song "The Road Home" by Stephen Paulus.
After the church, we stopped at Ferris High School to sing with an enthusiastic and impressive group of young people. Starlighters listened to both one of their larger groups and the jazz choir, all which were phenomenal. They also joined HHS in singing "The Road Home", which they hadn't sung before Helena High got there.
After Ferris, Starlighters went to Gonzaga, one of the more prestigious universities of the NorthWest, and got the opportunity not only to tour the campus but to sing with and listen to their chamber choir, who performed several pieces, both of which were absolutely astounding. The balance and blend of vocal parts in particular was something many of the HHS students admired, as well as solo acts scattered throughout the songs. Starlighters also got the chance to work with Gonzaga director Dr. Timothy Westerhaus to help improve the placement of their voices and how to alter the sound so that it fit their own pieces. After a nice pizza dinner we all fell into bed feeling accomplished and astounded at the musical talent we had witnessed.
1/25 – Friday
The Friday morning started out at Whitworth University and Dr. Marc Hafso. This experience was interesting in that very little singing actually occurred, but instead we focused on how to effectively breath with the diaphragm, or "breath low" as musicians say, as well as how it affects our sound Specifically, Dr. Hafso mentioned a "green zone" in the lungs, in which air is plentiful, a "yellow zone" where a singer needs to think of when to breath, and a "red zone" that shouldn't ever be reached. This helped many of the students imagine more solidly how they were breathing, and improved Starlighters overall sound. One of the most interesting things was that Dr. Hafso made us walk around to feel how their bodies were moving, and then corrected the students posture to make their instruments the most effective. Upon looking back, many of the students seemed to place a special emphasis on the technical qualities when Dr. Hafso focused on, saying that it helped them understand exactly how to sing before sound ever comes out.
After Whitworth, the choirs headed to Eastern Washington University, where the choral director made us dance in a circle while singing "Sing We and Chant It" by Thomas Morley, which somehow seemed to improve the technique by a landslide. She also instructed us to follow the conducting of HHS director Molly Steele, which also improved the dynamic changes and attention of the choir. At EWU, Starlighters also improvised songs based around songs that have a basic four chord structure, which there are surprisingly a lot of in modern pop music. Here the HHS choirs also got to sing with the jazz ensemble, which is a completely different type of music than the kind Helena High choirs often accomplish.
Friday was yet another successful day, and the Helena High choirs learned so much from every University we visited.
1/26 – Saturday
Considering every student's voice was dead on Saturday, Ms. Steele gave us one day for "fun" things. We started at the mall, which is two stories and bigger than any one in Montana. To watch our eyes widen at the size of it was pretty hilarious, and to watch them scatter in excitement was even funnier. After the mall, Ms. Steele had laser tag lined up, and no one had any inkling of how violent that would get. Normally, choir students aren't seen as the athletic type, but as soon as those laser pointers were in our hands, we were off and running. With an everyone-against-everyone round and a boys against girls, it was a ruthless game to the death. (Or less dramatically to a couple bumps and scratches. We're looking at you, Jere). After what seemed like a half an hour of full blast adrenaline,we headed back to the hotel to freshen up for the event that we'd all been waiting for: a Broadway production of The Lion King.
With a stop at the Spaghetti Factory for some well-needed dinner, we headed to the theater in our button-downs and dresses, but we were in no way prepared for how amazing the show would be.  
Not only was the acting above and beyond, but the technical aspects like lighting, costuming, and sound design was astounding as well. Most of the choir students had never seen anything quite like it, and many recounted the experience to be one of the best live-theater shows many of us had ever seen. Especially ecstatic was Christopher Duffey, who didn't stop talking about it until two days afterward. The prominence of African culture and music made the show that much better as well, not leaving out bright colors and voices that the likes of the HHS choirs couldn't even think to imitate. It was an amazing experience, and many of us will never forget it.
__________
Overall, Starlighters had an amazing time in Spokane, with many learning experiences that highlighted the trip. The choir students said overall that they felt like a family by the time we left, and everyone made connections with other students that wouldn't be undone any time soon. The trip helped Stars to form a more familial connection, all while learning about our favorite thing: music.