UFC 229: Two Brawls for The Price of One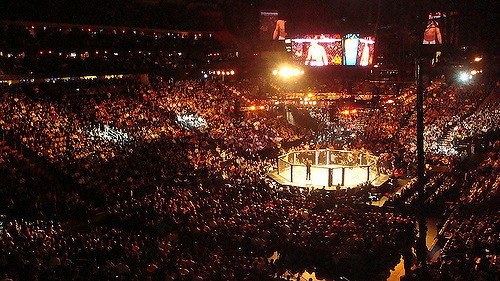 February 2013, a 25-year-old Conor McGregor steps into the octagon for his first UFC bout, in less than a minute McGregor leaves with his first UFC knockout. Meanwhile by the end of 2013, Khabib Nurmagomedov would win 5 fights in the UFC and improved to 21-0. Khabib is now the owner of the longest current win streak in the MMA with 27 wins and 0 losses. On October 6th these two great fighters entered the octagon and only one left with their pride.
Conor McGregor was born July 14, 1988, in Crumlin a small area in Dublin, Ireland. At age 12 Conor began boxing at the Crumlin Boxing Club. In 2006 Conor moved to Lucan, Dublin and met Tom Egan, a future UFC fighter. Until McGregor entered the UFC in 2013, Egan was the lone Irishman in the promotion. Conor began training with Egan in 2006. Conor, a talented boxer, picked MMA up extremely quick. March 9th, 2008, McGregor debuted in professional MMA fighting, TKOing his opponent in just his second round of MMA ever.
Khabib Nurmagomedov was born just a couple months after McGregor on September 20th, 1988. He was born in village of Sildi in Tsumadinsky District, an autonomous republic inside Russia. Khabib began wrestling at a young age; he actually wrestled a small bear in 1997 when he was just 9 years old. Wrestling a bear is a rite of passage in his village. At the age of 17 Khabib began training in Combat Sambo. Eventually winning the world championships in Combat Sambo in both 2009 and 2010. In 2008 Khabib made his MMA debut and won his first 4 fights in less than a month. By 2012 Khabib was 16-0 and was able to secure a UFC contract.
UFC faithful have been looking forward to this fight for a very long time, so it is surprising it was not hyped up as much as some of McGregor's previous bouts. McGregor did not go on a month's long journey promoting this fight like he did for Aldo or Diaz 2. Instead he focused on training to prepare for this gargantuan fight. Khabib and Conor have plenty of history as it is, without the press tour.
April 5th, 2018, McGregor and 15+ other men enter the Barclays Center in Brooklyn they are looking for Khabib. Two days earlier McGregor's teammate Artem Lobov was involved in an altercation with Khabib Nurmagomedov. Nurmagomedov and his team board a bus leaving the UFC 223 media day. As they are pulling out McGregor and the men enter the garage. McGregor is screaming, although we do not know for a fact what he is saying. The bus cannot move; it is blocked by McGregor's men. Then McGregor does the unexplainable, he picked up a dolly and tossed it through the window of the bus. The glass cut Michael Chiesa, a fighter in the lightweight division, but luckily his injury was not serious. Ever since this event, the Khabib vs McGregor fight was not just inevitable, it was mythic in its proportions.
On October 6th, at the T- Mobile arena in Las Vegas, Nevada, the night of the fight had finally arrived. The fighters entered the arena just a little after 9:30 pm local time, meeting in the middle of the octagon. Herb Dean quickly went over the rules and asked the fighters to touch gloves (a common sign of respect among fighters). Neither fighter flinched; there would be no touching of the gloves tonight. McGregor put the pressure on Khabib immediately, pushing him back and throwing his big left hand. Khabib, however, had other plans, shooting a low single leg and eventually taking Conor to the ground, where the fight would stay for the remainder of the round. Khabib is probably the best wrestler in the UFC, and his wrestling ability was on full display throughout the fight. In the second Khabib showed his striking, popping McGregor in the chin with a big straight right, then following it up with an attempted flying knee. McGregor recovered quickly and evaded the knee but was unable to avoid the following take down. The third round was McGregor's best. He was able to stuff a couple takedowns and tried to finish the fight on his feet, but he was unable to rock Khabib. In the fourth Conor was visibly gassed and Khabib took advantage. Khabib used quick punches to rock McGregor before bull rushing him for a takedown. Khabib wasted no time once he reached the canvas, quickly submitting McGregor via "rear naked choke." It was a great fight but what happened next will be talked about forever.
Khabib jumped out of the octagon immediately after beating Conor. He sprung onto Dillon Danis, McGregor's training partner and friend, simultaneously two of Nurmagomedov's team, both UFC fighters, attacked McGregor. The night ended in three arrests. Khabib was angry due to comments made about his religion and his father, but the attack surely went too far. Dana White, the president of the UFC, made it clear that Khabib's teammates that attacked McGregor, would never fight in the UFC again. The Nevada State Athletic Commission has suspended both McGregor and Khabib for ten days, this is basically nothing as UFC fighters fight at max once every couple of months. It is clear UFC 229, and the following brawl will be remembered forever.