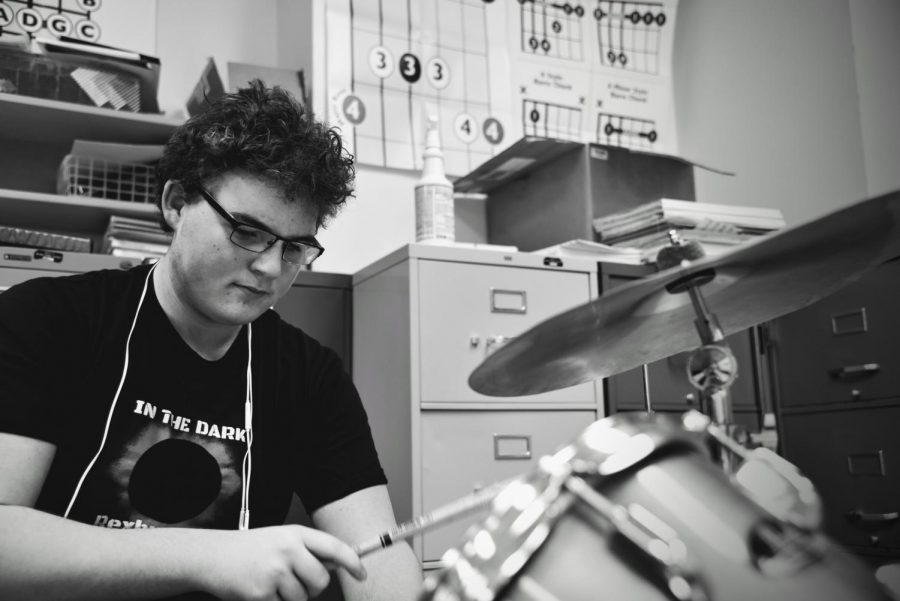 My name is Spencer Nelson, and I am a junior at Helena High School. I've been interested in journalism ever since I started to do it in my own free time. Well, it wasn't really journalism; I was just keeping stats for batters on a little league baseball team. The point is, I love to track events that happen in real life and report them to the public. I find it so satisfying to give the public information that I have gathered. It makes me feel useful and helpful to the whole world.
As I grew up a little more, I started to develop a burning passion for music. I love music with all my heart and I will 'til the day I die. I'm in a band called Blinded MT and we practice almost every weekday of the school year. We have a 12 track album out, and, hopefully by the time you're reading this, we'll have a 4 song EP on top of that. We are on our way to an even brighter future with upcoming gigs, songs, and albums. I'm also in symphonic winds, a concert band class directed by Robert Loveridge. It's one of my favorite classes because it fuels my music appetite at school, so I don't go completely insane.
Making it anywhere in the music industry would be a dream. My first and foremost goal is to be a nationally famous musician with a platinum album under my belt, but if this doesn't happen, making a living in the music industry in some way would be amazing. The runner up to being a rock star in my book would be becoming a music journalist, interviewing bands on tour, reviewing albums, and reporting about the newest Ibanez guitar. But to pursue this career, I need a little more experience in the field of journalism in general. Hence the reason for taking newspaper.
I believe that taking newspaper will help me achieve a better skill set so I can become a full-fledged journalist as a plan b for my future. Plus, I find  journalism interesting, so this class is going to be a blast. I plan on going to UM to get a degree in journalism while keeping my band going while I can. In conclusion, this year is going to be epic and I'm looking forward to my future.
Spencer Nelson, Writer
May 28, 2020

Logic Was Better In 2015

(Story)

May 14, 2020

Coming Back To School

(Story)

Apr 21, 2020

Top 10 Artists YOU Should Try Out!

(Story)

Apr 10, 2020

UPDATE: Quarantine for HHS Teachers

(Story)

Apr 06, 2020

RELEASE MUSIC NOW

(Story)

Mar 23, 2020

HHS Science Bowl State Champions

(Story)

Mar 06, 2020

Blossom, a True Masterpiece

(Story)

Feb 26, 2020

Just Keep Swimming Swimming

(Story)

Feb 11, 2020

Super Bowl 54 Recap

(Story)

Jan 30, 2020

Performance Square Update

(Story)

Jan 27, 2020

High Tide In The Snakes Nest

(Story)

Jan 17, 2020

Barkley Keeps Barking

(Story/Media)

Dec 11, 2019
Dec 04, 2019

Loveridge's Legacy

(Story)

Nov 20, 2019
Nov 12, 2019

Harriet "The Conductor"

(Story)

Nov 01, 2019

What's to Come at The Myrna Loy

(Story)

Oct 15, 2019

Pancreas to Pan Rats

(Story/Media)

Oct 08, 2019

The One and Only Mr. Tobin

(Story)

Oct 04, 2019

Rich Brian's Best Album, The Sailor

(Story)

Sep 20, 2019
Sep 10, 2019

Quadratum Music Festival

(Story)

Dec 13, 2018

25 Track Love Song

(Story)