Artists of the Month: October
Mr. Daniel nominated Kaitlyn Tabbert from his Photo I class.
"Kaitlyn has shown so much talent and passion in her student photography," Daniel said.  
During the month of October, Tabbert worked on compositional techniques in a combination assignment. She had to choose a theme and take pictures featuring composition principles like leading lines and the rule of thirds. Tabbert chose to use pinecones as the subject of this assignment because she felt they would be easier to work with compared to people who would require direction. For her leading lines photo, Tabbert chose to photograph her subject in a culvert by her house. "I put [the pinecones] in there … and I also found some branches that went down, swooped into it and it like points to the subject and draws your attention to that," Tabbert said. 
Mr. Holter nominated Alexa Randall from his Theatre 3 class.
"Alexa is active in theater and music – and is in general a very artsy person," Holter said.  
This month, Randall worked on directing a one act play called "Hippies, Housewives and Watering Holes." This project shows how much students have grown from their time in Theatre I. For Randall, she has enjoyed watching her vision come to life. "It's been a lot of fun showing [the actors] how I want them to move and how I want them to act," Randall said. 
Ms. Jaynes nominated Natalie Seburn from her Ceramics I class. 
"Natalie has been a solid art student and is always trying to perfect her work. She is in my ceramics class and it is fun to see her work with clay as opposed the 2-D work I have seen before. She always works hard to create quality work and has a good attitude in class," Jaynes said. 
During the month of October, Seburn worked on creating pinch pots, tumblers, and sugar skulls. The goal of each of these projects was to practice skills using the ceramic wheels and sculpting the clay with their hands. "Sugar skulls are the Day of the Dead skulls we made where we hand built a skull and then hollowed it out," Seburn explained. Seburn really enjoys the glazing portion of ceramics because of how similar it is to painting. 
Ms. Bjornstad nominated Lyla Ackerman from her Ambiance Choir. 
"Lyla is always willing to tackle challenges in class and be a leader for her peers. She has a great attitude and is a positive influence on everyone around her," Bjornstad said. 
This month, Ackerman worked on several songs for "Asked Annabelle about the name of the concert". These songs include "Will There Really Be A Morning" by Craig Hella Johnson, "The Wellerman" arranged by Roger Emerson, and "Fire" arranged by Mary Goetze. Ackerman said she enjoys how different the songs are from one another. For instance, Ackerman thinks "Fire" is fun because the song is intense and has a lot of tempo and key changes. "In 'Fire,' the ending had everyone sing [the word] fire on a different time… I think that was our most challenging spot because we had to keep watching our teacher and also listen to each other, and it took a couple weeks but we finally got it and it was really cool," Ackerman said. 
Mr. Hollow nominated Clare Strode from Wind Symphony and Jazz Band.
"She is a great leader in my Wind Symphony class and always plays with great tone, intonation, and musicality… She continually covers multiple parts in both bands and can transpose some of them on the spot," Hollow said. 
             Strode was accepted into All-State Orchestra as 2nd clarinet. She is one of two clarinetists in the state to be accepted into the orchestra. "It's really meaningful. I think that my freshman year I was one of the last chairs of the third clarinets in the [All State] band, and then this year I'm in the orchestra… It's a pretty big honor to be one of two clarinets for that, and so… I'm proud of myself," Strode said. During October, the Wind Symphony class worked on Christmas music for the upcoming season, which Strode said felt treasonous to Halloween. 
Mr. Scanlon nominated Alyssa Kline from his Art II class.
"Alyssa is such a technical artist and is driven to accomplish her goals with each and every art piece. She has very high expectations of herself and pushes herself artistically with a relentless pursuit for perfection," Scanlon said. 
This month, Kline worked on a charcoal drawing of a band member from Kiss, who is one of her favorite bands. This was the first time Kline had worked with charcoal, so she had to learn how to balance values and shading to make the whole picture work together. "I enjoyed [working on] the hair a lot, but I wish I could have done more with the hair. But with the time that I had, I think it ended up really well," Kline said.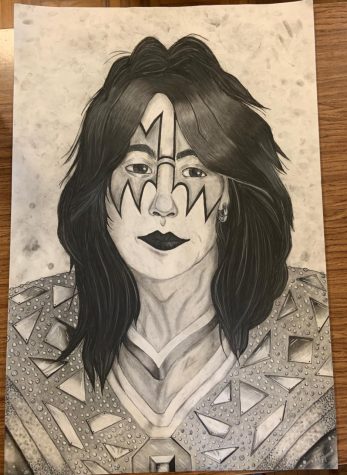 Leave a Comment