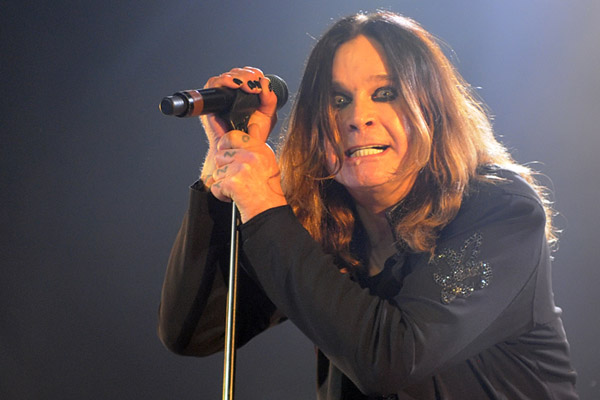 Focka
With the rise of the rock and roll genre in the '60s and '70s came the rise of the "rockstar lifestyle." I'm of course referring to the rock motto: sex, drugs, and rock and roll. This era of music was an especially wild time both on stage and off, but some musical icons took the bad boy rockstar persona to the extreme. The likes of Keith Moon of The Who, the Motley Crue boys, Aerosmith's toxic twins: Steven Tyler and Joe Perry, and John Bonham of Led Zeppelin are famous examples of what living the party lifestyle entailed, but two names stand out over all the others when it comes to being a wildman: "The Prince of Darkness" Ozzy Osbourne, and "The Clown Prince of Rock and Roll" Joe Walsh.
The horror stories of these two men at the prime of their careers are endless and always entertaining. Not only were their onstage antics wild and over the top, but off the stage, they continued the act. Partying way too hard, indulging in far too many drugs, and engaging in extremely excessive destruction was what these two rockers lived for, and that life has taken its toll on them both. British Ozzy reached his fame through the band Black Sabbath and continued his climb to stardom through a solo career, and American Joe rose to the spotlight through bands like James Gang and Eagles, and then with his solo career. Both men have incredible music careers, but the question is, who truly partied harder?
Joe Walsh: the undisputed American king of room trash. After befriending the likes of Keith Moon and John Belushi, Walsh made his life goal to not only make influential music, but also to set records for destruction. Hotels all around the country began banning Joe Walsh, and consequently his innocent bandmates, from ever stepping foot on their property again after Joe did his thing. Endless drugs and partying were only the tip of the iceberg. Joe had an affinity for absolutely demolishing his hotel rooms like no one else in history. Throwing TVs over balconies, cutting down walls with a chainsaw, tearing wallpaper, and lighting things on fire were all parts of Walsh's "redecorating" methods. This maniac was said to have caused upwards of $28,000 worth of room damage in a single room. He notably trashed a Benihana restaurant with John Belushi when they decided that they wanted to be the cooks; they also defaced antique victorian chairs in another fancy restaurant.
Speaking about his past in an interview with Conan O'Brien, Walsh recalls leaving around $10,000 security deposits on hotel rooms just to be able to have a place to stay while touring because hotels didn't want his presence. He recalls trying all different kinds of substances in his hay day but was most fond of the combination of cocaine, vodka, and camel lights. His 15-year-long drug binge resulted in a near-fatal overdose, but ended when Don Henley and Glenn Frey decided to reunite the Eagles. Walsh is now over 25 years sober and claims it's been the hardest thing he's ever had to do. 
That brings us to Ozzy. He was said to have caused over $44,000 worth of room damage in a hotel while partying with guitarist Zakk Wylde. Like Walsh, he also famously sent television sets flying off balconies, and even nearly killed a man down below once. When his first wife was giving birth to his firstborn child, Osbourne drove her to the hospital drunk without even owning a driver's license. He murdered all 17 of his cats while under the influence, was arrested for urinating on a public memorial, and famously drank his own and Nikki Sixx's urine at a public pool. 
Wildman Ozzy was also said to have snorted lines of live ants, and bit the head off of a bat during a live performance. He experimented by putting all sorts of weird substances into his body with the hopes of experiencing a high. His self destructive tendencies are completely unmatched.
It's safe to say that both of these guys did very stupid things back in the day. There is no way to know the full extent of the consequences of their actions. It seems as though Joe Walsh takes the cake for his reign of terror in the public destruction arena, but Ozzy Osbourne is the winner for self destruction. It seems like a tie for who partied harder, but Ozzy definitely went crazier. The world had never seen anything like these two dudes and their lifestyles, and hopefully it never will again. If it ever does, hotels better up their defenses.