Night to Shine 2020!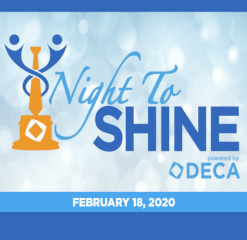 It's that time of year again folks! It's time for students from Capitol and Helena High to stand up in front of people of the Helena community to showcase their amazing talents and abilities. That's right. It's time for Night to Shine! Auditions took place last week, and the cast list has finally been announced for the event on February 18th!
Twenty nine acts in total will be featured at this year's show. Everything from full band ensembles to Irish dances to vocal performances will keep the audience engaged the entire evening. Some of Capitol and Helena High's most talented are pulling out all the stops to entertain. 
The 27th annual Night to Shine talent show put on by DECA is always a fun time because students get to see their classmates perform and show a side of themselves that we usually don't get to see. The show is also open to the public and tickets can be purchased at https://helenamt.showare.com/
Performer Ben Medina Caplis said "It's a show that brings Helena youth together to showcase their talent. It's a night for them to show their hobbies and to show the community what they're doing." Ben played at Night to Shine last year with his band Blinded MT. They will be playing an original song called "Music Guru." "I got in with my band Blinded MT. We got in last year and this year we're doing it again," he said. 
All seating at the event is reserved. "Premium" seats are $20, and "VIP" seats, located on the floor in front of the stage, are $30. If tickets are purchased online or over the phone, there is a $3 convenience fee. In addition to that convenience fee, there is also a $2 mailing fee. 
Aaron Burke said "Night to Shine is going to be epic, it's in February, Spank and Blinded are going to be playing there, be there!" Burke, along with his band Spank, will be playing "Hotel California," which they were supposed to play at the Battle of the Bands, but got cut off early. "I'm in Spank and I'm playing with Chris and Sam. We're playing 'Hotel California.'"
Night to Shine is a perfect way to showcase Helena's teen talent and will definitely be a great time this year, like always. There are a couple recurring acts, but most are brand new to Night to Shine! Make sure you order your tickets soon to show your support for students as well as DECA. 
Cast List:
Sarah Fischer
Alyssa Mendez 
Seely Garrett 
Kendyll Sommers
Elsa Grebenc
Azaria Evans 
Caleb Lay
Sara Betz 
Leslie West Fool
Elsie Harrington 
Sapphire Ferguson
Jeff Meyer
Sophia Albright 
Ben Medina 
Chris Shields 
Meghan Logan 
Fallon Turner 
Kaelyn Gardner 
Marie Romano
Devyn Wunderwald 
Alex Crisp 
Jaycee Hamlin
Lillian Hollibaugh
John Goodwin 
Norah White Arlington 
Josie Wunderwald 
Chase Nielsen 
Wes Bruski 
Isaiah Fehr