Still Hasn't Rained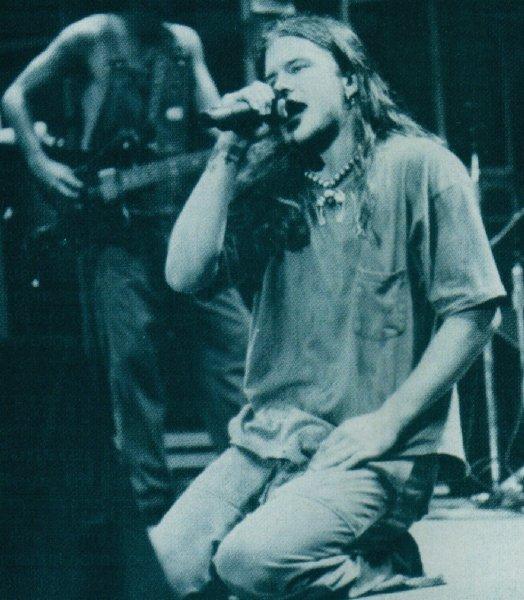 If you grew up in the 90s, you likely know the song "No Rain" by Blind Melon. That song and many other Blind Melon songs had a huge impact on the music scene in the 90s. Their first album, self titled, reached critical success and ranked number three on the U.S. Billboard 200. They still have an active following despite recent inactivity. 
With every great band there's a great front man, and a perfect example of a great frontman was Shannon Hoon of Blind Melon. People all around the world know the distinct sound of this modern folk/blues group, but not everyone may know the voice behind it. Shannon Hoon helped this group reach their level of fame and provided this world with one of the most unique voices ever heard.
Born September 26, 1967 and raised in Indiana, Hoon was a pretty average kid. He played football, did track, and wrestled through his high school career. He eventually got into music after being inspired by bands like The Beatles, the Grateful Dead, and Bob Dylan. He became the front man of a glam metal band named Styff Kytten, and his musical career took off from there.
In 1990, Hoon formed the band Blind Melon with buddies Brad Smith and Roger Stevens. Christopher Thorn and Glen Graham eventually joined the group and Blind Melon was born. The band got its name from the Cheech & Chong character Blind Melon Chitlin. They started writing songs and playing gigs, and very quickly they got signed to Capitol Records after producing a four-track demo tape. 
Shannon Hoon wrote the band's first song titled "Change." He wrote this song while in high school and its meaning stays relevant today. The song is very openly about addiction and coping with life in general. Hoon was almost as famous for his drug abuse as he was for the band throughout his career.
Hoon happened to have a very unique voice that made him and Blind Melon very famous through the 90's. He was actually a soprano, which is somewhat rare among adult males. Combined with a midwestern accent and a light vocal rasp, his voice was instantly recognizable and was an essential part of the Blind Melon sound. 
After releasing their first self-titled studio album in 1992, Blind Melon began touring and riding the shock wave of success they created. They played with Soundgarden, Ozzy Osbourne, Guns N' Roses, and more throughout their run and caught the attention of people all over the world. Their sound was unique and something that hadn't been heard before. They combined folk progressions, blues grooves, and elements of the grunge scene that was taking the world by storm during their time. 
In high school, Shannon Hoon began dabbling in drugs and this quickly spiraled out of control as time went on. During his time with Blind Melon, he got into a lot of hardcore drugs. His friends, family, and bandmates were all concerned about him and his bad habits. He began to let drugs affect his live performances and his attitude towards everyone around him. At a live show in Vancouver, Hoon was arrested for disrobing in front of the audience and urinating on a fan. At Woodstock '94, he showed up in his girlfriend's dress, high on LSD and performed with the band. With a baby on the way with his girlfriend Lisa Crouse, he decided to check into rehab to get better.
Shannon Hoon made the decision to undergo therapy and rehabilitation to try and kick his drug habit. Blind Melon released their next studio album Soup in 1995, but this album never reached the level of success their first one did. The band toured around in support of this album while Hoon was still in recovery. They knew he wasn't stable enough to begin touring again, but they did it anyway. Nico Blue, Shannon and Lisa's daughter, was born on July 11th 1995. 
While on tour, Hoon had a drug counselor accompany him for support, but after a disappointing live performance in Houston, he went on an all night drug binge. On October 21st 1995, Shannon Hoon was pronounced dead due to a cocaine overdose. That night the world lost one of the most unique voices it had ever heard. Blind Melon was left without a singer, Lisa Crouse was left without a boyfriend, and Nico Blue was left without a father.Blind Melon eventually released their final album Nico named after Shannon's daughter that he loved so much. 
He was buried in Dayton, Indiana. His tombstone reads:
"I know we can't all stay here forever
So I want to write my words on the face of today and they'll paint it."
These are lyrics from Hoon's song "Change" featured on Melon's first album. 
Blind Melon and their music had a lasting impact on the culture and music scene in the 90s. They were practically the poster band of the modern hippie movement and represented the softer, more peaceful side of the grunge era. They also had an impact on bands. Zakk Wylde, guitarist for Ozzy Osbourne and Black Label Society, wrote a song called "Throwin' It All Away" which was about Shannon Hoon. The Avett Brothers also mention his name in two of their songs. They took the blues jam elements from 60s stoner bands and made it mainstream again, paving the way for future folk bands. 
Shannon Hoon's impact and legacy can not be understated, and he will be missed by fans all around the world for a very long time.