Winter Formal 2019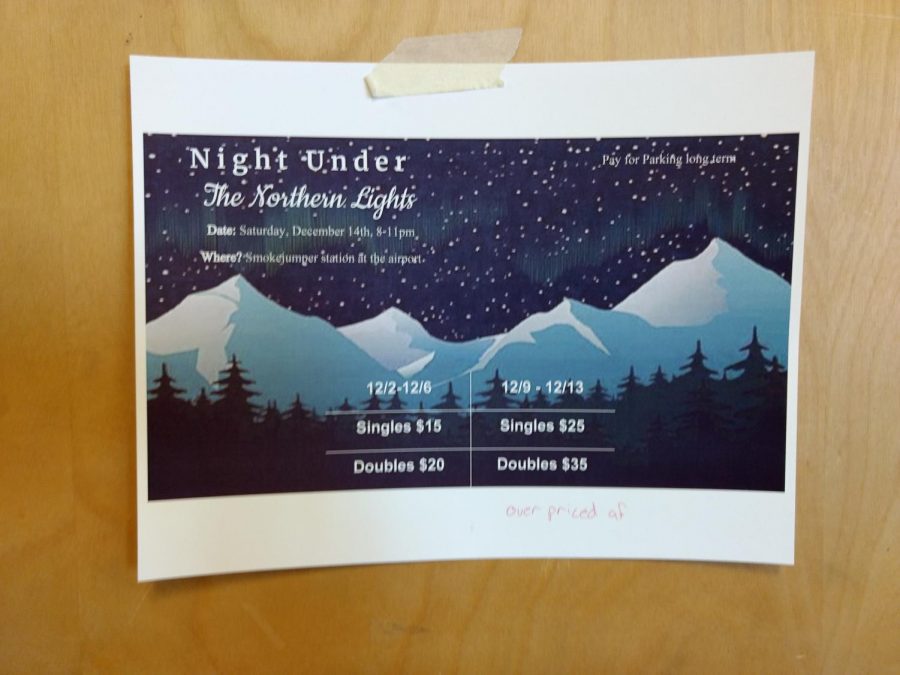 It's almost December, and we all know what that means: Winter Formal! The Helena High student council is currently working hard to put together a fun and entertaining school dance for all students. HHS students of all ages and grade-levels will be able to attend the sure-to-be epic party. The yearly Winter Formal dance has been amazing in the past, but this year it's sure to top all previous years. The theme, "Night Under the Northern Lights," should be fun, as it has never been done before.
The dance will be held Saturday, December 14th at Smokejumper Station at the airport. From December 2-6, tickets will be $15 for singles and $20 for doubles. From December 9-13, single tickets will increase to $25 and doubles tickets will be $35. There will also be a small parking fee at the venue that students need to be aware of. 
The new theme will be sure to excite everyone who attends.The Northern Light display will be colorful with lights all around. "Expect a lot of bright and interesting colors and lots of lights," Wheeler, the student council teacher said. "There will be a big focus on overhead lights," she added. Lights are the main feature of this dance and will provide a cool ambiance.
For music, there will be a DJ hired by the student council. They are hoping to hire the same, well-liked DJ that they had for Homecoming. The music will consist of today's hits and other music that kids can dance to. People will have a great time dancing with their friends or their dates, making tons of fun memories.
The Smokejumper Station is a new venue for Helena High dances that the student council is trying out this year. "We called every other venue in Helena, and they were like 'Oh I'm sorry, we're booked.' So we were like, 'Okay, guess we're pushing it back to January,' but Ms. Lunnon suggested that we try Smokejumper, and they were available," Brooke Walker, the student council Treasurer said. Student Council plans to just try it out for now and find out the pros and cons of this venue. The dance will be on the second floor of the airport. 
Brinley Neilson and Brooke Walker are in charge of organizing this dance with the help of the rest of the student council. They are working hard to make sure that this dance will be one to remember. Winter Formal has a lot of hype, and they are here to live up to it.